Since the beginning of the year, Qualcomm's (NASDAQ:QCOM) shares have essentially gone nowhere. Given the fact that the market has rallied over 10%, investors may be considering selling the security. Despite the fact that Qualcomm is powering the first LTE-Advanced Smartphone, expanding its processor offerings, and boosting wireless capabilities, I believe that investors should not hold the security. In this article, I will provide a shorting recommendation based upon quantitative analysis of Qualcomm's returns.
A History of Returns
In order to objectively analyze Qualcomm, I have relied heavily on return on assets. Return on assets is a useful metric which allows an analyst the ability to view profits in light of the asset base required to generate said profits. Return on assets is calculated by taking the net income of the firm and dividing by average total assets across an operating cycle. Qualcomm is a telecommunication organization with a widely diversified balance sheet. Since Qualcomm is an organization revolving around designing and manufacturing products in a rapidly evolving environment, its assets are by necessity, primarily short or long-term investments. Specifically, short and long-term investments comprise 53% of total assets within Qualcomm. What this tangibly means for our research is that as we study changes in return on assets, we are studying how well Qualcomm is able to utilize it investments to bring profits into the firm. The chart below shows five years of return on assets for Qualcomm.
click to enlarge image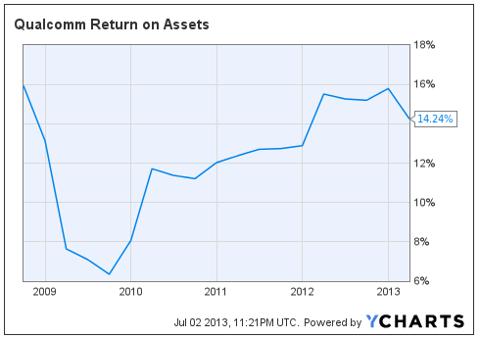 Click to enlarge
Within the chart above, three distinct economic periods can be seen. In the bullet points below, I have explored these three time periods and concluded with a table summarizing results.
The first period of our analysis is the third quarter of 2008 until the third quarter of 2009. During these 12 months, Qualcomm experienced a very significant pullback in firm performance. As the overall financial crisis weighed down on the average consumer, Qualcomm was ultimately impacted. The decline in GDP growth and rising unemployment filtered through the telecommunication companies driving profits and returns downward. Investors tend to park capital with firms that deliver growing returns and flee from securities with diminishing returns. Qualcomm is no exception to this economic rule in that its shares tumbled 15% during these four quarters.
The next period for our analysis is from the fourth quarter of 2009 until the fourth quarter of 2012. These three years witnessed a surge in performance within the organization. Returns more than doubled as profits began an almost parabolic rise. Over this period of time, Qualcomm was able to nearly double its gross profit, totally reduce its debt, and expand its profit margins. As the consumer experienced a rebound, so did Qualcomm, as witnessed by an increase in share price of 49%. However, seemingly unnoticed by the market is the fact that Qualcomm has been unable to bring its effectiveness, as measured by return on assets, back to levels witnessed prior to the financial crisis.
A troubling relationship began developing during the first and second quarters of 2013. Net income has reached a temporary apex and returns have slowly slid downwards. What is most noteworthy about this time period is that even though profits have peaked and returns are declining, shares are essentially unchanged for the year. This decoupling between firm performance and share performance represents an excellent investment opportunity for the nimble individual.
The table below summarizes the discussion above.

This table demonstrates a simple, yet effective investment relationship. As a firm is able to better itself financially, shares tend to improve. Conversely, as a firm experiences economic turmoil, shares tend to fall. It is on the basis of this simple economic relationship that I recommend shorting Qualcomm.
Over the past six months, returns and profits have declined. What is most worthy of comment about this decline is that it demonstrates an inability of Qualcomm to recapture the heights achieved prior to the financial crisis. Qualcomm experienced very strong performance between 2009 and 2012, but its recent performance has been falling. It is my belief that Qualcomm committed a tactical blunder when it made the decision to significantly reduce its debt burden. Does it make sense to get rid of debt when rates are at historically low levels? No. Qualcomm may have greatly benefited by even considering taking out more debt to finance projects which deliver returns even slightly higher than the interest rate on the loan. It is my belief that this simple financial blunder has seriously impaired the ability of Qualcomm to recapture its economic strength within the next few quarters. QCOM has used its asset base to eliminate a low-cost financing method of generate revenues while destroying its ability to invest this cash in future projects. I believe that shareholders should seriously considering shorting Qualcomm to profit from its mishap.
Disclosure: I have no positions in any stocks mentioned, and no plans to initiate any positions within the next 72 hours. I wrote this article myself, and it expresses my own opinions. I am not receiving compensation for it (other than from Seeking Alpha). I have no business relationship with any company whose stock is mentioned in this article.