INTRODUCTION:
There is a persistent concern that Windstream's (NASDAQ:WIN) dividend is not sustainable, reflected in a yield of over 12% at the time of this writing. A major unknown involves future cash tax requirements as discussed on the 4Q12 conference call:
Batya Levi - UBS: So just looking out into '14, can you help us with your expectation for cash taxes? … with the other tax benefits you received this year, will they reverse next year? Do you think $250 million in cash taxes is sort of a ballpark to use for '14?

Tony Thomas - Chief Financial Officer: We're not going to provide specific guidance as it relates to 2014. We have several initiatives underway to help minimize cash taxes in 2014, and that remains one of our principal focuses this year early in 2013, is to address that 2014 cash tax bill.
Goldman Sachs and UBS share the concern 2014 cash taxes could be several hundred million more than 2013. The tax issue remains unanswered.
On the other side management is aware of the anxiety surrounding the dividend and its rhetoric as recently as the 2Q13 conference call is targeted at increasing confidence in the sustainability of the dividend:
Jeff Gardner (Chief Executive Officer ) - Let me reiterate that the dividend is a key component of our strategy. We're focused on growth areas of the business and we have confidence in our future cash flows, and our capital allocation strategy ... The dividend is core to our strategy and we just declared our 29th consecutive quarterly dividend of $0.25 per share.
There has also been "group" insider buying reflecting confidence in management's future expectations at the time of the purchases. A single buy carries little meaning in this writer's opinion but if insiders are trading as a group it deserves a closer look. We define a group trade as several insiders trading over the same monthly time period. Looking at WIN's history we find several group buys and no group sells: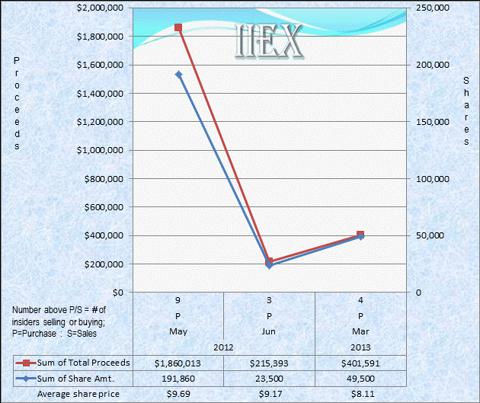 Click to enlarge
Is the dividend sustainable? We will try to cut through the rhetoric and perform an analysis given recent results and guidance in an attempt to provide additional insight. We noted in our last article that revenue was stable and posed no threat to the dividend. Management's efforts were showing progress in the largest revenue segment (Business Services) through 4Q12. Growth in this segment was offsetting declines in the remaining service segments (Consumer, Wholesale and Other). Fast forward through the first half of 2013 shows the business trend deteriorating. Due to the revenue challenge ahead of its this article will limit the discussion to the following:
Revenue trends, business and consumer retention
Effects on FCF (free cash flow) estimates and dividend
Conclusion
Based on the trends, which is shorthand for measuring management's performance, we can derive some insight into the safety of the dividend.
Revenue Trends, Business And Consumer Retention
We'll start by comparing the trends from our last article, i.e., the trend based on results through 4Q12 (black line) to the trend generated using the most recent quarter - 2Q13 (red line). The graph measures management's efforts to bend the curve upward.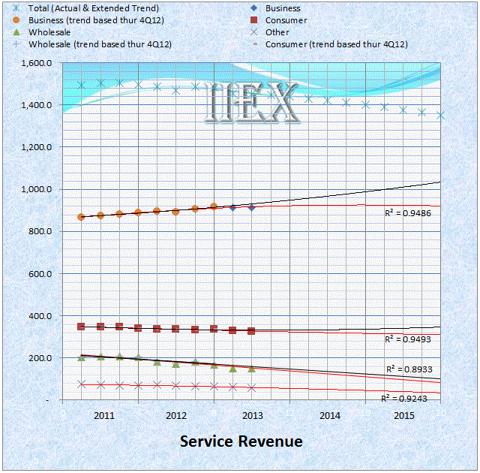 Click to enlarge
The trends are tracking in the wrong direction. The current trend falls within management's revised 2013 downward revenue guidance:

Click to enlarge
Management focused on the positive by highlighting an increasing ARPU. (see investor briefing) ARPU is a measure of revenue per customer per month. While presenting ARPU increases of 7% y/y in "Business Service" and "High Speed internet," the increases fall short to offset customer losses: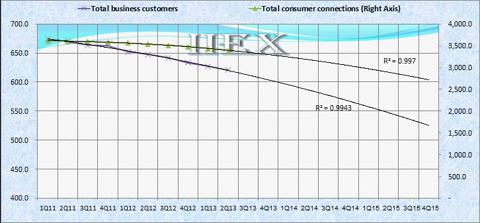 Click to enlarge
Total business customers consist of two groups. Enterprise is defined as customers who generate $750 or more in revenue per month and small business generates less than $750 per month. While Enterprise customers are growing it is not clear how many are new customers vs. small business customers being reclassified by crossing the $750 mark which would also account, in part, for small business losses. What is clear is the overall customer count continues to shrink.
The major issue facing management, along with clarifying the tax issue, going forward is reversing the above trends. All this is well and good but how do we apply this to the sustainability of the dividend? We'll use the trends to estimate future income and FCF.
Effects On Fcf Estimates And Dividend:
We can project the safety of the dividend by taking these trends and converting them into financial statements, then comparing the dividend payouts with FCF. We can forecast the sustainability of the dividend then monitor and update the progress each quarter. Surprisingly the conclusion turns out to be counterintuitive given the above trends. We'll start with projected income statements: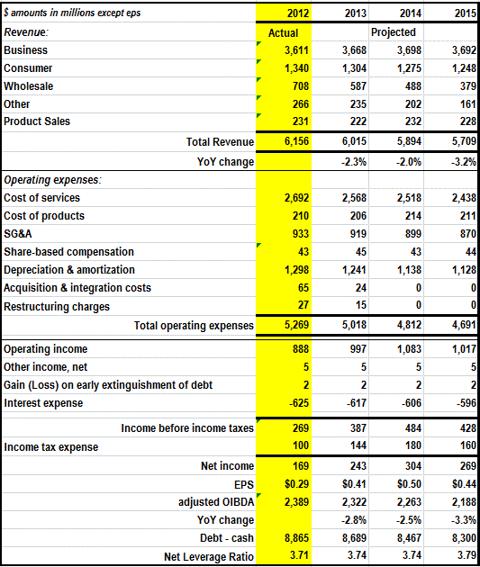 Click to enlarge
The following compares longer term EPS trends calculated above with the consensus data provided at nasdaq.com at the time of this writing.

The next step is the FCF analysis incorporating data from the income statement. We have eliminated any gains in taxes to account for higher cash taxes reflected in "changes in working capital items" starting in 2013. We took a conservative approach by limiting positive contributions to FCF from "provision for doubtful accounts," and "amortization of unrealized losses on de-designated interest rate swaps" beginning in 2014:
Click to enlarge
FCF tracks above the dividend payout over the next several years: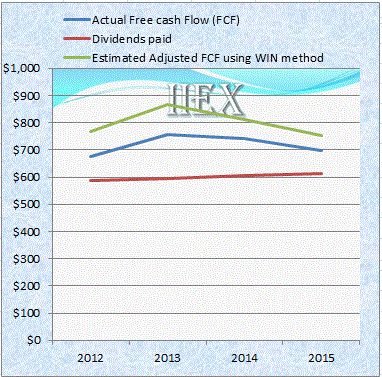 The gap will continue to narrow if the revenue trends are not reversed.
Conclusion:
Management can sustain the dividend for several years given the current revenue and customer trends provided management can accept a high FCF payout and leverage ratios. In the meantime the challenge is to reverse the overall revenue trend which will pull the ratios toward more acceptable levels.
We have accounted for higher cash taxes but the tax uncertainty will be a dark cloud over the company until management can address this issue with specificity. Another concern is the growing share count. Part of this is due to the pension plan. From 10Q:
During the third quarter of 2013, we intend to contribute to our qualified pension plan approximately $27.0 million, which we intend to make in Windstream stock, in order to avoid certain benefit restrictions.
Expect this practice to continue as long as the leverage ratio remains high. Why? The terms of the company's credit facility include covenants that require certain financial ratios including a maximum leverage ratio of 4.50 to 1.0 and a minimum interest coverage ratio of 2.75 to 1.0.
The market appears to be pricing in the uncertainty in management's ability to reverse the trends, the unanswered tax issue and possibly a small dividend cut. Management has listed several priorities that it hopes will act as catalysts to improve growth, financial performance and boost market confidence:
Invest in the network to provide a platform for continued success: Since 2011 the company has invested $584 million in fiber to the tower and broadband stimulus. While it is seeing growth from fiber it has not been enough to offset the decline in the carrier transport business. It completed 3,600 towers with another 1,000 in progress which should help offset further revenue declines.
Invest in the business channel to increase sales and profitability: During 2013, three new enterprise data centers were opened in Nashville, Chicago and Raleigh-Durham. Since January it doubled the sales team to focus on managed services and cloud computing solutions. These higher margin products also enable the company to offer a comprehensive set of integrated services. Management has described sales as "significant," raising expectations the second half will show progress in improving the revenue trend.
Management has exhibited confidence these priorities will bear fruit through insider buying and strong rhetoric on the importance of maintaining the dividend. If these priorities do not gain traction then its last priority is in trouble, "strengthen the balance sheet and reduce debt." The easiest way to measure improvement is to track the leverage and interest coverage ratios shown earlier. Remember these ratios are extremely important since they can trigger a default. Management would not let these ratios come close to the trigger without revisiting the dividend policy first. They are not there yet and in the meantime investors will continue to collect the dividend.
Although the dividend receives the majority of attention, if revenue starts to improve there would be substantial upside to the current price, possibly 30-40%. However we are getting ahead of ourselves since the trend has turned to the negative. Unless the priorities start paying dividends (pardon the pun) there will be no upside.
Detailed financial information used in this article can be found here.
Disclosure: I have no positions in any stocks mentioned, and no plans to initiate any positions within the next 72 hours. I wrote this article myself, and it expresses my own opinions. I am not receiving compensation for it (other than from Seeking Alpha). I have no business relationship with any company whose stock is mentioned in this article.