Copper is an essential global resource that's unlikely to be replaced anytime in the near future. Its vital use in electrical equipment, power and data cables, pipes, heat exchanges, and ammunition makes the activity in the copper market a leading indicator for economic movement.
So far in 2013, copper has been a disappointment. Around $905 has been shed from the value of the industrial metal since January and it currently trades around $7,100, or $3.22 USD per pound. The iPath DJ-UBS Copper ETN (NYSEARCA:JJC), a popular index for investors in copper, is down around 12% versus the S&P 500's gain of around 15%. It's the kind of environment where we see value seekers flock.
The current drop in copper prices is largely due to the global slowdown triggered by reduced growth in China, which accounts for nearly 40% of global copper consumption. However, according to the International Copper Study Group, worldwide copper demand for 2013 is still expected to grow by 4.3% and increase to 5.1% for 2014.
Looking at the chart, copper has hit a triple bottom since May, which is a strong trend reversal signal in technical analysis.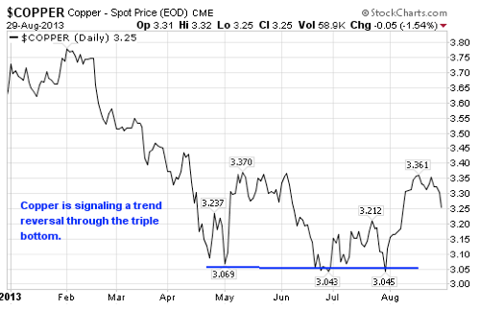 Click to enlarge
A Company That Stands to Profit
Southern Copper Corporation (NYSE:SCCO) is a mining company with ten operational facilities in Mexico and three in Peru. While primarily a copper miner - constituting over 81% of net volumes mined based on their second quarter filing - the company also extracts zinc, molybdenum, and silver.
Southern Copper reported an earnings miss on July 23 of $0.44 a share versus the average expectation of $0.48, but potential value remains in the stock.
The company's 10-Q filing for the second quarter revealed EBITDA of $675 million - a 48% margin which is considerably higher than the company's closest competitor, Freeport-McMoRan (NYSE:FCX) which has operating margins of 26%.
An important metric for mining companies is the cost of doing business as compared to the price of the underlying commodity being extracted. Southern Copper's unit net cash costs-per-pound for the second quarter was $1.30, while Freeport McMoRan reported a figure of $1.85. A lower cost of doing business gives Southern Copper a distinct advantage over competitors. Both the high margins and low cash costs per pound give Southern Copper a wide berth to navigate price volatility.
Capital projects are a necessary expense for mining companies and require large cash flows in order to finance. According to the transcript from Southern Coppers second quarter conference call, the company said, "We conclude that we have sufficient funds to finish our current capital projects even in a conservative low-price scenario of $2 per pound of copper. So we are moving forward with our capital programs at full speed and we're expecting to finish with our projects as indicated to the market at this point."
Click on the image to see stock price and earnings over time.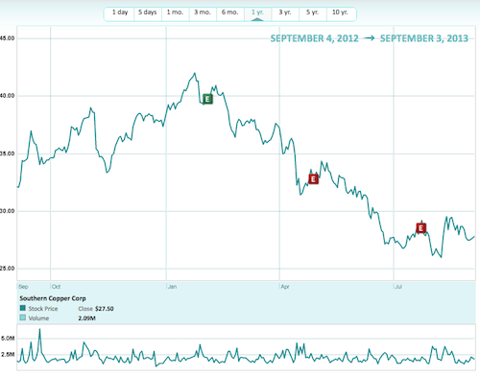 Sourced from Zacks Investment Research.
The company claims to have the highest reserves on the industry amounting to 67.1 million tons and a mine life of 105 years, while their next closest competitor has a mine life of only 34 years. Southern Copper also pays a 1.75% dividend to investors, which provides some downside protection.
Looking forward, Southern Copper will benefit from the expected rise in copper prices by the end of the year. Analysts predict a spot price of around $3.63 by January, which will boost Southern Copper's EPS expectations for 2014. If the commodity market performs as expected, the stock should be fairly valued at around $33 per share, a 20% increase from where it's been recently trading.
Disclosure: I have no positions in any stocks mentioned, and no plans to initiate any positions within the next 72 hours.
Business relationship disclosure: Kapitall is a team of analysts. This article was written by Daniel Cross, one of our writers. We did not receive compensation for this article (other than from Seeking Alpha), and we have no business relationship with any company whose stock is mentioned in this article.