David Fabian
x
Author Following Options:
See their articles on your Seeking Alpha homepage and in your feed.
Real-time alerts on this author
Get their new articles emailed to you as they are published.
Daily digest on all my authors
Get all your favorite authors' new articles emailed to you in one daily digest.
Send Message
David is a Managing Partner at FMD Capital Management, a fee-only registered investment advisory firm specializing in exchange-traded funds. He has years of experience constructing and implementing actively managed growth and income portfolios using ETFs, CEFs, and mutual funds.
FMD Capital Management specializes in active portfolio management using ETFs, CEFs, and mutual funds for individuals and small businesses with $100,000 or more in assets.
Visit www.fmdcapital.com for more information or to signup for our weekly email updates.
Follow me on Stocktwits: http://stocktwits.com/fabiancapital and twitter: @fabiancapital
Description: Registered Investment Advisor (RIA). Trading frequency: Weekly
Interests: Bonds, Developed International Markets, Dividend stock ideas & income, ETFs, Gold, Mutual funds, Retirement savings, Stocks - long

Ph. Number:

888-823-8111
Email:
Location:

CA; USA
FMD Capital Management
At FMD Capital Management we know that investors are concerned with not only growing their wealth, but preserving it. In addition, we recognize that individuals have developed their own comfort levels for taking risks. To accomplish those goals we have developed three separate actively managed portfolios in
...
More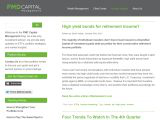 FMD Investor Insights
At FMD Capital Management we believe in educating our clients and keeping them informed of our market research, investment ideas, wealth building strategies, and more. With that goal in mind, we have created a central resource to share with you all of our thoughts as we develop them each week. Simply visit
...
More
Currently, you have no book details. Click edit to add book details.
Latest comments on David Fabian's Articles
Latest Articles on Portfolio Strategy & Asset Allocation