The Inflation Trader has been a recognized leader in developing the U.S. inflation derivatives market. He traded the first interbank U.S. CPI swaps in 2003 and, as a dealer, was a primary liquidity-provider in that market for two large banks. He represented about one-third of interbank swaps volume during his tenures at those firms. He invented and was the sole market-maker for the CME CPI Futures contract. He has written and spoken extensively about the use of inflation-indexed products for hedging real exposures, and has written more broadly in a commentary format about the rates markets and macroeconomy.
The Inflation Trader currently is the managing principal at a boutique consulting firm. His comments on
...
More
this site and others are not posted in that role, and no opinions of his should be construed to be recommendations of or to reflect the views of his employer.
Description: Registered Investment Advisor (RIA). Trading frequency: Weekly
Interests: Bonds, Commodities, ETFs, Forex, Mutual funds, Options, REITs, Retirement savings

Enduring Investments LLC
Enduring Investments is a boutique consulting and investment management company, founded in 2009, offering focused inflation‐market insights and advice. The mission of Enduring Investments is to provide specialized, high value‐added advice, investment products, and research to our clients, focusing on our
...
More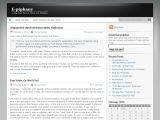 E-piphany
The E-piphany blog is a continuation of a long series of writings on the markets (specifically, the bond, interest rate derivatives, and inflation markets) and macroeconomy that the author has produced over a period of some twenty years as a salesman, strategist, and trader for various Wall Street firms.
Currently, you have no book details. Click edit to add book details.
In case SA doesn't publish my CPI tweet summary, like they didn't last month, here it is:
http://bit.ly/1TH2azv
Jul 17, 2015
Latest comments on The Inflation Trader's Articles
LATEST ARTICLES & INSTAPOSTS
more »