NewMarket Corp (NYSE:NEU) develops and manufactures chemical additives for the oil and industrial markets. Shares have found a long term bottom and are trading at a forward P/E of 7.59 while continuing to grow EPS at a 15% clip. The stock is relatively unknown, trading an average of only 235,000 shares a day and only Oppenheimer covers the stock. Running a "Diamonds in the Rough" screen that incorporates more than 15 criteria, NewMarket was the name that really shined, and this lubricant company looks like a buy.
A big reason to be bullish on this stock is that the recent fall in commodities will significantly reduce raw material costs that have stricken NewMarket's margins. Operating margins came in at 7.7% last quarter and we expect a big improvement on the margins outlook. The balance sheet is very solid, as the company is 33% leveraged and maintains a strong current ratio of 2.78. NewMarket also trades at a Price/Sales ratio of just 0.42, well below its peers.
Warren Buffett's commitment to the chemical industry is also a reason to be bullish, after Buffett committed $3 billion to the Dow Chemical (NYSE:DOW) acquisition of Rohm and Haas (ROH). Buffett's current portfolio is lacking exposure to the chemical sector, but that could change soon as he searches for great value in this bear market, and NewMarket does yield a 1.89% dividend and is trading at historically low multiples.
The shorts have discovered NewMarket, as 10% of the float is currently short. However, after the recent 40% decline in the stock, shorts are likely to be inclined to cover and shares could soar higher as valuation comes back into play. There was also some new interest in the October $45 calls for NewMarket yesterday, as option traders are betting on a turnaround. The company also has $10 million in authorization for buyback left, and should be buyers at current levels.
Chart 1: Looking at the technical indicators, we have hit a coveted triple bottom at $38 on the weekly chart. MACD has reached an extreme and stochastics are coming strong out of oversold conditions. The selling volume has been relatively low during the recent 40% sell-off which leads one to believe that the smart money is holding positions in the stock, and not panic selling.
click to enlarge charts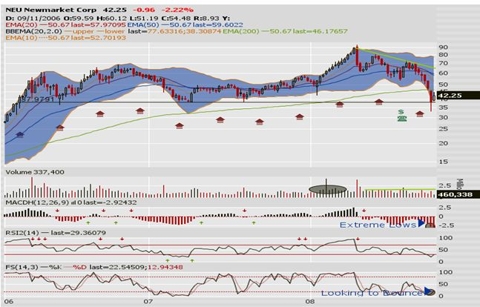 Chart 2: On the shorter term chart, NewMarket has bounced off a channel support and is looking to make a run back to the $60 area, which is in line with the target given by the longer term chart.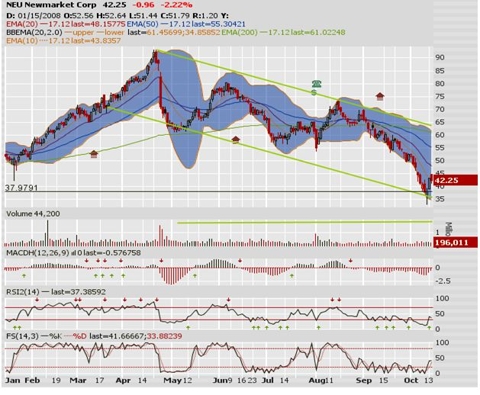 Shares were rejected at the 200 week moving average around $46.20, but a break through that level would give an initial target of around the 50 week moving average at $60. At that point the trend-line resistance of the descending triangle would come into play and it would be prudent to take profits. This is an anticipatory trade of a stock finding a bottom, but if the broader market continues to weaken and the $38 level breaks, it would be wise to flip this trade to a short as there is no support until $25.
NewMarket will report earnings on October 31 and could surprise people with a treat, just in time for Halloween. 
Disclosure: The author has no position in any of the above equities or ETFs.