We noted in our last article that Frontier Communications' (NYSE:FTR) dividend was safe through 2013 but predicated this on the following:
FTR follows through with the following statement in the 8-K: "We plan to have ample cash to pay down the 2013 debt and we will be opportunistic in refinancing all or part of the 2014 and 2015 debt."
There are no major pension surprises - i.e., it meets its expected return.
Additional integration costs actually end in 2012.
This article revisits the above in an attempt to determine if FTR is making any progress, or lack thereof since these have a direct impact on FCF (free cash flow) and by default the dividend.
Debt:
The following graph represents an overlay of the debt schedule where changes can be seen at a glance: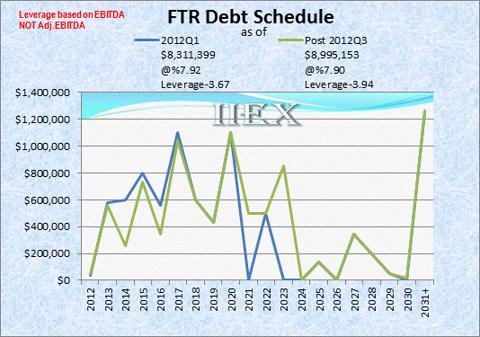 The good news is they are starting to follow through on their comment. They appear to be on track to pay down the 2013 debt and are in the process of refinancing the 2014 and 2015 debt. The debt due in 2014 has been reduced from $600m to $258m; 2015 from $800m to $732m.
The bad news is a substantial increase in the debt that will add approximately $54m in annual interest unless 100% of the 2013 debt is paid off in a timely manner with cash on hand. If so the additional interest expense will be approximately $10m.
Debt schedule sources: 2012Q1_10-Q and Post 2012Q3-slide 22.
Pension:
The company's pension plan assets have increased from $1,258.0 million at December 31, 2011, to $1,282.2 million at September 30, 2012, an increase of $24.2 million, or 2%. This increase is a result of positive investment returns, cash contributions, and additional asset transfers from Verizon (NYSE:VZ) for a combined total of $147.5 million, less benefit payments of $123.3 million during the first nine months of 2012.
The pension results continue to disappoint. Original expectations for 2012 were a rate of return of 7.75% and contributions to the plan of approximately $60 million. The actual rate of return for the first nine months is 3.6%, lagging far behind expectations. The final asset transfers from Verizon amount to $74m for the first nine months of 2012 along with cash contributions of $28.5m and investment gains of $45m.
Integration:
Donald R. Shassian - Chief Financial Officer, stated the following on the conference call:
Not only does our trailing free cash flow exceed our dividends by $713 million, our acquisition and integration expenses are going away in 2013, narrowing the gap between our definition of free cash flow, one that many of you use.
The completion of integration efforts benefits FCF, in part by lowering capital expenditures (Capex). Capex are projected to be approximately $100 million less in 2013 from 2012.
Conclusion:
Let's review each item.
Debt: Refinancing is occurring but debt is increasing. The additional interest adds from $10m to $54m depending on how the 2013 debt is handled.
Pension: Continues to disappoint. Actual rate of return is far below expectations which could lead to higher cash contributions going forward.
Integration: The good news is integration will be complete by year end.
What does this mean for FCF or put another way, is the dividend sustainable given the FCF trends? FTR gave 2013 guidance for capital expenditures and cash taxes but not free cash flow. With integration completed and capital expenditures coming down by approximately $100m bodes well for free cash flow. However this could be offset by higher interest expense and continued pension shortfalls.
The following measures FCF as calculated by FTR (red) and the generally accepted measure (cash from operations minus capex) for most companies (purple) in relation to the dividend (green).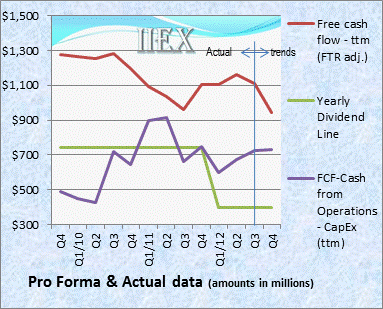 FTR's adjusted FCF measure will continue to converge with the traditional measure as integration comes to an end. Currently FCF is well above the dividend line providing some cushion for unforeseen problems.
However pension contributions (including asset transfers) are increasing as they continue to fall well short of their assumed rate of return. Pension returns should be monitored closely since continued shortfalls could easily overtake future capex savings. It's difficult to state with certainty the dividend is safe in the long term unless the picture starts to improve. The best that can be said is the dividend is safe in the near term but the data must be revisited each quarter to insure the trends are not worsening.
The major long term risk to FCF is the pension uncertainty. They could still run into problems paying down or refinancing the debt but that appears less likely at this point.
Detailed quarterly data used in this article can be found here.
Disclosure: I am long FTR. I wrote this article myself, and it expresses my own opinions. I am not receiving compensation for it (other than from Seeking Alpha). I have no business relationship with any company whose stock is mentioned in this article.