The Fed's quantitative easing was supposed to weaken the dollar. One of the main beneficiaries of the Fed's QE was supposed to be EM (emerging market) currencies.
However, so far we have yet to see any weakness in the dollar and furthermore any strength in EM currencies, at least as portrayed in the wisdom tree Dreyfus emerging currency fund (NYSEARCA:CEW).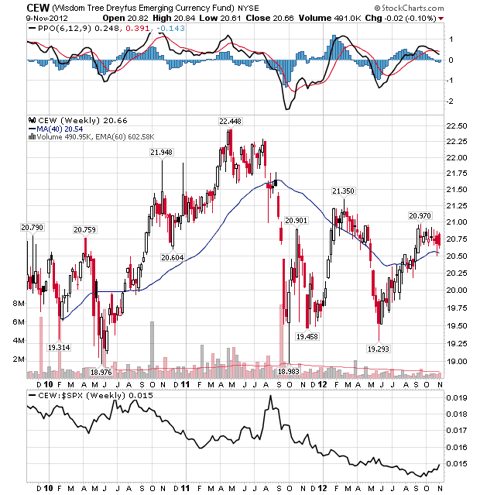 Click to enlarge
(Click to enlarge)
The Dreyfus emerging currency fund seeks to achieve total returns via both money market rates and changes to the value of EM currencies relative to the U.S. dollar. Constituent currencies are the Mexican Peso, Brazilian Real, Chilean Peso, Colombian Peso, South African Rand, Polish Zloty, Russian Ruble, Turkish New Lira, Chinese Yuan, South Korean Won, Indonesian Rupiah, Indian Rupee, Malaysian Ringgit, Philippine Peso and Thai Baht. So it is a very diverse currency fund for those betting on EM currency appreciation.
One reason for this disappointment, on the part of EM currencies to rally against the U.S. dollar, may be that EM central banks have been very vocal about intervention, in case their currencies appreciate against the dollar. The market is always very skeptical of central bank intervention, especially because today many EM central banks have a much bigger arsenal of foreign reserves than they did many years ago. It's not always p good idea to bet against the central bank.
Another reason why EM currency pairs have disappointed is that investors are becoming more and more risk adverse. The European debt crisis (aka euro fiscal cliff) is only part of the problem. The U.S. Fiscal cliff is also something that will impact EM economies. Even though consumer confidence in the U.S. climbed to 5 years high recently, it is probably a given that consumer confidence will weaken, if automatic spending reduction and tax increases go into effect at the beginning of 2013. A weaker U.S consumer in not exactly good for EM economies. And it's not just the twin U.S. and European fiscal cliffs, the Japanese have one of their own also.
So what does all this risk aversion mean? Basically it means that there are too many negative factors at the moment in order for EM currencies to rally as many people expected. However, there is also another issues at hand, that might provide a new twist to the whole picture.
You probably know that there is a high inverse relation between the U.S. Dollar Index and the Dow Jones Industrial Average. What you probably haven't heard is that there might be a disconnect in this relationship as of lately.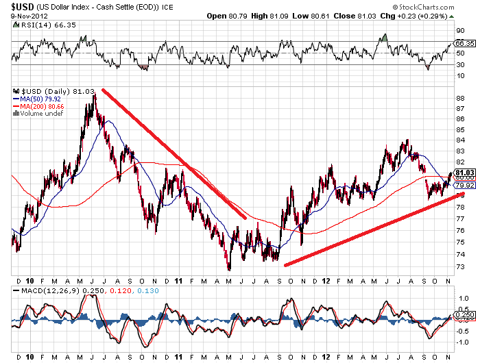 Click to enlarge
(Click to enlarge)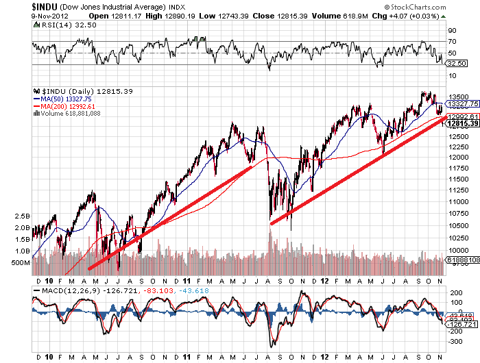 Click to enlarge
(Click to enlarge)
Notice in the above charts, at the beginning of 2010, as the dollar was weakening and the Dow Jones Index in the above chart was going up. However also notice, that as of Q3 of 2011, both the U.S. Dollar index and Dow Jones are going up in tandem. This might just mean that things are actually very different this time around.
Spending reductions and a more balanced budget mean less Fed intervention over the long term. And less Fed intervention also means a stronger dollar. A stronger dollar also means more risk aversion and less speculation. But that does not necessarily mean a lower NASDAQ or S&P, as the recent upward movement of the dollar has indicated.
If you were an emerging markets millionaire, where would you want to have your money? In your own country, where there are many chances of a major slowdown, because Europe, the U.S. and Japan all have fiscal problems (which will more than likely affect my export led economy - like China) or the U.S., where I have a good chance of dollar appreciation plus being able to buy major international brands like Microsoft (NASDAQ:MSFT) and Apple (NASDAQ:AAPL) for a bargain price?
What I want to say is, this time around, things might actually be different. Maybe spending reductions and tax increases actually might do good over the longer term for both U.S. stocks as well as the economy. And just maybe, a lot of EM money might come to the U.S. this time around.
Bottom line: Don t be surprised that as of the beginning of 2013, Europe, the EURUSD and emerging market currencies go south, but U.S. markets and the dollar go up.
I wouldn't bet on this scenario as of yet, but I will keep you updated on this theory by what the markets and the dollar does, as we head into the new year.
Finally, if one believes that the fiscal cliff scenario will lead to U.S. dollar appreciation, then some selective EM shorting vehicles are:
Disclosure: I have no positions in any stocks mentioned, and no plans to initiate any positions within the next 72 hours. I wrote this article myself, and it expresses my own opinions. I am not receiving compensation for it (other than from Seeking Alpha). I have no business relationship with any company whose stock is mentioned in this article.