Commodity Chart Of The Day
Daily Coffee
(click image to enlarge)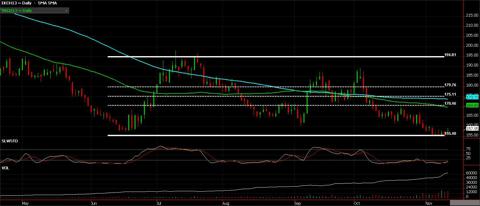 Coffee is a commodity I consume every day, but may trade every now and again. Coffee prices have moved lower by 16% since the beginning of October, and as seen on the chart above, have been sideways for the past six months. Though past performance is not indicative of future results, the movement suggests selling near $1.85 and buying near $1.60 has worked over this time frame.
I am expecting to see prices appreciate in the coming weeks, and have advised clients to start gaining bullish exposure in March contracts. A base appears to be forming in recent sessions, and prices are extremely oversold. Not to mention in the roll volume has started to pick up in the March contract. My target is a return to the 100 day MA around the $1.70 level in March futures. In March options, traders have just under three months' time.
What I've advised to clients is back ratio spreads. For specific details on what strike, what premium to pay and my profit objective, feel free to contact me.
Risk Disclaimer: The opinions contained herein are for general information only and not tailored to any specific investor's needs or investment goals. Any opinions expressed in this article are as of the date indicated. Trading futures, options, and Forex involves substantial risk of loss and is not suitable for all investors. Past performance is not necessarily indicative of future results.
Disclosure: I have no positions in any stocks mentioned, and no plans to initiate any positions within the next 72 hours. I wrote this article myself, and it expresses my own opinions. I am not receiving compensation for it. I have no business relationship with any company whose stock is mentioned in this article.