Daily Data: Procter & Gamble Co. (NYSE:PG)
Procter & Gamble recently reported earnings of 1.06, which beat estimates 0.96 on October 25. As far back as I can go on e*Trade.com I see that PG has beat estimates for 13 of the past 16 quarters. When a company consistently beats analyst expectations it usually becomes a favorite of the market.

The only problem is PG has grown into such a large company ($186billion) that it's hard to see it grow at a fast pace. Sure Apple is the largest company in the world and analysts still have a 5-year growth expectation of 20.8%, but PG isn't selling new technology. PG is selling consumer staple goods that have existed for years. This company relies on population growth and small company buyouts that compete with its own products. It's very hard for PG to invent something "new" that the market needs, hence 5-year growth estimates are at 8.31%. 8.31% is a higher number compared with PG's current P/E of 22.24, especially since next year earnings are also 8.86%. So unless PG beats EPS estimates consistently next year in a big way I cannot see how the stock can move much higher. For technical guidance I was looking to see if there was any seasonality in PG so I looked at the October to December option expiration date returns since 2002.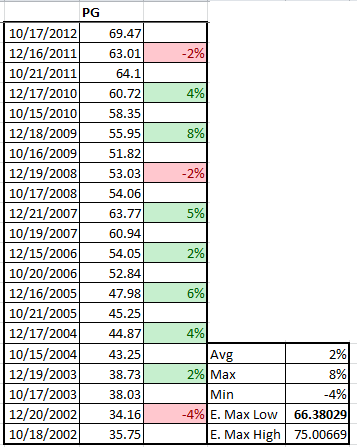 Above you can see that PG has been relatively stable during this time frame. We've never seen the stock increase more than 10% but neither decline more than -10%. The reason for small variation is probably due to PG's stable earnings/revenue and low beta. Currently PG has a 0.45 beta, quite low. Unfortunately since the stock just broke down through its 50-SMA and coupled with the fact that the market might break down, I cannot suggest a trade at this time. If PG declines further…say to the $65/$64 level then I will probably suggest a new trade.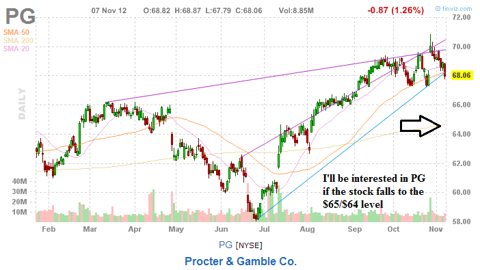 No trade suggestion at this time
Daily Data: The Coca-Cola Company (NYSE:KO)
Coca Cola is another company that has reported very stable earnings over the past 4 years. KO has been so stable in its EPS number that it hardly beat/miss analyst estimates. When KO missed EPS estimates it was in the 3rd decimal place, so it's a very small miss.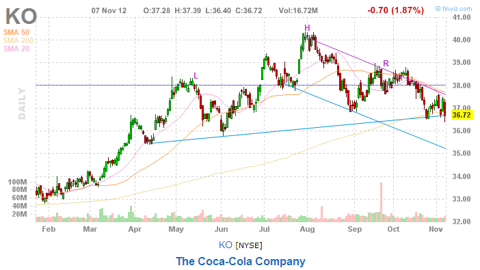 Analysts expect KO to grow at 8.16% over the next 5 years but even if they are correct (and so far we've seen analysts' predictions to be very close to KO's EPS numbers), I cannot see justification of KO's current 19.13 P/E. Either KO will have to report numerous earnings surprises to justify the current P/E or it's going to trend sideways until the P/E comes down to an attractive level again relative to the estimated growth of the company.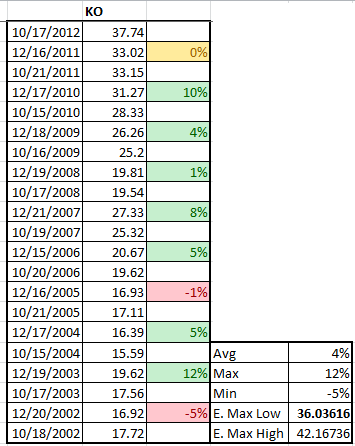 Above you can see KO outperformed PG during this period (4% avg vs. 2% gain during October to December period). Unfortunately as we look at KO on a chart these days it has a very noticeable head-and-shoulder pattern, which sends us to signals. First this data above may not repeat itself during this year's October to December period, or we may get a very nice opportunity to enter a bull put spread if the stock intermittently sells off this month. With the max low so close to the current stock price I really want to suggest a trade at this time, but I think we'll be rewarded for waiting.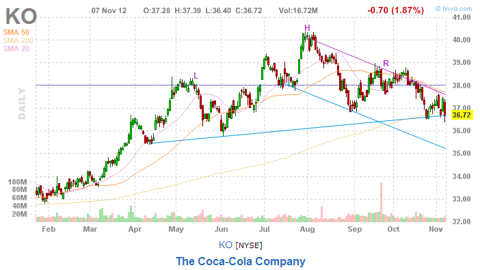 No trade suggestion at this time
Daily Data: Consumer Staples Select Sector SPDR (NYSEARCA:XLP)
For technical purposes only, I added XLP do the article to show how the consumer staple ETF performed over the October to December option expiration date time frame.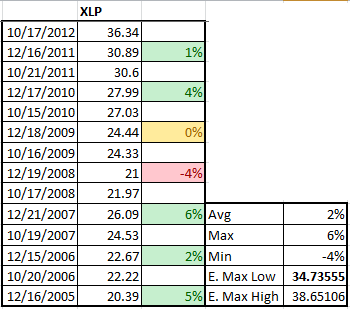 Above you see that much like PG and KO, XLP hasn't been that volatile during this period. The current market decline is giving us an opportunity for a December position (we already own a November bull put spread). We will probably enter the following position later this week.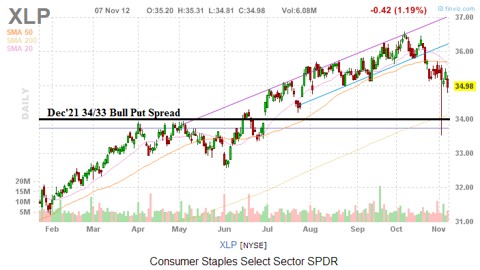 Option Trade: XLP - Sell Dec'21 34/33 put spread (Bull Put Spread)
(Sell 34 Put/Buy 33 Put)
Size - 6% of Option Spread Portfolio Size = 6 spreads)
Entry: Sell Limit: 0.13
Stop Loss: 0.30
Exit Price: 0.00
Max Return: 14.94%
(Max Return Calculated on Return on Risk from my entry, not Return on Margin)
Charts and fundamental data come from Finviz.com and Tradingeconomics.com; News from: www.theflyonthewall.com
Disclosure: I have no positions in any stocks mentioned, and no plans to initiate any positions within the next 72 hours.
Business relationship disclosure: The Oxen Group is a team of analysts. This article was written by David Ristau, one of our writers. We did not receive compensation for this article (other than from Seeking Alpha), and we have no business relationship with any company whose stock is mentioned in this article.