Anyone who has actually made money in the market over the past five years has had to be creative and nimble to do so. The days of "buy and hold" seem as quaint as Ward Cleaver. I have several stocks that I have successfully traded in and out of over the last few years. One of my favorites is Cisco (NASDAQ:CSCO) due to its cheap valuations. It also looks like it is approaching a narrow long term technical support range again (see chart).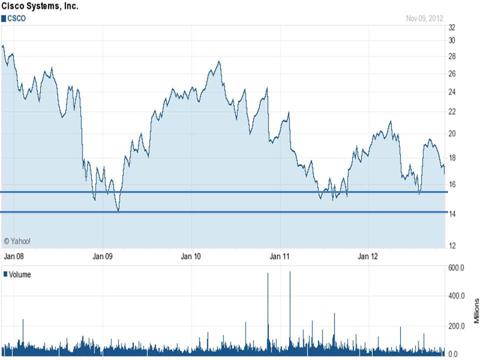 Click to enlarge
7 additional reasons CSCO is dirt cheap at under $17 a share:
 
Over 35% of the company's market capitalization is represented by net cash on its books. If Congress passes another tax amnesty bill for overseas cash, Cisco would be one of many tech stocks that would benefit.
The stock is selling at the very bottom of its five year valuation range based on P/E, P/B, P/S and P/CF.
The company has an A+ rated balance sheet, 3.3% yield and has more than doubled its dividend payouts since it initiated a dividend in early 2011.
CSCO sells for just over 8x forward earnings (less than 6x if net cash is taken into consideration), a significant discount to its five year average (13.1).
Analysts are consistently too negative on the company's earnings prospects. Cisco has beat earnings estimates for twelve straight quarters.
The company is no longer a fast grower, but revenues should grow at around a 6% pace in both FY2012 and FY2013. AT&T (NYSE:T) just announced that it is increasing its capital budget $14B over three years to build out its network. Although this in of itself is too small to move the needle for Cisco (the company should have over $50B in revenues in FY2013), it should improve the investor sentiment for the network equipment providers overall.
The median price target on CSCO is $22 a share by the 37 analysts that cover the stock. Credit Suisse has an "outperform" rating and a $25 price target on the shares.

Author's Note: One creative way to take a position on CSCO by selling the bull put spread (Sell the July 16 put/buy the July 12 put) for $1.05. This will return 35% on the collateral an investor needs to put up for the spread or the shares will be "putted" to the investor for a cost adjusted basis of under $15 a share.
Disclosure: I am long CSCO. I wrote this article myself, and it expresses my own opinions. I am not receiving compensation for it (other than from Seeking Alpha). I have no business relationship with any company whose stock is mentioned in this article.