As forecasts call for increased holiday spending in both the United States and Canada, with some estimates expecting a 15% gain in both the United States and Canada each, investors may find themselves receiving extra presents this season in the form of handsome returns on their investments. Navigating the stock market during the cold winter months provides many opportunities as companies adapt to the increased spending environment.
In light of the upcoming spending season, there are two companies in particular that will benefit by increased consumer spending and the traditional gift-giving of the season. Additionally, we will look at one stock that will not benefit from increased retail spending, but has catalysts that may provide risk-tolerant investors with opportunity in the coming months.
Starbucks (NASDAQ:SBUX)
The holiday season has historically always been a record-setting quarter for this world-famous coffee chain. A recent article discusses all the reasons Starbucks is set to, yet again, break holiday records during its first- and second-quarters of 2013-the holiday season for the United States.
Particulary, the company sells an enourmous amount of gift cards during the season, with December 2011 alone bringing in $500 million of gift card purchases. Additionally, the company offers a large selection of hot beverages, which primarily target the cold days of winter, as well as beverages customized for the season, such as the Peppermint Mocha drink, which mimics the abundance of peppermint candy canes around Christmas. Both gift cards and hot drinks combine to provide Starbucks excellent holiday seasons.
Consider the past first-quarter results for the company, which account for the 13-week period ended January 1st:
| Year: | Earnings (EPS) | EPS Quarter Prior | Beat or Missed? |
| --- | --- | --- | --- |
| 2010 | $0.32 | $0.20 | Beat (estimated $0.28 EPS) |
| 2011 | $0.45 | $0.37 | Beat (estimated $0.39 EPS) |
| 2012 | $0.50 | $0.47 | Beat (estimated $0.49 EPS) |
Each first quarter since the company started to rebound from the Great Recession in 2009 has beat estimates and increased over the fourth-quarter of the prior fiscal year (which includes the end of the summer off-season).
In addition to an estimate-beating history, the company also recently reported fourth-quarter 2012 earnings of $0.46 cents per share on November 1, 2012, beating estimates of $0.45. With the introduction of the new Verismo at-home latte maker, which will be included in the upcoming earnings report in January 2013, as well as the recent introduction of four stores in India, investing in the stock now should provide investors with a run-up as the season progresses.
Furthermore, the company recently increased its quarterly dividend to $0.21, up from $0.17 and a yield of about 1.6% given a current closing price of around $51. Investors that already own the stock will receive their dividend on November 30,2012, and investors looking to buy for the holiday season should receive another dividend around January, according to the expected quarterly payout schedule.
With the increased dividend, new product offerings such as the return of the popular seasonal Peppermint Mocha drinks, the Verismo latte machine, and new growth in India, this should be another successful quarter for Starbucks. Consequentially, the stock should trend higher as the first-quarter 2013 unravels. With the current price of around $51 and a P/E of 28.45, low compared with prior quarters and in light of the company's large growth prospects, this looks like a good entry point before a potential holiday run-up.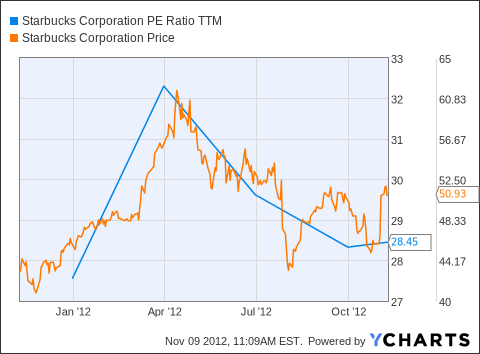 SBUX PE Ratio TTM data by YCharts
SodaStream International, Limited (NASDAQ:SODA)
Many consumers will be giving traditional gifts of appliances and household goods this season. Israel-based SodaStream International, supplier of at-home soda makers, combining syrup, water, and carbon dioxide to create a fizzy homemade soda, provides a good entry point for an undervalued growth stock that will benefit greatly from consumer spending this season.
The company recently reported record third-quarter earnings on November 7, 2012, with diluted earnings per share reaching $0.80 cents, shattering expectations of $0.73 cents per share and a 66.7% increase from 2011. Revenue also went up 49% to $112.5 million, with a huge 61% increase in the Americas and about a 33% increase in Western Europe. As if this was not sweet enough, the company additionally raised full-year 2012 guidance to expect profit of $43.7 million, a 59% increase over 2011 and up from the previously expected 55% increase, and revenue growth of 46% to $421.9 million, up from prior expectations of 40% growth.
There is no question that, much like Starbucks, demand for the company's products is tied to the gift-giving traditions of the holiday season. The increase in 2012 guidance confirms this connection and will complete the year on a strong note. Contributing to the increase in sales and revenue, the company began selling its products at Wal-Mart (NYSE:WMT) stores in May 2012, which has proven extremely successful with units selling out in most stores within the first month. Finally, the company plans to enter China and India in 2013, providing excellent growth opportunities in an expanding retail environment.
Between significantly increased guidance, international expansion plans, and a successful integration into the shelves of Wal-Mart, it comes as a relief to potential investors that these factors have not yet been priced into the stock. The following chart points out that the stock is quite undervalued: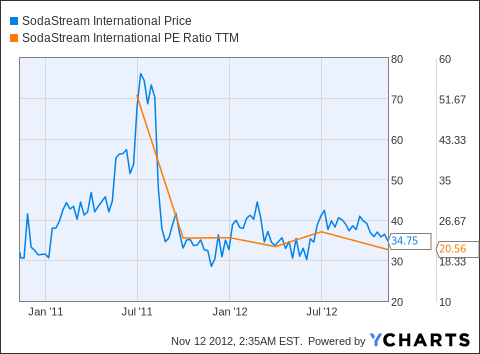 SODA data by YCharts
The P/E ratio is currently the lowest since the company first went public in November 2010. Given the increased guidance, the company has a forward P/E of only 12.24-incredibly cheap for a company with such ambitious growth figures. While earnings have grown steadily and guidance has been raised, the stock price has remained relatively flat, with some short-lived spikes.
Heading into the holiday season, a potential investor has an excellent entry point at the current price of around $34.75, which is a lower price than prior to the recent smash of an earnings call. The stock could either be held through the season into the first quarter of 2013, or an investor could trade the dip once the stock heads upward, which it has a pattern of doing as seen in the choppy chart above. With either investment strategy, SODA is a great stock to hold a position during the coming winter months.
A Gamble Stock: Vermillion Inc.
Vermillion, Inc. (NASDAQ:VRML), a biotechnology company focused on the development of diagnostic tests to help detect disease, is down almost 80% from its price in November 2010, and over 99% from its IPO price in 2000.
While this stock has historically provided poor returns for investors, it has two potential upcoming catalysts that may propel it back upward. First, the company's main product, OVA-1 ovarian cancer detection tests, will receive a category 1 CPT code on January 1, 2013. Essentially, this code will allow private insurance companies to adopt the test and approve claims from patient use. It will also encourage more medical providers to use the test due to the increased funding from insurance providers, including Medicare. In anticipation of the CPT code, the consequential increase in use of the test has already been demonstrated, as noted in second-quarter 2012 results. At a $650 list price and with $516.25 reimbursement from Medicare, the test could provide significant revenue growth as more providers adopt the test and more patients embrace its price and reimbursement schedule.
Second, a group of shareholders, titled the Concerned Vermillion Stockholders, is taking action to change what the group describes as poor decisions and inaction taken by the company to improve management and business. Particularly, the group seeks to end resistance to a possible buyout opportunity, which the company did not act upon when negotiations were offered by an unnamed diagnostic company. Additionally, the group seeks to limit the involvement of CEO Gail Page, which, since her arrival in 2010, has seen the stock decline over 80%.
As these potential catalysts develop further, with the OVA-1 tests possibly providing a much-needed catalyst come January 1 in addition to speculation over new management and buyout opportunities, the stock could see a reversal from its long downtrend. Trading at only $1.20, a buy at this price could see significant price appreciation as more news items are released in the coming months. The upside is enormous for risk-tolerant investors looking to take a bit of a gamble on a company that once sought bankruptcy before obtaining creditors to reboot the company. Either a buyout offer or a dramatic increase in OVA-1 sales due to the new CPT code could reward investors greatly.
Disclosure: I am long SBUX, VRML. I wrote this article myself, and it expresses my own opinions. I am not receiving compensation for it (other than from Seeking Alpha). I have no business relationship with any company whose stock is mentioned in this article.