Last week, I noted that in terms of generalized economic malaise, there really is no point in drawing a distinction between Spain and Greece. Unemployment is actually higher in Spain and recently, the sick found that two of three pharmacies in the Spanish region of Valencia are closing as part of a rolling strike to protest the regional government's inability to pay the businesses some 450 million euros in subsidy payments. This is among the first signs that basic services are beginning to shut down due to the protracted economic downturn.
The evidence is mounting that the situation in Spain is quickly spiraling out of control. An article appeared in the New York Times Monday entitled "Wave of Evictions Leads To Homeless Crisis In Spain". The author (Suzanne Daley) paints a bleak picture:
The number of Spanish families facing eviction continues to mount at a dizzying pace - hundreds a day...squatting has become so common that some real estate companies are reluctant to put signs on the outsides of buildings indicating that an apartment is available.
Daley also notes that the eviction epidemic has led to at least two suicides in the past two weeks alone.
This situation led former ECB executive board member Lorenzo Bini Smaghi to tell CNBC Monday that Spain should have requested a bailout "yesterday". Bini Smaghi warns that
When you have an economy which is in recession, [rates have] to be much closer to the level in Germany than the level currently paid by Spain..."As long as interest rates remain so high it's very difficult for the business sector, for households to repay their debts.
In other words, the relief (in terms of lower rates) provided by the ECB's jawboning isn't even close to enough. With elevated sovereign spreads conspiring with a liquidity crisis to drive up retail borrowing costs, Spain needs a full bailout in order to normalize rates. Consider for example the following chart which shows the difference in corporate and household borrowing costs in the periphery and the core: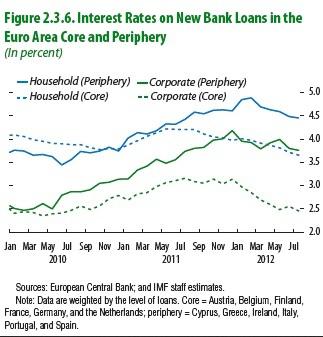 Source: IMF
As I noted in an article published elsewhere last month, this chart shows that corporations are paying more to borrow in the periphery than households are paying in the core! That is an extraordinary divergence of fortunes and nothing even close to this state of affairs can be allowed to persist.
The idea that the fate of an entire country hangs on whether or not its borrowing costs will respond to repeated attempts by the central bank and ratings agencies to talk rates down is ridiculous. The market cannot be talked into believing that Spain's debt is safe. Consider for example the following chart which shows the yield on Spain's 10-year bonds since Moody's decided not to downgrade the country into junk territory: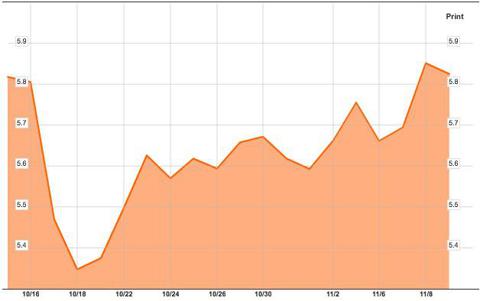 Source: Bloomberg
Yields are up 50 basis points since October 18 because there has been no action taken by anyone to shore up the situation.
Despite attempts to paper over this crisis and project to the rest of the world that the situation is in hand, Spain is in deep trouble and by delaying a bailout request, Mariano Rajoy is at serious risk of losing control of his country. Remain short Spanish debt and European equities (NYSEARCA:FEZ) (NYSEARCA:EWP) -- this could get quite a bit uglier.
Disclosure: I have no positions in any stocks mentioned, and no plans to initiate any positions within the next 72 hours. I wrote this article myself, and it expresses my own opinions. I am not receiving compensation for it (other than from Seeking Alpha). I have no business relationship with any company whose stock is mentioned in this article.