Is Nokia (NYSE:NOK) really doomed to die a slow death, or have the rumors of its demise been greatly exaggerated? A lot of us are asking this question right now because of Nokia's incredibly low price.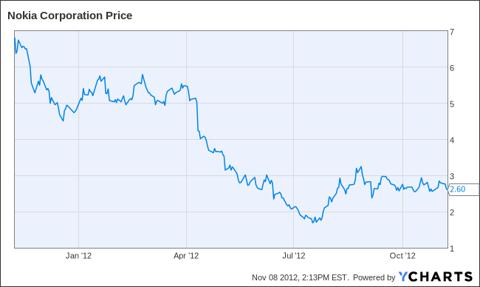 On the morning of November 8th, 2012, Nokia had a share price of $2.60, which makes it either an incredible market or a total dud. Nokia still has a lot going for it even though its share price is in the toilet. The company is still rolling out new phones, and its technology and pricing appear to still be competitive.
The latest Nokia phone, the Lumia 920, is selling for $100 less than the Samsung (OTC:SSNLF) Galaxy S III and $200 less than the Apple (NASDAQ:AAPL) iPhone 5. Nokia has also lined up AT&T (NYSE:T), the second largest telecom in the U.S., to sell the Lumia 920 and Lumia 820. The Lumia 820 is the cheapest smartphone marketed in the U.S. that uses the new Windows 8 operating system from Microsoft (NASDAQ:MSFT), according to Engadget. So it looks like there is still some life left in Nokia, but does it have any value?
The interesting answer to this question is yes. In spite of all its well-publicized troubles, Nokia is still making some money. As of June Nokia reported revenues of $44.25 billion; that was down from $80 billion in 2008 but still respectable. Nokia is still making money, just not as much as it used to.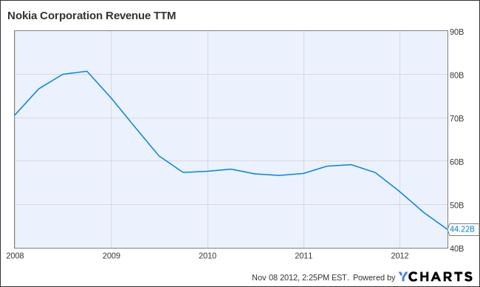 Nokia also has more cash in the bank than you might think. As of June 30, 2012, Nokia had $12.10 billion in cash on hand. It had ten billion more than Research In Motion (RIMM), another phone maker widely identified as a basket case. As of August 31st, 2012, RIM had $2.065 billion in cash and ST investments.
In spite of all of its troubles, Nokia still has a lot of cash. The amount of money that Nokia has in the bank exceeds the company's tangible book value, which was $5.573 billion on June 30th, 2012. Strangely enough, Nokia's bank account appears to be worth more than the company itself. Investors that like a lot of cash might just take a look at Nokia. It is still generating revenue, and it still has some assets and some cash, although Nokia may not hold onto that cash for much longer. As of June 30th, its net income was -$5.26 billion. The company appears to be hemorrhaging cash even though it is able to stay afloat.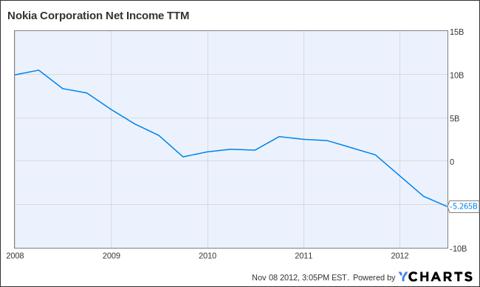 Nokia's Patent Treasure Trove
The interesting thing is that Nokia has one collection of assets that is potentially worth far more than the company itself. The Finnish phone maker is apparently sitting on what might just be a treasure trove of patents.
The tech press has been speculating that the reason Google (NASDAQ:GOOG) hasn't been able to offer support for multiple users with the new Android 4.2 operating system is because of a Nokia patent. If it tries to put multiple users on an Android 4.2 tablet, Google might be in violation of U.S. Patent 2005/0107114 A1, which is apparently held by Nokia.
So Nokia has some valuable patents that might gum up for the works richer competitors, such as Google and Apple. Nokia has around 16,000 patents in telecommunications in the U.S. and 20,000 patents in telecommunications outside the U.S. If that wasn't enough, Nokia also has a 15-year agreement to use all of Qualcomm's (NASDAQ:QCOM) patents in its phones. Because most of those patents presumably cover aspects of wireless and phone technology, Nokia might be sitting on a patent stash that is worth more than the company.
Nokia as an Acquisition Target
That story sounds very familiar, doesn't it? Remember Motorola? That company's patents were worth more than the enterprise itself. Google eventually bought Motorola for $12.5 billion just to get its hands on Motorola's portfolio of patents. At the time of its acquisition by Google, Motorola reportedly had 14,600 patents; fewer than Nokia holds right now.
So there's a good possibility it's an acquisition target because of its patents. A cash-rich tech giant is likely to buy Nokia just to get its hands on its patents. The most likely buyer for Nokia is Microsoft, which had $66.64 billion in the bank as of September 30th. Microsoft is trying to reinvent itself as a hardware company, so it certainly has need of Nokia's patents, and it has the cash.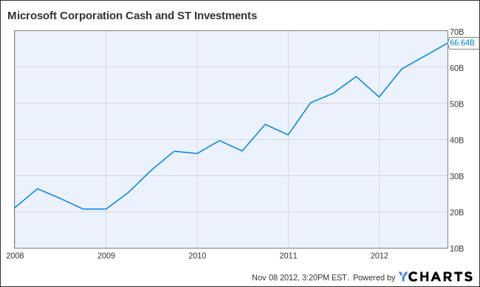 Another reason Microsoft might be interested in Nokia is that Nokia phones are already using Windows 8. The two companies' technology is compatible, so a Microsoft play for Nokia seems logical. Microsoft has excess cash, and Nokia has patents and hardware capabilities that Microsoft needs.
A dark horse suitor for Nokia is Google, which had $45.72 billion in cash on hand on September 30. Google can certainly use those patents in its Android phones.
The bottom line is that Nokia might be a good buy for Microsoft or Google because of the value of its patents. It isn't a good buy for the average investor because those patents don't add to the bottom line or cash flow. The only way Nokia's can be valuable in the foreseeable future is if Microsoft, Google, or Samsung buys the company.
Disclosure: I have no positions in any stocks mentioned, and no plans to initiate any positions within the next 72 hours. I wrote this article myself, and it expresses my own opinions. I am not receiving compensation for it (other than from Seeking Alpha). I have no business relationship with any company whose stock is mentioned in this article.