Today, I read in a Seeking Alpha "Must Know" emailed news summary that the U.S. is expected to surpass Saudi Arabia as the "Top Oil Producer" in the world. In a press release today, the International Energy Agency (IEA) said in its 2012 edition of the World Energy Outlook (WEO) that by 2035, we can achieve energy savings equivalent to nearly a fifth of global demand in 2010. The IEA also said that the United States will surpass Saudi Arabia as the world's top oil producer by 2017.
This could be a great opportunity for some or all the companies that make up the Energy Select Sector SPDR ETF (NYSEARCA:XLE). (More XLE Charts)
According to the Reuters article, "U.S. to overtake Saudi as top oil producer - IEA", last year, the IEA thought Saudi Arabia would be the top oil producer throughout 2035, so this is a huge change. Here are some key items from the IEA report:
The WEO finds that the extraordinary growth in oil and natural gas output in the United States will mean a sea change in global energy flows.
In the New Policies Scenario -- the WEO's central scenario -- the United States becomes a net exporter of natural gas by 2020 and is almost self-sufficient in energy, in net terms, by 2035.
North America emerges as a net oil exporter, accelerating the switch in direction of international oil trade, with almost 90% of Middle Eastern oil exports being drawn to Asia by 2035.
Links between regional gas markets will strengthen as liquefied natural gas trade becomes more flexible and contract terms evolve.
While regional dynamics change, global energy demand will push ever higher, growing by more than one-third to 2035. China, India and the Middle East account for 60% of the growth -- demand barely rises in the OECD, but there is a pronounced shift towards gas and renewables.
With Asia scrambling to find energy for its own growth, the abundance of energy in North America should give the U.S. and Canada an edge for attracting manufacturing that relies on low cost energy. According to the IEA report:
"The recent rebound in U.S. oil and gas production, driven by upstream technologies that are unlocking light tight oil and shale gas resources, is spurring economic activity -- with less expensive gas and electricity prices giving industry a competitive edge."
Global Oil Demand
The IEA expects global oil demand to grow by 7 million barrels per day (mb/d) through 2020, and to reach 99 mb/d in 2035. Iraq should pass Russia as the second largest oil exporter. Again, from the IEA report:
"Global oil demand grows by 7 mb/d to 2020 and exceeds 99 mb/d in 2035, by which time oil prices reach $125/barrel in real terms (over $215/barrel in nominal terms). A surge in unconventional and deepwater oil boosts non-OPEC supply over the current decade, but the world relies increasingly on OPEC after 2020. Iraq accounts for 45% of the growth in global oil production to 2035 and becomes the second-largest global oil exporter, overtaking Russia. "
Natural Gas
According to the IEA report: "While the regional picture for natural gas varies, the global outlook over the coming decades looks to be bright, as demand increases by 50% to 5 trillion cubic metres in 2035. Nearly half of the increase in production to 2035 is from unconventional gas, with most of this coming from the United States, Australia and China. "
Coal
The IEA report also states that: "Whether demand for coal carries on rising strongly or changes course radically will depend on the strength of policy decisions around lower-emissions energy sources and changes in the price of coal relative to natural gas. In the New Policies Scenario, global coal demand increases by 21% and is heavily focused in China and India."
How To Invest?
Obviously, companies with a large U.S. presence will benefit from lower domestic energy costs. Lower cost energy means customers will have more money to spend on goods and services, and it will cost less to produce and deliver these goods to the customers. Thus the SPDR S&P 500 Trust (NYSEARCA:SPY), the ETF I have recommended here for years, will have "tail winds" helping profitability.
Which energy company will benefit the most from this "sea change" in global energy flow? I don't know, so it may be time to buy XLE, the energy sector ETF, to get a diversified basket of energy companies.
XLE Top 10 Holdings (62.39% of Total Assets)
| | | |
| --- | --- | --- |
| Company | Symbol | % Assets |
| Exxon Mobil Corporation | | 19.68 |
| Chevron Corporation | | 15.30 |
| Schlumberger N.V. | | 6.67 |
| Occidental Petroleum Corporation | | 3.87 |
| ConocoPhillips | | 3.60 |
| Anadarko Petroleum Corporation | | 2.77 |
| National Oilwell Varco | | 2.76 |
| EOG Resources, Inc. | | 2.66 |
| Apache Corporation | APA | 2.59 |
| Halliburton Company | | 2.49 |
This chart shows XLE's price for the last decade:
(click images to enlarge)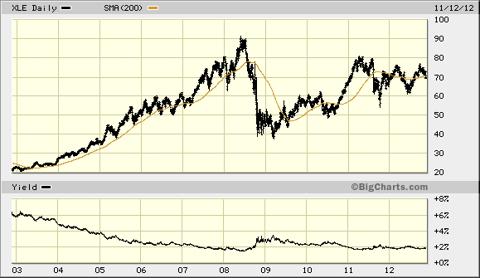 This chart shows XLE adjusted for dividends back to 1999. At $69.52, XLE is 19% below its all-time high, when you consider reinvested dividends: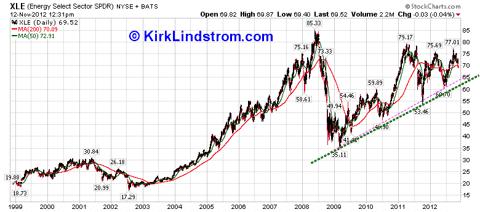 This next chart shows XLE, the Financial Select Sector SPDR ETF (NYSEARCA:XLF) and SPY with dividends reinvested since the November 2008 election. I knew an Obama administration would not be a friend to the energy industry, so I avoided the energy sector since his first election. In 2008, I actually sold a small, personal position in XOM. Later, when the market was lower and I wanted to "rebalance," I used the money and some cash to add SPY to a taxable account in late 2008 in the $80s.
The chart shows SPY, even with its heavy weighting in financial stocks, outperformed XLE by about 10% since the November 2008 election. XLE had a run up before the 2012 election, as some GOP hopefuls thought they might win, but now it is lower and has fallen a bit more than SPY: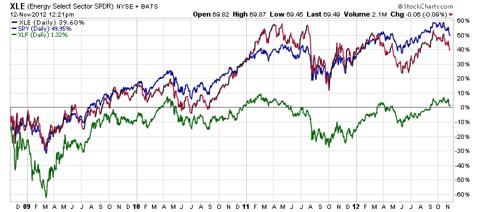 I like to buy what is out of favor and then sell or take profits after it is not "hated so much." For example, I bought 300 shares of XLF, the hated financial ETF, in 2009 at $9.72, sold 150 shares in August 2009 at $14.00, then bought 300 again in August 2011 at $12.50, and sold 200 of those in March 2012 at $15.00. I think we may have a "similar" opportunity to buy energy stocks, perhaps after the "post-election selling" ends.
Seeking Alpha shows XLE has a 1.79% yield, which is better than the current 10-year Treasury rate of 1.61% (U.S. Treasury Rates at a Glance).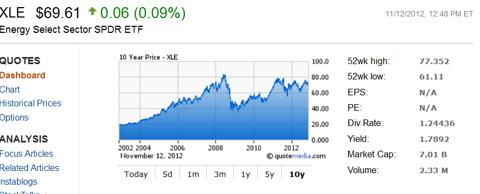 XLE Price Targets
I haven't decided if I will buy XLE. One reason I'm writing this article is to get feedback from the community. Right now, I am happy with SPY with its higher dividend and obvious benefits due to lower priced oil, but perhaps a decline of XLE to $6.50 -- the dashed green line on my chart below, where the yield with a $1.24 dividend is 2.0% -- a good target: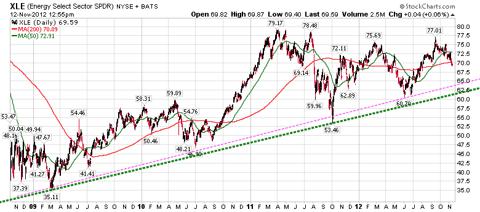 What Do You think?
Can energy stocks do well now in Obama's second term? Now that he doesn't have to win another election, will he help or hinder the industry? Or is it a better risk-reward to stay in SPY and other stocks that will benefit from lower-priced oil?
Disclosure: I am long SPY and XLF. I wrote this article myself, and it expresses my own opinions. I am not receiving compensation for it (other than from Seeking Alpha). I have no business relationship with any company whose stock is mentioned in this article.