This article compares the dividend basics and dividend growth prospects of two consumer goods giants: H. J. Heinz Company (HNZ) and ConAgra Foods (NYSE:CAG). Let us get into the details.
Recent News of Interest:
ConAgra: ConAgra announced a new dividend payment of 25 cents a share, up from 24 cents a share. The new dividend will be paid to shareholders on December 4th 2012.
Heinz: Heinz was in the news recently as fake Heinz ketchup bottles were discovered in New Jersey. Consumers (and investors) buy great brand names mainly for their quality. Though these incidents are not isolated to Heinz alone, food companies especially must take appropriate steps as it might literally boil down to a question of life or death.
Current Yield: There is nothing to choose between the two stocks in terms of current yield after ConAgra's latest dividend hike. It stands at 3.6% for both stocks.
Payout Ratio: ConAgra's payout is at 53%, while Heinz is inching toward a 70% payout. Both numbers are on the higher side than what investors usually prefer, especially for Heinz.
Cash on Hand: Heinz, being the bigger player, takes this cake. Its cash on hand is inching toward the $1 billion mark and more importantly, the cash reserve has been growing steadily as shown below, unlike ConAgra's continuous fall. Heinz's cash represents about 5% of its market cap, while ConAgra's cash is less than 1% of its market cap.
(Heinz's Cash: click to enlarge)

(Source: YCharts.com)
(ConAgra's Cash: click to enlarge)

(Source: YCharts.com)
Dividend Growth: According to its website, ConAgra has been paying out dividends since 1977 (Note: The actual streak might be longer and the website could be listing just recent data). The dividends were raised almost every year, except 2007 and 2009. The average five-year dividend growth rate stands at about 5%.
Heinz has been paying dividends since 1911 according to this article on SA. The 5-year dividend growth rate stands at about 6.3%. A point to note is that Heinz in fact raised its dividend during the 2008 crisis when ConAgra twice did not increase its dividend.
Future Extrapolation and Conclusion:
The tables below show the expected yield on cost for investors who can set aside their money in these two stocks for 10 years. Even though both stocks have the same current yield, Heinz's slightly higher dividend growth rate (6% vs ConAgra's 5%) shows better returns as depicted below.
Now, you might think the difference is small. But assume you invest $1000 at 5% in ConAgra and at 6% in Heinz. After 10 years, your returns from Heinz will be at $1790, which is 16% greater than ConAgra's. Of course, the bigger the initial investment, the bigger the gap between the two final numbers.
Heinz it is: If forced to pick one between these two, we suggest investors pick Heinz. In spite of its higher payout, we fully expect Heinz to continue pouring cash back to investors. Healthy cash on hand and the dividend growth history tilt the odds in favor of Heinz. Also, companies like Heinz have the power to increase prices without worrying about too much of backlash from consumers.
(ConAgra: click to enlarge)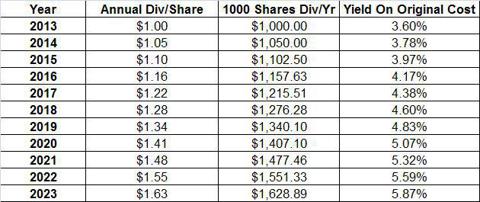 Disclosure: I have no positions in any stocks mentioned, and no plans to initiate any positions within the next 72 hours. I wrote this article myself, and it expresses my own opinions. I am not receiving compensation for it (other than from Seeking Alpha). I have no business relationship with any company whose stock is mentioned in this article.