Today, Leucadia National Corp. (NYSE:LUK) made a transformational acquisition of Jefferies Group Inc. (JEF). We profiled Jefferies a couple of months back, where we discussed the undervaluation, strong management, and relationship with Leucadia. We believe this acquisition is in the best interests of all shareholders involved, and will lead to substantial long-term shareholder value creation.
Leucadia is the largest shareholder in Jefferies with approximately 28.6% of the outstanding shares. Under the terms of the agreement, Jefferies shareholders will receive 0.81 shares of Leucadia for each share of Jefferies common stock. After the announcement Leucadia's stock was trading at roughly $20.93, so Jefferies shareholders would get $16.95 in stock if prices stayed where they are. This merger addresses several key issues. Leucadia's wonderful leadership team of Ian Cumming and Joseph Steinberg are getting up there in age and have been very unclear about the succession issue. Now with Richard Hander and Brian Friedman taking over as CEO and President, respectively, of Leucadia, the issue is clearly resolved. Cumming and Steinberg will still be directors in Leucadia, so the combined company will get the benefit of their marvelous long-term investment acumen. Below is a table that shows the incredible track record of these two managers.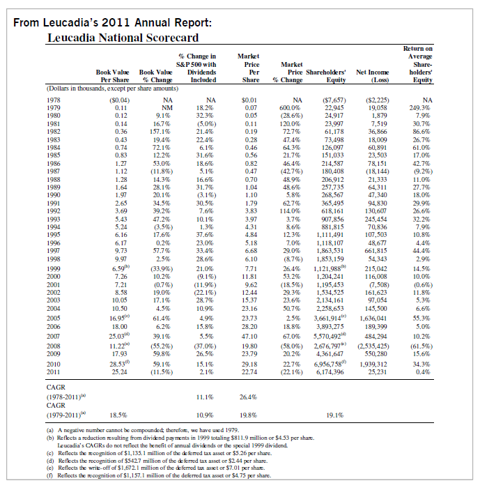 Source Leucadia 10-K and Jefferies Investor Presentation on Merger: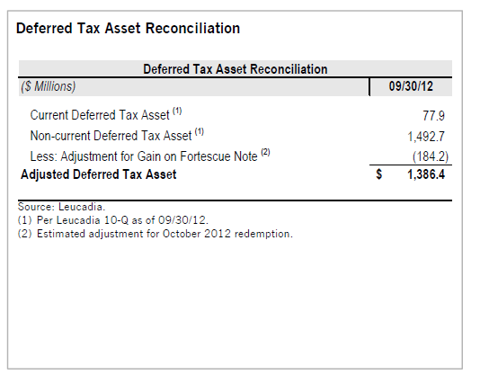 Source: Jefferies Investor Presentation on Merger
One of the most important benefits of this acquisition that hasn't gotten nearly as much attention thus far, is that the acquisition will significantly enhance Leucadia's ability to utilize its $1.386 billion deferred tax assets. Leucadia is often compared to Berkshire Hathaway (NYSE:BRK.A) because of the operating structure, and both companies have wonderful capital allocators as managers. One key difference is that Leucadia's operating companies are not nearly of the same quality as Berkshire Hathaway, therefore they don't produce the same level of consistent operating profits. Cumming and Steinberg are more than willing to buy solid businesses at extremely cheap prices, and then sell them when they get close to intrinsic value assuming they have better opportunities in mind. Over the years, Leucadia has acquired this significant net operating loss that requires profits to be able to fully monetize the asset. Jefferies is a consistently profitable operation, and its earnings power will substantially assist in Leucadia realizing these tax benefits. Since 2009, Jefferies' cumulative adjusted pre-tax earnings were $1.73 billion. Average quarterly adjusted pre-tax margin has been 18.1% since 2009. Over the short to middle-term, the combined Jefferies and Leucadia's after-tax income will be significantly greater than it would have been without having consummated this merger. The table below shows the progression of Jefferies' revenue and net income since 1990.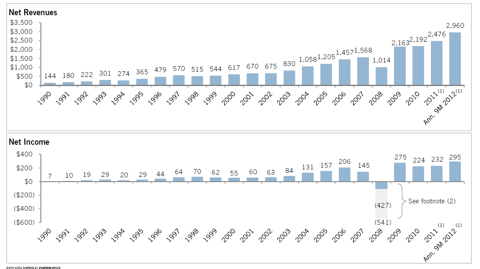 Source: Jefferies Investor Presentation on Merger
Leucadia's increased capital base will benefit Jefferies tremendously. After MF Global's demise, Sean Egan wrote an inaccurate and misleading report pertaining to Jefferies' European exposure. The stock and bonds of Jefferies plummeted, which is actually when we at TTCM really began getting involved with both types of securities of the company. Now as part of a larger holding company with diversified assets, Jefferies will be far less susceptible to rumors and innuendo then previously. Leucadia and Jefferies have worked together on a wide variety of businesses in the past including Jefferies' high-yield bond trading unit, which they jointly own. As a fully integrated subsidiary of Leucadia I'd expect to see more of these opportunities develop. Here is a breakdown of Leucadia's current businesses from the company's 10-K.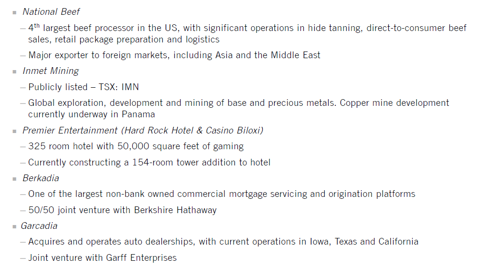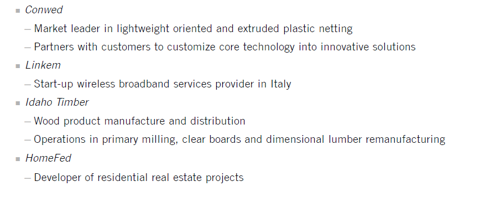 Below is an outline of Leucadia's post-merger balance sheet requirements. I believe they put these out to let the rating agencies know publicly what their intentions are. Jefferies was always susceptible to ratings downgrades, as it increased the company's cost of capital while also worrying its trading partners. Now Leucadia will have the opportunity to inject capital if need be, without diluting public shareholders' stake in the company.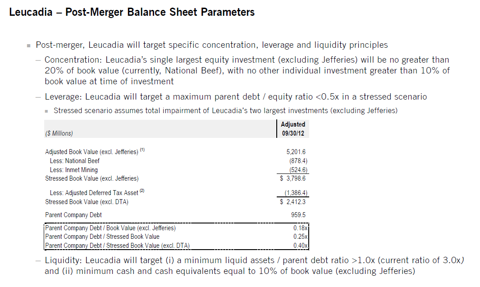 Source: Jefferies Investor Presentation on Merger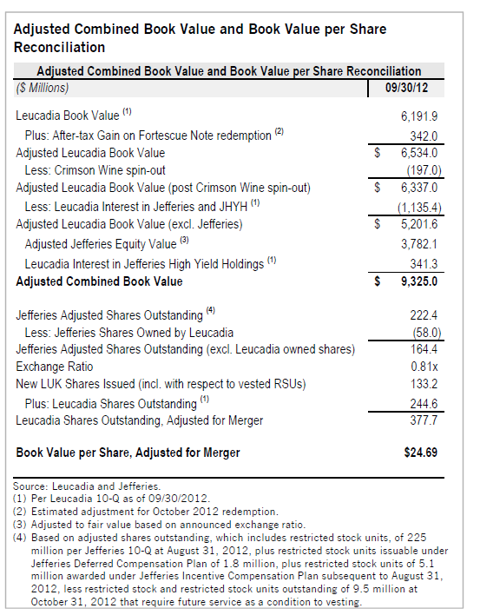 Source: Jefferies Investor Presentation on Merger
I believe that after the acquisition Leucadia should trade around its adjusted book value of $24.69, as the likelihood of realizing the deferred tax assets has now increased tremendously. From book value, I believe the company can grow equity by 10-15% per annum, and if the company can do so successfully it will likely lead to an increased multiple over time. Jefferies is now positioned to continue upon its long-term focus of creating a best in class investment bank, and its success in doing so will have a huge impact on Leucadia's share price. Leucadia will continue to manage its current portfolio of businesses, which has recently been trimmed down through dispositions. The opportunity to invest in Jefferies was just too good to pass up, and while I'm sure Cumming and Steinberg would have preferred a higher stock price for Leucadia, they realize that Jefferies is a long-term partner and the deal will benefit all sides. We sold some puts on Jefferies today as we are confident the merger will close, and we are interested in acquiring a cheaper entry price into the combined company. 3-5 years out I believe that the public will fully realize how good of a move this was by both companies, and as long as Leucadia trades below book value the stock deserves strong consideration for purchase.
Disclosure: I am long JEF, BRK.B. I wrote this article myself, and it expresses my own opinions. I am not receiving compensation for it (other than from Seeking Alpha). I have no business relationship with any company whose stock is mentioned in this article.