The changing interest rate environment in 2012 has not been kind to Annaly Capital Management (NYSE:NLY) and its investment model of income through leveraging the interest rate spread on a portfolio of agency mortgage-backed securities. Annaly has just announced it will buy CreXus Investment Corp. (NYSE:CXS), a commercial mortgage REIT and for which a subsidiary of Annaly acts as investment manager.
According to the announcement, Annaly Capital has proposed to pay $12.50 per share for the 87.6% of CreXus Investment it does not already own. The offer is a 13% premium to the last traded price of CXS and a 5% premium to book value. The offer values the CreXus Investment at about $960 million. Since Annaly receives a couple of billion dollars each month in principal repayments from its mortgage portfolio, paying cash for the CreXus shares will not be an issue.
One issue will be the Annaly Capital relationship to CreXus Investment. From the press release:
Given that Fixed Income Discount Advisory Company ("FIDAC"), a wholly owned subsidiary of Annaly, manages CreXus, and two employees of FIDAC are on CreXus' Board of Directors, Annaly expects that CreXus' Board will create a Special Committee consisting entirely of directors who are independent of Annaly to consider the proposal contained in Annaly's letter and to negotiate the terms of any transaction resulting from that proposal.
Effects on Annaly Capital Results
Using the recently reported third quarter results can provide an indication on how much the purchase of CreXus Investment could affect the Annaly Capital bottom line. As I discussed in my article about the Annaly Capital third quarter results, the company reported net income in the quarter of $$450 million, including about $140 million of gains from the sales of securities.
CreXus Investment reported net income of $22.6 million for the third quarter. Quarterly income results have varied significantly over the last five quarters, averaging $27 million per quarter. Net income results for the first three quarters of 2012 were well below the numbers posted for the second half of 2011.
If Annaly does use principal repayments cash flow to pay for CreXus, the result will be that instead of reinvesting into more MBS with a 1% spread leveraged 6 times to earn a net 7%, Annaly will be buying a portfolio of commercial loans and preferred equity yielding around 11%. The result should be a small net positive to the Annaly bottom line.
Longer Term Benefits
This move by Annaly Capital to buy CreXus Investments is a semi-bold attempt to move away from Annaly's dependence on agency REIT interest rates - something over which the company has little control. The commercial real estate lending business has tremendous potential as proven by the excellent results posted by Starwood Property Trust (NYSE:STWD) over the last couple of years. The Annaly press release noted that management is authorized to invest up to one-quarter or the company's equity into non-agency MBS investments.
Although significant positive benefits from this acquisition may take a couple of years to significantly impact the Annaly Capital bottom line, the move may be enough to put a floor on the share price as investors wait for those positive results. The NLY dividend will still be much lower in 2013, but some stability in the payout - instead of the steady decline - should be an additional benefit.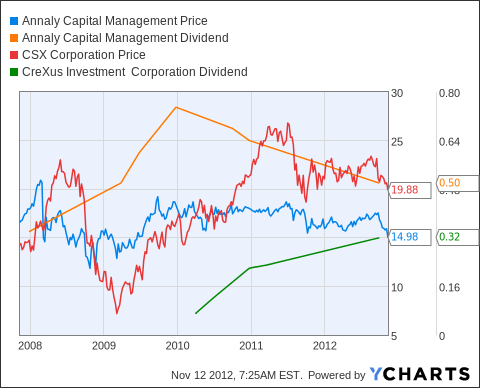 Recommended Reading: Take A Look At Starwood Property Trust For An 8% Yield And Growth Potential
Disclosure: I have no positions in any stocks mentioned, but may initiate a long position in STWD over the next 72 hours. I wrote this article myself, and it expresses my own opinions. I am not receiving compensation for it (other than from Seeking Alpha). I have no business relationship with any company whose stock is mentioned in this article.