Fears over the U.S. fiscal cliff and European debt pushed 10-year Treasury yields back under 1.6% last week. For investors searching for yield, emerging market bond ETFs still offer attractive income opportunities.
Emerging market junk bond ETFs offer robust yields and added diversification qualities. For instance, the Market Vectors Emerging High Yield Bond ETF (NYSEARCA:HYEM) tries to reflect the BofA Merrill Lynch High Yield U.S. Emerging Markets Liquid Corporate Plus Index, which holds dollar-denominated speculative grade emerging market bonds. HYEM has a 0.40% expense ratio and a 6.54% 30-day SEC yield.
The ETF leans toward the higher end of the non-investment grade emerging market bond universe, with 50.8% in "BB" bonds, 38.1% in "B" bonds and only 2.9% in "CCC" bonds. Additionally, the funds come with a modified duration of 4.24 years -- a lower duration will limit the impact of interest rate risks.
Top sector allocations include basic industry 21.2%, banking 15.8%, energy 13.5%, real estate 12.9% and utilities 9.3%. Top country allocations include China 14.4%, Russia 13.6%, Venezuela 8.8%, Brazil 8.4% and Indonesia 7.7%.
The Federal Reserve has forced yields on most domestic assets down as investors pile into every corner to meet their income needs, but the yields in the emerging markets are still higher because of higher central bank rates, inflation levels and growth rates, writes Eric Dutram for Zacks.
Supporting yields on sovereign and corporate debt, Brazil, China and India benchmark rates are above 5%, whereas the Fed is committed to keeping short-term interest rates near zero until 2015. Corporate bonds typically come with a risk premium over sovereign debt to compensate investors for the added default risk.
Market Vectors Emerging High Yield Bond ETF
(click image to enlarge)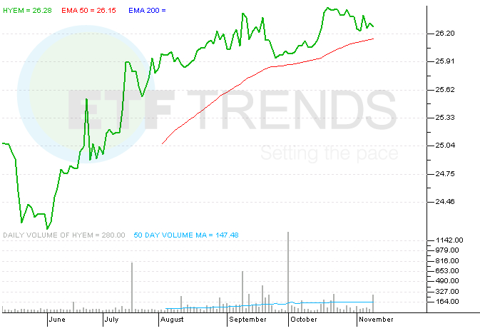 Click to enlarge
Max Chen contributed to this article.
Disclosure: I have no positions in any stocks mentioned, and no plans to initiate any positions within the next 72 hours. I wrote this article myself, and it expresses my own opinions. I am not receiving compensation for it. I have no business relationship with any company whose stock is mentioned in this article.