A rally in Chinese stocks since mid-September has bolstered emerging market ETFs as the country gears up for its once-in-a-decade leadership transition.
The iShares FTSE China 25 Index Fund (NYSEARCA:FXI) has pulled back the past three sessions, but the 50-day moving average has passed above the 200-day average in a so-called bullish cross. Trading volume in the ETF has picked up recently.
FXI, the biggest Chinese exchange-traded fund in the U.S., climbed to a six-month high as expanding factory output added to signs the economy is awakening from a seven-quarter slowdown, Bloomberg News reported.
"Investors were looking for some signs of stabilization in the growth, and the purchasing managers' index is one of those signs," Audrey Kaplan of Federated InterContinental Fund at Federated Global Investment Management, said in the report. "People's confidence in Chinese equities is picking up. It looks like the beginning of a rally."
Chinese manufacturing rose for the first time in three months on rising output and an influx of new factory orders. Both industrial production and retail sales rose for the first time in six months. The undervalued yuan is currently bolstering the edge that China has in trade markets.
Stephen Davis of Signal Investment Research is taking a positive stance on the outlook for China, on the premise that the worst is over. First of all, valuations of China stocks in Shanghai are attractive, while China's cyclical sectors -- industrial, materials and energy -- are performing better-than-expected, and point to a turn in other sectors and the markets as a whole, reports Steve Gelsi for MarketWatch.
The political leadership change in China is the next big transition that investors are eying. Chris Oliver for MarketWatch reports that the final transition process has kicked off in Beijing, with the opening of the 18th Communist Party Congress, with the outcome expected to be made public by November 14, when the meeting ends. Vice President Xi Jinping is widely expected to become the next general secretary of the Communist Party of China's Central Committee and soon after, take over as China's president from current leader, Hu Jintao.
Other China-focused ETFs:
iShares MSCI China Index Fund (NYSEARCA:MCHI) down 2.1%
SPDR S&P China ETF (NYSEARCA:GXC) down 1.6%
PowerShares Golden Dragon Halter USX China Portfolio ETF (NASDAQ:PGJ) down 1.3%
iShares FTSE China 25 Index Fund
(click image to enlarge)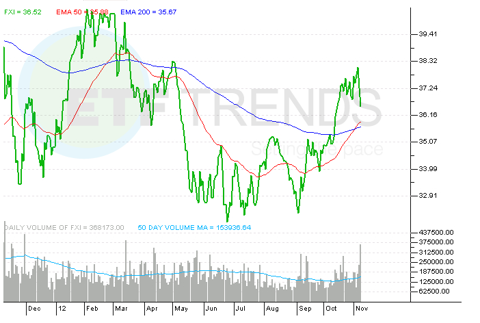 Tisha Guerrero contributed to this article.
Disclosure: I have no positions in any stocks mentioned, and no plans to initiate any positions within the next 72 hours. I wrote this article myself, and it expresses my own opinions. I am not receiving compensation for it. I have no business relationship with any company whose stock is mentioned in this article.