The US is to face the "fiscal cliff" on January 2nd 2013. In previous years, the solutions came in as a cliffhanger with bantering up until the final moments. This year may be different if the Obama administration is willing to work with Mitt Romney on solutions to address the "fiscal cliff". Many of their ideas are similar and perhaps they can exchange a "policy for a cut" and set the US economy in motion.
This is one of the most serious economic times in US history. It is doubtful that US leaders would risk another downgrade by waiting. They are tinkering with the idea of replacing $109 billion in spending cuts with more targeted savings of $55 billion. The tax breaks that also come due would total about $400 billion, with the $600 + billion in automatic spending cuts, the results could lead to a recession if not dealt with properly.
If they do not, taxes of high-income households may increase to 43.4% with capital gains tax increasing to 23.8 %. This along with other increases and spending cuts brings us to a number totaling about $1.09 trillion. It was estimated that if the $200,000 income individuals or the $250,000 joint returns were given tax increases, that about 700,000 jobs could be at risk. Globally, the G-20 and particularly, the International Monetary Fund Chief, Christine Lagarde seem to shift the economic concerns to the "fiscal cliff" occurring January 2nd of 2013 in the US. The IMF calculates the US fiscal cliff adds up to a potential tightening of up to 4% of the US GDP.
The Federal Open Market Committee simply confirmed their $40 billion purchases of mortgage-backed securities and Operation Twist is in effect until years end. They want to keep interest rates low possibly through 2015 and noted any increase in inflation should be minimal. Fitch's credit rating agency has conveyed that should the US not avoid the automatic tax increases, budget cuts and raise the debt ceiling, they may downgrade the US from the current AAA rating.
August of 2011, Standard & Poor's credit rating agency downgraded the US from its AAA rating creating a downtrend in the indices. Globally, a US recession will greatly impact the world economy and could possibly hit by spring. On a positive note, US oil production with the current shale boom could potentially bypass Saudi Arabia's production within the next 7 years. Global demand may increase to 99.7 million barrels a day going into 2035 and the US could increase output to 10.9 million barrels a day to 2025.
The US Thomson Reuters/University of Michigan Preliminary Consumer Sentiment Index increased to 84.9, up from the October reading of 82.6. The "current conditions" portion increased to 91.3 while the "expectations" portion increased to 80.8. US Wholesale Inventories increased 1.1% in September from the previous reading to a seasonally adjusted $494.15 billion. US Wholesale Sales increased 2.0% in September to $413.97 billion. US Initial Jobless Claims decreased by 8,000 last week to 355,000 while forecasts were for 365,000.
The US Trade Deficit contracted 5.1% to $41.55 billion from the previous reading of $43.79 billion. US exports increased 3.1% to $187.00 billion while US imports increased 1.5% to $228.54 billion. The trade deficit with China expanded 1.3% to $29.39 billion with imports increased 1.5% to $37.85 billion and exports increased 2.1% to $8.79 billion. Analysts anticipate real gross domestic product growth to hit 1.8% for the fourth quarter. Inflation is forecast at about 2.3 %. Forecasters are anticipating a difficult first half of 2013.
Greece may need financing through 2016 totaling $32.6 billion euros! The full sustainable reform package has not been reached by the troika and Greece to date. The troika is made up of the European Central Bank (ECB), the European Commission (EC) and the International Monetary Fund (IMF). The troika imagines Greece's GDP to be made up of about 144% debt by 2020 if the resolve is not found. They are considering a two-year extension for Greece to meet the deficit reduction targets.
The IMF and Euro Zone have loaned Greece about $148.6 billion euros to date while the ECB has purchased bonds and private investors have written off about $100 billion euros or more to date. Greece would run out of money if no agreement had been reached. The retirement age had been raised to 67 and further cuts wages and pensions for the 2nd time this year alone. The IMF continues to support Greece as long as a chance remains that Greece will be able to pay back the aid given.
Greece's Industrial Production decreased 7.3% under the pressure of the reforms. Greece's manufacturing declined as the Markit Purchasing Manager's Index decreased to 41.0 in October. European Central Bank President Mario Draghi had reflected his satisfaction with the "visible progress" made, noting his views on inflation remaining moderate or under 2% potentially. Interest rates in the Euro Zone were kept unchanged at 0.75 % by the ECB and 0.5 % by the Bank of England.
On the stock side - last traded: JP Morgan Chase and Co. (NYSE:JPM) was down 0.10 % to $40.58. Citigroup Inc. (NYSE:C) was up 1.36 % to $36.42. Bank of America (NYSE:BAC) was down 0.42 % to $9.39. Alcoa Inc. (NYSE:AA) was unchanged at $8.43. Boeing Co. (NYSE:BA) was up 0.57 % to $73.67. Caterpillar Inc. (NYSE:CAT) was up 0.24 % to $85.15. General Electric Co. (NYSE:GE) was down 0.52 % to $20.89. Halliburton Co. (NYSE:HAL) was up 0.29 % to $30.65. Hewlett Packard Co. (NYSE:HPQ) was down 1.48 % to $1341. SPDR Select Sector Fund - Financial (NYSEARCA:XLF) was up 0.32 % to $15.55.
Tuesday, we have no major US reports due out.
E-Mini S&P 500 Chart.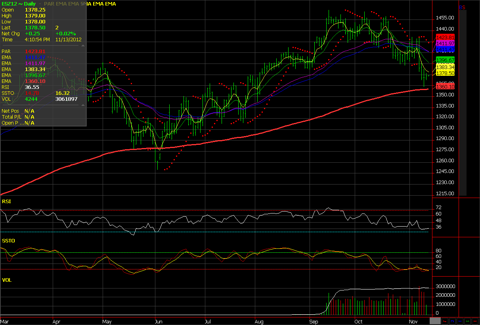 Tuesday, what to expect...We maintain a bearish bias unless the (December) E-Mini S&P 500 penetrates $1427.75. We anticipate an inside to higher day. Monday's range was $1381.75 - $1372.50. The market settled at $1378.25. Our comfort zone or point of control for this market is $1377.75. Our anticipated range for Tuesday's trading is $1393.50 - $1375.50.
Disclosure: I have no positions in any stocks mentioned, and no plans to initiate any positions within the next 72 hours. I wrote this article myself, and it expresses my own opinions. I am not receiving compensation for it. I have no business relationship with any company whose stock is mentioned in this article.