The Crix and Guava Jam Strategy: Delicious Australia
"I feel the pressure, under more scrutiny, and what I do, act more stupidly" - Kanye West
Crix is the household name for crackers where I currently reside. One cannot open a cupboard in Trinidad and Tobago without seeing a pack of Crix. The slogan used by the company which produces these delicious crackers is "Crix - Your Vital Supply". During most of my university life Crix was a staple. With some Guava Jam, Crix made most of my breakfasts, lunches and dinners. It was also an ideal snack for studying.
When I look at my fixed income portfolio, I can't imagine it without having an exposure to Australia, whether it be a leveraged forex spot position in AUD/USD, the ETF FXA or another ETF AUD. Given the ties to China, a relatively higher interest rate environment and the AAA credit quality, an Australian exposure is a vital supply. The coupon income relative to credit risk is attractive and the capital appreciation through forex movements makes the fixed income portfolio much richer, as sweet as guava jam.
Crix
With most developed central banks practicing a Japanese style interest rate environment and even billion dollar asset purchase programs, the Australian monetary policy still has room to go lower. Indeed, times are hard across the globe as the central bank governors stimulate growth but that pack of Crix in the cupboard (Australian interest rates) is there to make things a little better. The Reserve Bank of Australia's (RBA) benchmark rate, the cash rate, is at 3.25%. The chart below compares the RBA cash rate with other developed countries.
click to enlarge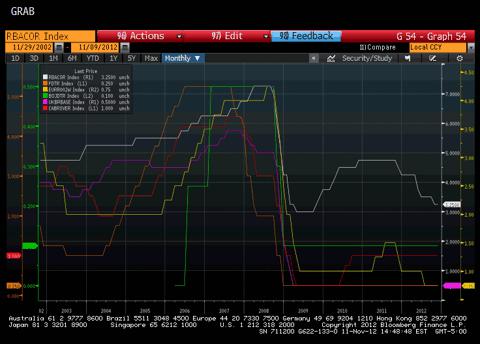 Even though the RBA has been cutting rates due to falling commodity prices, fiscal contraction and a deteriorating labor market, the rate of the RBA's cash rate and by extension Australian yields, remain attractive when Australia's credit rating is taken into consideration. Australia has the coveted S&P AAA rating. With this, and yields mapped around the RBA's 3.25% cash rate, make securities such as a long FX spot AUDUSD, FXA and AUD as good as Crix.
Guava Jam
Although I never had it all the time, Guava Jam always came in handy. It made my meals of Crix feel like gourmet food. While data released from Australia may not be at its best, investors should position themselves with a medium term outlook, for when the Guava Jam is available to have with their Crix.
For several years the Australian government has been nursing a fiscal deficit. Recent figures show that the final budget results for 2011-2012 illustrated the third worse budget deficit (in the region of $43.7 Bn). However, this figure was better than the Australian government's estimate by $660Mn. To place Australian exposure in a more positive light and maintain demand for their securities, the Australian government needs to change that deficit into a surplus (although most other developed nations are in deficit balance territory, but that is another article). The Australian government targeted a move from their 3% of GDP budget deficit to a 0.1% surplus. This would be the largest turnaround as a percentage of GDP ever.
To do this, the Australian government forecasted an increase in revenues of $38.9Bn in 2012-2013 from where it was in 2011-2012, the largest increase in levels on record. Some measures identified to raise revenues were to reduce the private health insurance rebate, reducing a 'baby bonus', removing a tax treatment of goods or services given to an employer when accessed through a salary sacrificing arrangement and increased charges on skilled graduates, partners, working holiday makers and temporary workers seeking visas to come to Australia. These measures indicate that although the Guava Jam is not on the table right now, it is getting nearer.
Recently, Australia had the largest trade deficit since March of 2008. This was a result of exports declining by more than 3.3%, which was more than the 1.3% fall in imports. However, with approximately 30% of Australia's exports going to China, the improving Chinese economy is expected to make a position in Australia much sweeter. To put things into perspective; iron ore export volumes to China were the second highest level on record at 15%. Improvements in demand from one of Australia's major exports, particularly from a result of Chinese demand, should keep the Australian dollar firm as well as Australian fixed income asset prices at bid.
The chart below shows monthly Australian iron ore exports.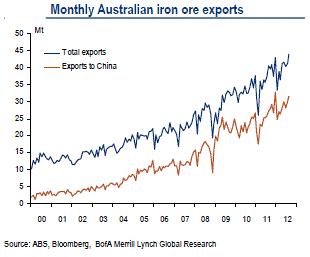 Delineating the effect China has on the Australian economy, the RBA cash rate and Chinese GDP were charted over the past ten years below.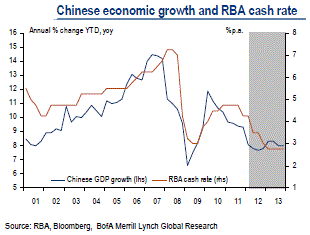 With projections for 8% GDP growth in China for 2013, positioning for Australian exposure is warranted.
The Taste
The Australian dollar versus the US dollar has been range-bound since mid July. The FX cross trades within the range of 1.063 to 1.017, approximately 4.22%. With negative sentiment surrounding the fiscal cliff in the US, expectations are for AUDUSD to have some level of weakness, carrying down to the 1.017 level which is a viable buying opportunity. At these levels investors should benefit from an increase in the Australian dollar as better than expected economic data arising from China emerges. The chart below shows the daily chart of AUD/USD.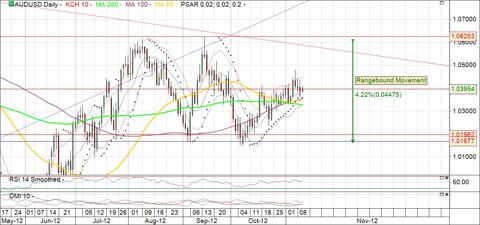 For investors who choose to refrain from leveraged forex positions, the ETF FXA is recommended. FXA tracks the Australian dollar versus the US dollar and is exhibiting the similar range-bound movements as AUD/USD. Targets for entry into FXA are 101.9 and a return of 4.42% is anticipated over the next 3 to 6 months after entry.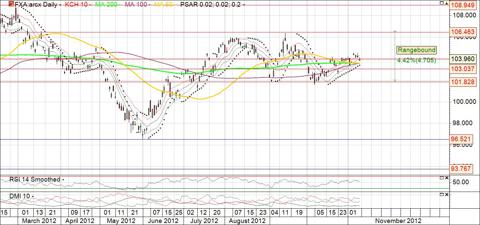 Furthermore, investors seeking Australian bonds but unable to meet the minimum requirements to bid or trade need not look any more. The ETF AUD comprises Australian bonds and distributes the coupon income monthly. The 12 month yield stands around 3.23% and the price movement of the ETF seems to be similar to AUD/USD and FXA. As such, target for entry on AUD is near the 102 price area, with expectations of a price return over the next couple of months after entry of 4%. The chart below shows the daily chart of AUD.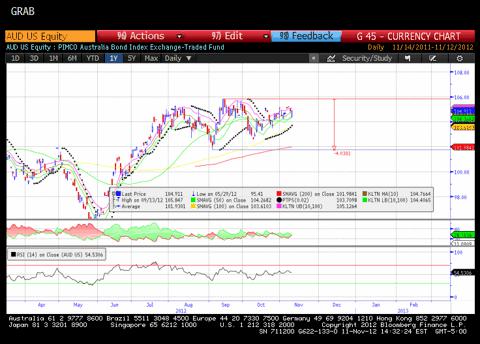 A Good Mix
With AAA credit quality, and the volatility due to the trading of commodities and metals to emerging markets, exposure in Australia remains a good mix. Thus, investors should consider positions in the AUD/USD, FXA and AUD in their portfolios as it will benefit them as Crix and Guava Jam benefited me.
Disclosure: I have no positions in any stocks mentioned, and no plans to initiate any positions within the next 72 hours. I wrote this article myself, and it expresses my own opinions. I am not receiving compensation for it (other than from Seeking Alpha). I have no business relationship with any company whose stock is mentioned in this article.