Procter & Gamble (NYSE:PG) is the world's largest company in the personal and households products sector. It is a favorite amongst conservative, long term investors. It has paid a dividend for an incredible 122 consecutive years and has increased its dividend for the last 56 consecutive years.
With such a dividend record and a beta of 0.6, PG is a less volatile place for the long term investor to put his money. Valuation is always key when initiating a position, so is now a good time to buy?
There are 3 general factors one should check when evaluating investment risk. They are:
The business risk - the risk that the business generates lower than expected profits or loses money (and yours!).
The financial risk - the risk the company has taken on too much debt which it is unable to finance and so goes bust.
The valuation risk - the risk we pay too much for a share, minimizing our returns even if the business performs well.
The Business Risk
Procter & Gamble has a portfolio of almost 80 well known global brands covering beauty, grooming, health care, fabric & home care, and baby & family care. Of these brands, 25 generate over $1 billion in annual sales and PG generates 61% of its sales outside of North America, with 38% coming from developing markets.
The following graphs display the business performance of PG in terms of sales, earnings, cashflows and dividends per share going back to 1994.
click to enlarge images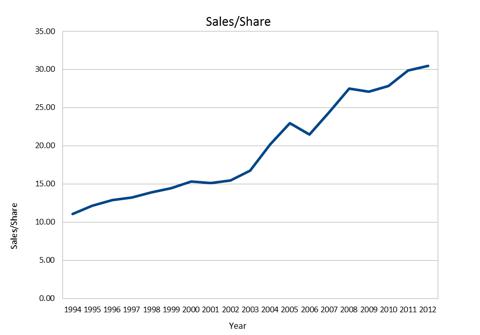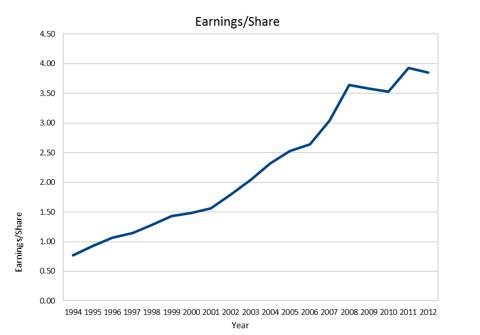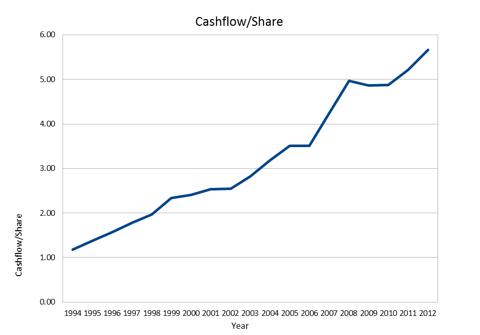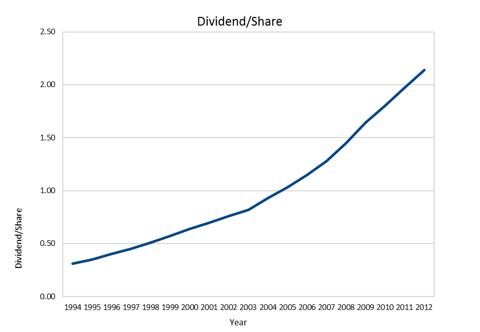 There has been a consistent uptrend in growth in sales, earnings, cashflow and dividend/share over this 18 year period. Companies with performance records like this set themselves apart from the market at large and as a result typically command a premium, deservedly so. However, earnings growth has stalled since 2008 as the EPS graph and the Growth Rate table below will show.
(CAGR = Compound Annual Growth Rate)
Procter & Gamble - Growth Record

Growth Parameter

CAGR over the past 18 Years

CAGR over the past 5 years

Prospective 5 year CAGRs

Sales per share

5.8

4.5

4.2

Earnings per share

9.4

4.8

9.3

Cashflow per share

9.1

5.9

5.8

Dividend per share

11.3

10.8

7.0
Historical and prospective growth rates derived from Valueline
Earnings growth has approximately halved over the last 5 years compared to the long-term average performance. PG management recognize this and have outlined initiatives to restore strong earnings growth including strengthening their core business, focusing on "discontinuous" innovation to create new markets to exploit, and a $10 billion cost cutting program out to 2016.
Although growth has slowed for PG, they have been able to maintain a superior operating margin compared to most of their competitors. PG's operating margin has averaged 23% for the last decade. In this slow growth period for them they have managed this by passing on costs to the consumer, but at the expense of market share and hence earnings growth.
As mentioned earlier, PG has raised its dividend for 56 consecutive years. Its growth rate has slowed only slightly compared to earnings growth, therefore it is no surprise to see the payout ratio has started to increase since 2008.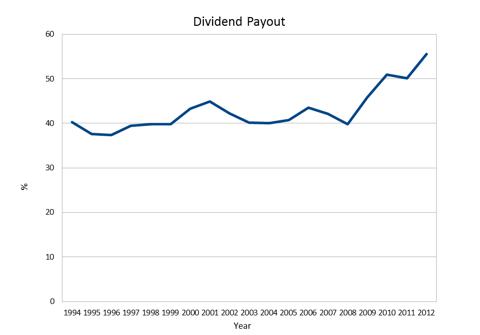 Based on the above, PG has historically had a very strong business model. But things are not what they once were. PG have struggled since the slowdown/recession began in 2008 and CEO Bob McDonald has lost the confidence of some, most notably Warren Buffet who has been reducing his PG holdings, as to whether he can turn things around.
Financial Risk
The following graphs help to evaluate PG's financial position.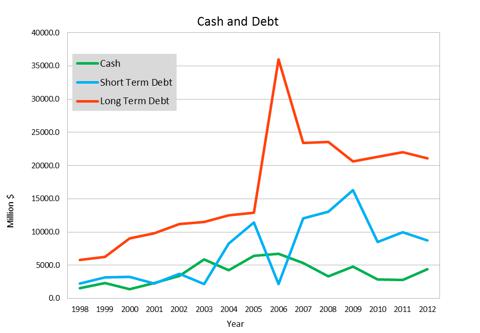 The above graph shows PG's cash and debt positions going back to 1998, both long and short term debt. Both short term and long term debt have grown since circa 2006, but look to be stable. The graph below shows the total net debt position, although substantial, it does look to be reducing since 2008.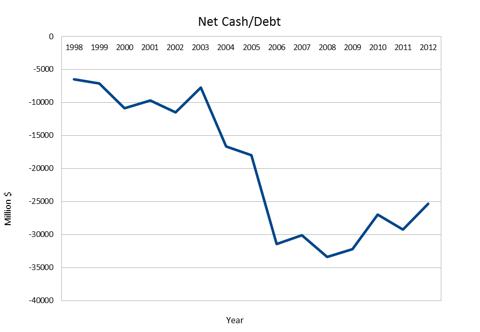 As the debt has grown, the average interest rate PG is paying has been falling.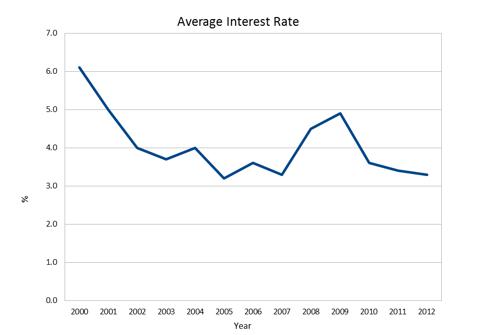 PG's annual debt obligations are well covered by their cash generated by operating activities, therefore currently there does not seem to be a great financial risk with the company.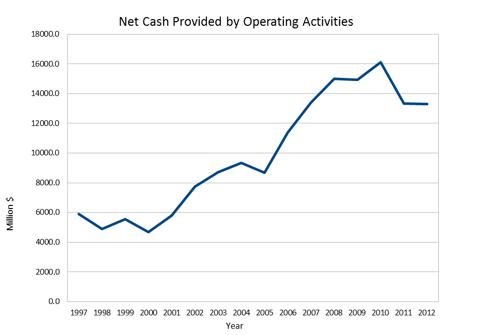 Valuation Risk
The following graph show how much investors have been willing to pay for PG shares over the past 18 years.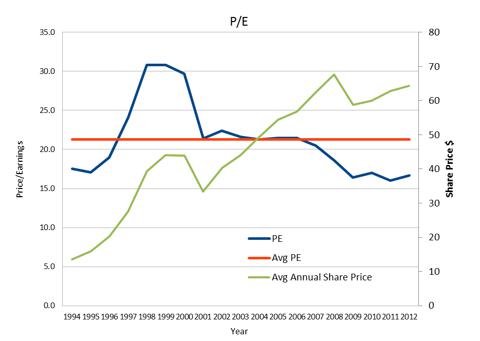 This graph shows that investors were willing to pay over 30x earnings for shares in PG 1998/99 and approximately 16-17x earnings from 2009 to today. PG has an average PE ratio over the last 18 years of 21x earnings, which is higher than the average PE ratio of the S&P 500. Based on its historical performance of consistent growth, PG has commanded a premium price, however this premium has been vanishing due to slow growth and future growth concerns. PG currently trades at a forward PE ratio of 17.
PG has a long history of dividend payments and, as stated earlier, has increased its dividend payment for the past 56 consecutive years. Today, the yield is approximately 3.2% which is near its high of the past 18 years.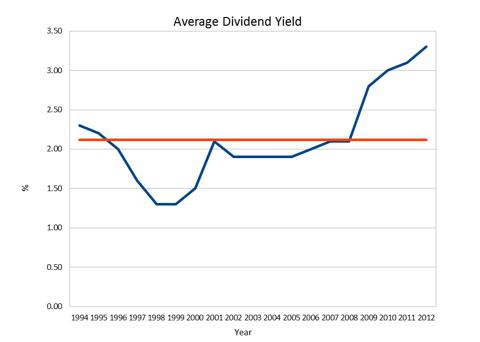 Based on P/E being near historical lows and the dividend yield being near historical highs PG can be considered undervalued compared to history; it is about as cheap as it has been for the past 18 years.
Conclusion
Growth is the major concern at this juncture with PG. Whether management can turn the performance around of this great company is undecided currently by the market, providing the investor the opportunity to buy the company at historically low value. But this will only be considered historically low value in the future if a return to historical growth levels is achieved. It is possible, PG are focused on growing in the BRIC markets and streamlining the business. There is evidence of this already; compound growth in the BRIC markets has been +20% over the last 5 years (but developing markets currently only make up 38% of net sales as of 2012), the sale of Pringles to Kellogg earlier this year saw PG exit its last food business, and they are committed to cutting costs by $10 billion by 2016.
Bob McDonald has said he wants to return annual growth between the high single digits to the low double digits, which is inline with historical performance. Even if they can only return growth to approximately 6%, combined with a +3% dividend yield, an annual return of around 9% for the medium term is not bad compared with the current low interest rates on offer in developed world government bonds. A closing of the PE ratio gap nearer to historical norms would also boost returns another few percentage points.
There is probably a reasonable margin of safety on offer currently in PG. It is unlikely to provide huge returns in the short to medium term, but for a long term investor focused on stability and dividend growth, PG's current price is appealing.
Information for this article was sourced from Valueline and PG annual reports.
Disclosure: I have no positions in any stocks mentioned, and no plans to initiate any positions within the next 72 hours. I wrote this article myself, and it expresses my own opinions. I am not receiving compensation for it (other than from Seeking Alpha). I have no business relationship with any company whose stock is mentioned in this article.