The traditional image of the family, which consists of two parents and two plus kids, may one day be altered as the marriage rate is reducing at a steady rate since 2000. While researching deeper into the causes for the declining birthrate, the U.S. marriage and divorce rates have caught my attention and investors should be aware of this developing trend.
Declining Marriage Rate and Divorce Rate
From 2000 to 2010, the U.S. population had increased from 281,421,906 to 308,745,530; however, the rate of marriages had decreased from 8.2 to 6.8 per 1000 total population, as shown from the table below, source from CDC/National Center for Health Statistics. However, in contrast to the general perception, the divorce rate had actually also been declining from 4.0 to 3.6 in the same period as well.
click to enlarge images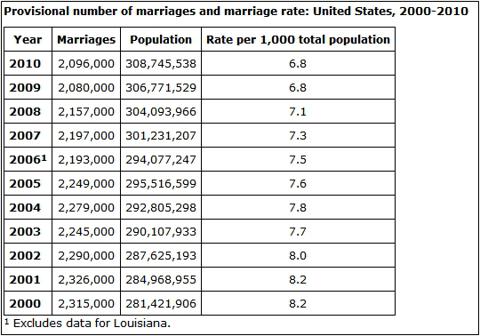 Source: CDC/National Center for Health Statistics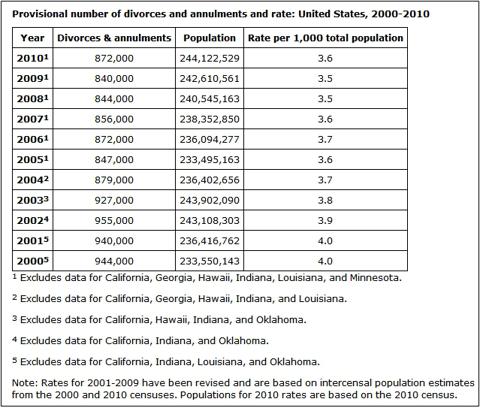 Source: CDC/National Center for Health Statistics
Factors Contributing to the Declining Rates
The ratio of marriage-to-divorce ratio also changed from 2.05 to 1.89 from 2000 to 2010. The marriage rate had declined 17% and the divorce rate had declined 10% from 2000 to 2010, respectively. The declining marriage rate had played a larger factor to bring down the marriage-to-divorce ratio. It is suspected that people are becoming more selective about marrying and thus resulting in less divorce, as written by Mark Regnerus from Patheos. There are other possible factors contributing to the declining marriage rate, including: 1) changing life-style and shifting cultural trend where marriage becomes less important; 2) people are delaying marriage due to financial pressure and recession; and 3) women become better educated and more independent, thus marriage becomes more optional.
Implications
As the marriage rate declines, the demographics will gradually shift as the percentage of married people will become smaller. We can no longer assume that married couple households are the only place where people incur obligations, make commitments, and need help meeting their obligations, as stated by Stephanie Coontz of Evergreen State College. This trend could eventually lead to changing consumer demand and needs. A few potential trends will be listed below:
For real estate sector, people may no longer need the large houses; instead, they will prefer smaller space with more convenience, such as condominiums and apartments.
For auto sector, smaller car will outsell larger cars due to reduced household members.
For financial sectors, family insurance policy will become less needed as singles are less likely to have younger dependents.
The demand for full family restaurants will be replaced with quiet and convenient cafeteria.
The demand for pet related products and services may increase as single population increases
There are many more potential changes with the declining marriage rate and investors need to watch out this trend as it could eventually impact the demand and consumption in all sectors of business.
From the investment perspective, we have listed 2 interesting stocks that might be benefited from the declining marriage rate in the long-term:
PetMed Express, Inc. (NASDAQ:PETS): PETS is nationwide pet pharmacy that delivers prescription and non-prescription pet medications for dogs, cats, and horses to the consumers, primarily through its website and over the telephone. This company has a market cap of 207.47M, with 0.79 EPS and P/E of 13.17, and currently distributes 5.79% annual dividend.
According to the 2011-2012 APPA National Pet Owners Survey, 62% of U.S. households own a pet, which equates to 72.9 millions homes. Americans spent approximately $47.7 billion on pet products and services in 2010, an increase of 4.8% over 2009. Since 1988, pet ownership has expanded from 56% of households to 62%. Having a pet is a great way to prevent loneliness and good for health, too. With the decreasing marriage rate, pets will become more needed for singles. PETS is ready to ride this increasing trend with its established sales channels.
AvalonBay Communities Inc. (NYSE:AVB): AVB is a multifamily REIT that develops, owns, and manages high-end apartments in space-constrained U.S. markets, which should lead to excess return for shareholders in the long-term while enjoying a narrow economic moat. AVB currently has a market cap of 12.82B, with 2.61 EPS and P/E of 50.32. AVB currently distributes 2.96% annual dividend.
With the decreasing marriage rate, the demand for larger houses will be shifting toward smaller condominiums and apartments, which are more convenient, affordable, and economic for singles. AVB is one of the best REIT to benefit from this decreasing marriage trend with its specialization in the apartments.
Disclosure: I have no positions in any stocks mentioned, and no plans to initiate any positions within the next 72 hours. I wrote this article myself, and it expresses my own opinions. I am not receiving compensation for it (other than from Seeking Alpha). I have no business relationship with any company whose stock is mentioned in this article.