Shares of Home Depot (NYSE:HD) have returned 63.9% over the past 12 months and recently achieved the 10-year high at $63.20. Will the stellar price performance continue? Should you ride on the momentum? In this article, I will elaborate on my value analysis that may help you in formulating the investment decisions.
HD's valuations appear to have fully factored in the company's financial strengths over its competitors (see comparable analysis table below). Analysts on average predict HD's revenue, EBITDA, and EPS to grow at 2-year CAGRs of 3.7%, 9.3%, and 17.2%, respectively, over the current and next fiscal years. Those growth estimates are generally better than the averages of 1.3%, 3.8%, and 18.8%, respectively, for a peer group consisting of HD's primary competitors in both the US and Canada. In addition, HD's EBITDA margin is forecasted to expand by 1.3% over the same period, largely higher than the peer average of only 0.2%. On the profit side, HD has an industry-leading margin performance. All of the company's profitability and capital return metrics are substantially higher than the peer averages. In terms of leverage and liquidity, HD assumes an in-line level of debt as reflected by the firm's higher debt to capitalization ratio, but lower debt to EBITDA rate. HD's trailing free cash flow margin of 6.8% is substantially above the par. Due to the high profitability and the in-line leverage, the company was able to maintain a healthy interest coverage ratio. Although both HD's current and quick ratios are below the peer averages, they are still within a healthy zone.
click to enlarge images

To summarize the financial comparisons, HD's industry-leading growth prospects, profitability, and free cash flow generating capability should substantiate a solid premium valuation for the stock. HD's current valuations at 10.2x forward EV/EBITDA, 18.9x forward P/E, and 1.23x PEG represent an average valuation premium of 27% over the peer-average trading multiples, suggesting that the company's premium financial performance is completely reflected in the stock price (see comparable analysis table above).
Moreover, some of the less relevant valuation metrics for HD indicate considerably higher valuation premiums. HD's 1.4x forward EV/S, 1.3x forward P/S, and 5.2x P/B suggest an average valuation premium of 166% over the average trading multiples of the peers (see comparable analysis table above).
HD's forward P/E has substantially outperformed the same multiple of the S&P 500 Index since August 2011 (see chart below). The stock's P/E multiple premium has increased from 8.5% in August 2011 to 42.8% at present. Additionally, both HD's trailing EV/EBITDA and P/E multiples are currently near their 10-year highs and trading at premiums of 34.4% and 31.0%, respectively, over their 10-year historical averages (see chart below). Nevertheless, The company's expected revenue, EBITDA, and EPS growth rates are below their historical levels in a decade ago (see chart below), meaning that the stock has become much more expensive.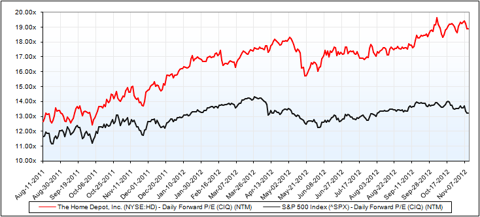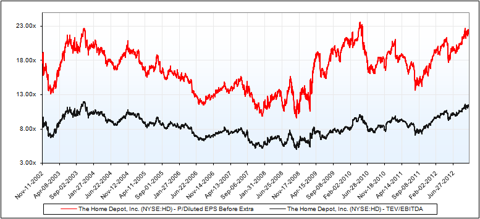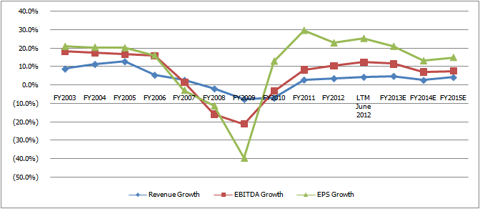 From a dividend prospective, HD's margin of safety also appears weak. Although the dividend per share has never been cut over the past decade and the company's robust free cash flow continues to provide a sufficient capacity to sustain the future dividend growth, HD's dividend yield has dropped to its 5-year low, and therefore making the stock less tempting for income-oriented investors (see charts below). It should be noted that HD's current dividend yield at 1.9% is only higher than the yield-to-worst ("YTW") of the company's two senior unsecured corporate debentures which have less than 4 years to maturity (see table below). Given the stretched stock valuation and the higher historical yield level, I believe the dividend yield has a limited downside from the current level.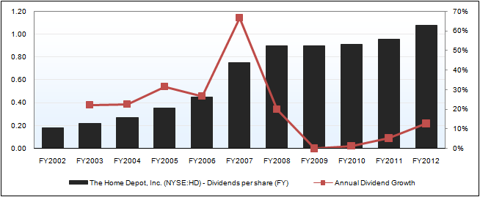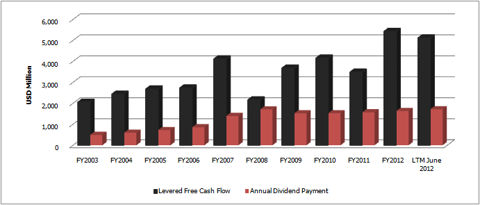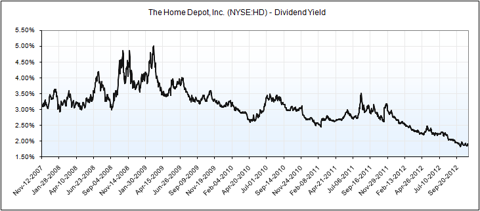 As such, assuming a reasonable yield at 2.5% and supposing that the annualized dividend per share would be raised by 20% (a somewhat aggressive assumption) from the current level of $1.16 to $1.39, this scenario would imply a stock value of $55.68, about 8.7% below the current stock price at $60.96.
According to Thomson One data, although 19 out of 31 analyst ratings for HD are buy or strong buy, the average target price is only at $62.17. Oppenheimer's research analyst, Brian Nagel, recently downgraded the stock in October and cited the following rationale (according to Thomson One, Equity Research):
Our view remains that the US housing market is in the early stages of a prolonged recovery and that HD is positioned well to capitalize on improving demand trends within the Home Improvement category. We are concerned, however, that HD shares are now at a near-term valuation top. We do not envision a significant correction for HD. Instead, we expect shares to potentially trade sideways for a time as earnings catch up with a now premium multiple. Our rating on HD goes to Perform from Outperform.
Based on HD's estimated long-term earnings growth rate at 15.4%, the stock's trailing P/E's 10-year historical average of 16.7x, and the current peer-average forward P/E at 14.8x, I believe a reasonable forward P/E multiple for HD should be at around 16.0x. Applying that ratio to the analysts' average estimated FY2014 EPS of 3.38, one can arrive at a target stock price of $54.08, indicating an 11% downside.
Bottom line, HD's price appreciation has markedly eroded the investment's margin of safety. Given that all of the aforementioned analysis points to lower stock values, I do not recommend buying the shares now.
All charts (except for the debt securities summary, which is sourced from Capital IQ) are created by the author and all financial data presented in this article and the charts are sourced from Capital IQ.
Disclosure: I have no positions in any stocks mentioned, and no plans to initiate any positions within the next 72 hours. I wrote this article myself, and it expresses my own opinions. I am not receiving compensation for it (other than from Seeking Alpha). I have no business relationship with any company whose stock is mentioned in this article.