Republic Services (NYSE:RSG) is the second-largest provider of solid waste management services in the United States. The acquisition of Allied Waste Services in 2008 put them head-to-head with Waste Management (NYSE:WM). Waste services have traditionally been recession-proof, and with the fiscal cliff looming in the distance, this company seemed like it was worth analyzing.
Profitability
click to enlarge images

With the exception of 2008 and the acquisition, the metrics of Republic Services look good, but not great. Net margins have been declining; however, gross margins have been relatively steady with a modest increase over the past ten years. Returns have been a bit spread out, but the company has an average ROE of 11.2% and an average ROA of 4.2% (2008 was included in both calculations). Overall, I would consider the company moderately profitable.
Intrinsic Value
When calculating the intrinsic value, I used a discounted cash-flow model. The table below has the FCF in millions from the past ten years.

The following two tables have the average multi-year growth rate calculated from both a five and ten year period. I find that this gives a more reliable and accurate growth rate that can be used when projecting future growth.

The average of the two tables above gives an average growth rate of 34.63%. I decided to take a little less than half of that figure and make the future growth rate 15%. However, since growth has been aggressive and Republic Services probably won't be able to sustain that in the long run, I only used that growth rate for the first four years. I then used a conservative 4% growth rate for the remaining six years.
I used a variety of factors to determine the discount rate, including market cap, profitability, and financial health. I found that a discount rate of 13% for Republic Services was fairly conservative and I applied that to the DCF model.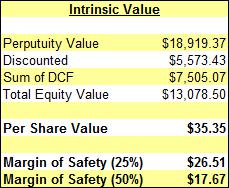 With future growth rates of 15% for the first four years and 4% for the next six years, and a discount rate of 13%, this gives Republic Services an intrinsic value of $35.35. When a margin of safety of 25% and 50% is applied, the target buy window is in between $17.67 and $26.51. Given the fact that Republic Services closed at $26.75 at the writing of this article, it seems that the price is just outside the margin of safety. However, since it's a bit harder to estimate future growth of firms that have had aggressive growth in the past, I've included two different scenarios that gives a range of what the company could be valued at.
With a growth rate of 7.5% for the next four years, 4% in the last six, and the same discount rate of 13%, the intrinsic value is $27.76. With a growth rate of 22.5% for the next four years, 4% in the last six, and the same discount rate of 13%, the intrinsic value is $44.46.
As you can see, very different values are calculated depending on how you see the ability of Republic Services to maintain growth. As of now, I'm sticking with my original value of $35.35.
Valuation

Given the current valuation metrics, Republic Services seems undervalued compared to prior years. The current P/E, P/B, and P/S ratio are all under their ten year averages, meaning that the current price could be an attractive entry point.
Conclusion
Republic Services has been growing nicely due to both organic growth and through an acquisition. An intrinsic value of $35.35 suggests a good amount of upside, and I believe that based on the above research, it is currently undervalued. However, I would suggest waiting to see if the stock dips into the margin of safety range before investing.
Disclosure: I have no positions in any stocks mentioned, and no plans to initiate any positions within the next 72 hours. I wrote this article myself, and it expresses my own opinions. I am not receiving compensation for it (other than from Seeking Alpha). I have no business relationship with any company whose stock is mentioned in this article.