Whole Foods Market, Inc. (NASDAQ:WFM) is the largest retailer of natural and organic foods, operating about 342 stores in the U.S., Canada, and England, as of November 7, 2012. The stores sell high-grade conventional and organically grown produce and grocery products, environmental friendly household items, healthy food and supplements. The Company had earned a narrow economic moat through its positive brand perception and its leading position in the natural food market. WFM has also become the largest pure-play natural grocery chain in the United States. WFM will continue to grow with its solid fundamentals and its edge in natural food. It's a good time for investors to review this long-term investment opportunity with its recent pullback.
Earnings and Fundamentals Overview
On Nov. 7, 2012, WFM released its Q4, 2012 earnings of 60 cents a share, which came in-line with analysts' consensus estimate and was substantially higher from 42 cents earned in the prior-year quarter, as reported by Zacks.com. The Company sustained its top-line growth momentum with revenue climbing 23.6% to $2,910.3 million in Q4, higher than the Zacks consensus of $2,905 million. WFM has been gaining better market shares as against other supermarket chains and consumers are gradually returning to the chain after cutting their spending during the recession. In the last five fiscal years, gross margin has been in the range of 34% to 35%, as helped by the effective inventory management and WFM's successful pricing strategy and strong value offerings. To further boost the margin, WFM has been building new stores that are smaller and in neighborhoods with lower rent, where it faces less high-end grocery competition, as reported by Ben Fox Rubin from The Wall Street Journal. The same-store sales rose 8.5%, making its 14th consecutive quarter of growth. The management projects an escalation of 10-12% in total sales and reiterated its earnings forecast of $2.83 to $2.87 per share. The Company also raised its quarterly dividend by 43% to 20 cents a share from 14 cents, which will be paid by Jan. 29, 2013 to stakeholders of record as of Jan. 18, 2013. The full earnings call transcript from Seeking Alpha can be read here.
However, despite the in-line earnings and positive developments, the share price for WFM had dropped 4.54% as of Friday's closing after the earnings release. The analysts are concerned about deceleration in growth from WFM in recent quarters, which was reinforced in this latest earnings report. However, other analysts debated that the recent slowdown could be a buying opportunity as the strong trends in natural/organic will continue and WFM still has great potential for strong long-term growth through its efficient operation.
From the fundamental perspective, with data gathered from MorningStar, WFM's revenue growth and EPS growth (with the average in the past 3 years) of 8.3 and 33.0 are much faster as compared to the industry average of 3.9 and 9.6. The operating margin of 6.2% and net margin of 3.8% are all showing stronger numbers as compared to the averages of 2.7% and 0.7%. WFM's key stats are further highlighted with its strong ROE of 13.2, ttm, as compared to the average of 5.6 and zero debt-to-equity, and as compared to the industry average of 3.3. This, despite the higher P/B of 4.6 and P/S of 1.5, compared to the average of 2.4 and 0.3, WFM is fair-valued with P/E of 39.1, which is slightly lowered than the average of 40.7.
Technical Analysis
On Nov. 9, WFM closed at $91.57 with 1.40% gain, with the volume of 2.29M, which was 64.74% more than the 30 day average volume of 1.39M. WFM had been trading in the range of $62.77-101.86 in the past 52 weeks. WFM is currently trading below its 50-day MV of $97.06 and above its 200-day MV of $89.58. The MACD (12, 26, 9) indicator had started to show a bearish sign on Nov. 8, 2012. The momentum indicator, RSI (14), is showing an increased selling momentum at 38, approaching 30, which is considered as over-sold. If WFM can hold above 200-day MV, the next major resistance will be its 50-day MV, followed by R1 pivot point of $100.18 and R2 pivot point of $105.58, as seen from the chart below.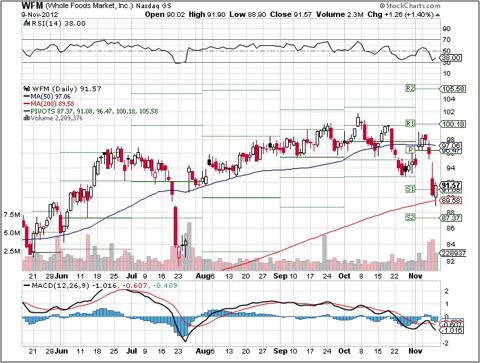 Source: StockCharts.com
Options Play
From the long-term perspective, WFM will continue to grow with the strong demand in natural/healthy food, which is further supported by the health-concerned aging baby boomers. Below, we will review the options play with a credit put spread for bullish long-term investors to capture the upside potential while having a plan to acquire WFM stock at a further discounted price as the worst case scenario.
Short 1x Jan. 19, 2013 Put at the strike price of $85 for the credit of $1.95
Buy 1x Jan. 19, 2013 Put at the strike price of $80 for the cost of $0.95
The maximum profit is $1.00 and maximum risk is $4.00 ($5 dollar loss - $1 credit received), which translates into 25% return potential for the margin used with the investing period of 9 weeks if WFM closes above $85 on Jan. 19, 2013. However, if WFM falls below $85 upon options expiration, the acquisition cost for WFM is $84 per share upon option exercise, which is 8.27% below the current price of $91.57.
Note: All the prices are quoted from the closing of November 9, 2012 and all calculations are before fees and expenses. Investors and traders are recommended to do their own due diligence and research before making any trading/investing decisions.
Disclosure: I have no positions in any stocks mentioned, but may initiate a long position in WFM over the next 72 hours. I wrote this article myself, and it expresses my own opinions. I am not receiving compensation for it (other than from Seeking Alpha). I have no business relationship with any company whose stock is mentioned in this article.