Introduction
Over the last 2 months, Apple (NASDAQ:AAPL) has dropped from $700 to $547.5. While I wasn't a huge fan of investing in Apple at $700, the recent drop makes me somewhat bullish. As I will argue in this article, the drop is unjustified, and I expect Apple to return to $600 or higher within a couple of months.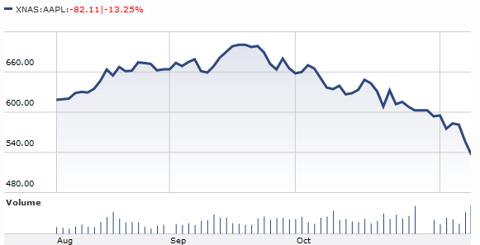 Why Apple has dropped
I think there are 3 reasons why Apple has dropped. Two of them are related to Apple's most recent quarterly report, and the 3rd is related to President Obama.
Apple's gross margin guidance of 36% disappointed analysts. Most likely, they had expected a guidance of 39-40%, as the December quarter (which I will refer to in this article as Q4 2012, even though Apple calls it Q1 2013), should benefit from a positive product mix; Due to the release of the iPhone 5, total iPhone sales are expected to increase from roughly 27 million in Q3 to roughly 47 million in Q4. Since the iPhone has a gross margin of 50%, Apple's total gross margin should (ceteris paribus) increase in Q4. However, the guidance of a 36% gross margin indicates a decline of 4.5%.
Tablet sales were disappointing; With just 14 million iPad shipments in the most recent quarter, Apple's market share dropped from 70% in Q2 2012 to 50% in Q3 2012.
As analysts had expected 15.3 millions iPads sold, the numbers were below expectations.
During the presidential campaign, President Obama proposed to increase the capital tax rate, and this may have caused investors to unload their Apple shares to avoid paying higher taxes.
Understanding Apple's gross margin guidance
I think the 3rd reason is a short-term effect. The fundamental value of Apple isn't determined by a potential increase in the capital tax rate.
Also, I am not particularly worried about the lost market share of the iPad. Apple has recently launched an iPad Mini and the iPad 4 is expected to be released during November. Both have received very favorable reviews, and I expect them to sell very well.
But the gross margin guidance is quite worrisome. Apple hasn't had a sub 38% gross margin quarter since 2009, so that brings us to the next question. Why does management expect the gross margin to decline to 36%? After having the studied the most recent quarterly earnings conference call I have found five main reasons:
Management expects a stronger dollar
The iPhone 5 is more expensive to produce than the previous models.
New iMac, Macbook Pro 13-inch, iPod Touch and iPod Nano have higher product costs as well.
With the addition of the iPad Mini to the lineup, Apple expects increased tablet sales, which have lower gross margins than Apple's average gross margin.
Favorable items benefited Apple in the most recent quarter, but those are non-recurring.
Most of the reasons management listed are realistic and make a lot of sense, and as you can see in the below graph the average revenue per iPad sold has decreased since Q1 2010. It will most likely decrease further going into the December quarter as Apple has dropped the price of iPad 3 to $370 and launched the iPad Mini.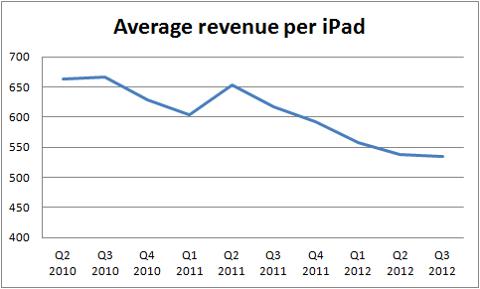 Meanwhile the production costs have gone up since the iPad 1 was released. While the iPad 1 16GB had an average production cost of $353, the iPad 3 16GB costs $416 to produce.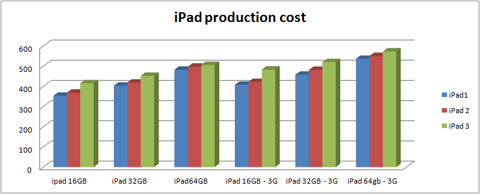 Source: iSuppli and my own estimates
We can also see (in the below diagram), that the iPhone has become more expensive to produce, and with the release of the iPhone 5, gross margins of the iPhone will probably decline a bit (as the 16GB version of the iPhone 5 is more expensive to produce than the 16GB of the iPhone 4s).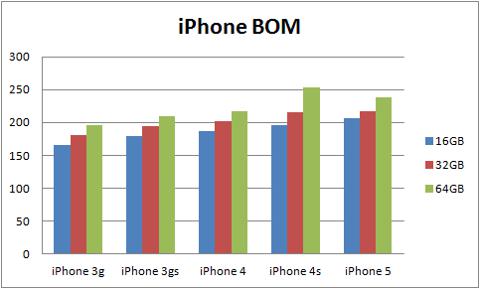 Source: iSuppli and my own estimates.
Why the gross margin guidance is too conservative
Despite all these reasons, I still think the guidance is too conservative. First of all, Apple's management has a long history of setting the guidance roughly 2-2.5 percentage points too low. As you can see in the below graph, Apple has been too conservative in their guidance in every single quarter since Q1 2010.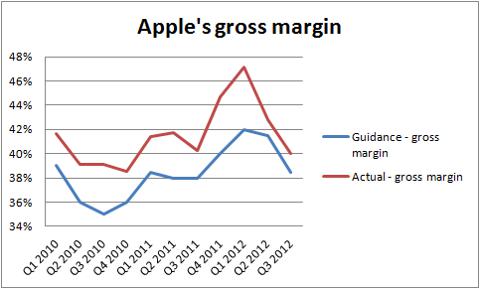 Given Apple's history of underestimating future gross margin, it is not unrealistic to assume that they once again are too conservative with their 36% gross margin guidance.
Some investors will probably end their due diligence there, and add a further 2-2.5% to their own Q4 gross margin estimates, but I don't think "simple rules" are huge generators of alpha. Therefore I have developed an extensive Apple model, which estimates future sales, average revenue per unit and average costs per unit of every single product Apple sells (MacBook Air, Macbook Pro, iPod Nano, iPhone 5 vs iPhone 4s etc.). This has allowed me to estimate the historical and future gross margin of every single product. In the below diagram you can see the current gross margins for Apple's products.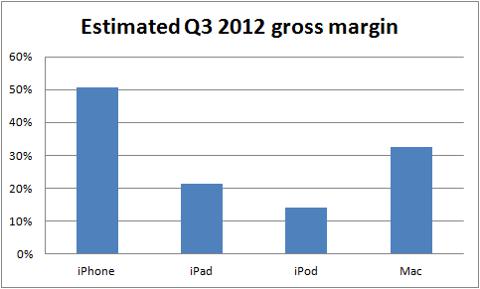 What my model predicts will happen in Q4 2012
My model takes almost 100 variables into account in its earnings estimation, but below you can see some of the most important assumptions:
iPhone sales of 47 million
Average iPhone gross margin of 51.4%, down from 53.5% last year.
iPad 10-inch sales of 20 million, up from 14 million in the most recent quarter. This is due to the November release of the iPad 4, and a price reduction of the iPad 3 to $370.
Average iPad 10-inch gross margin of 20.5%
iPad Mini sales of 8 million.
iPad mini gross margin of 26% (see this article for an explanation of how I estimated the gross margin).
Lower Mac and iPod margins (as expected by Apple's management)
No benefits from favorable items this quarter.
Ignores any potential currency effect (this is debatable, but unless the dollar increases rapidly it shouldn't have a significant effect on the accuracy of the model).
The result? My model predicts a gross-margin of 38.7%, which means that management once again is too pessimistic. Since a large part of the decline in the stock price is related to the gross margin guidance of 36%, I think we can assume that the drop isn't justified.
It's true that Apple won't be a high-growth company in the future, and I believe those who have a $900-1000 price target are way off. But at a price of $547, Apple is not even priced to obtain any kind of earnings growth.
As you can see in the below graph, I estimate that Apple will continue to grow EPS over the next 4 quarters (at a somewhat lower rate though), and I expect a forward P/E-ratio of 9.76.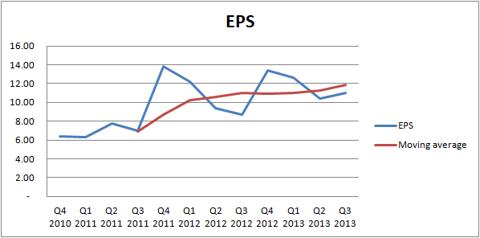 Conclusion
Unfortunately for Apple, the competition is catching up. Apple has seen it necessary to build more expensive models while cutting prices; not exactly a recipe for high gross margins. But the 36% target is just too low, and it is based on extremely pessimistic assumptions. Going forward, Apple will probably have a difficult time returning to gross margins of over 40%, but I don't think they necessarily have to in order to obtain earnings growth. Their new devices (iPad 4, iPad Mini, iPhone 5) have all received very favorable reviews, and I have no doubt that they will make new sales records.
A common saying is: buy when other investors sell. While I think the term is somewhat overused, I think it makes sense in this case. When Apple was priced at $700 I was slightly bearish on the stock. As it went down to $630, I was somewhat neutral/slightly bullish. At the current price level I am decently bullish. I probably won't buy it yet (as I need to be very bullish compared to just "decently"). However, if you considered buying the stock at $700, I think today's price of $547 is a much more attractive offer.
Disclosure: I have no positions in any stocks mentioned, and no plans to initiate any positions within the next 72 hours. I wrote this article myself, and it expresses my own opinions. I am not receiving compensation for it (other than from Seeking Alpha). I have no business relationship with any company whose stock is mentioned in this article.