It isn't a secret anymore, there is an unconventional revolution going on in the North American energy industry.
The development and perfection of horizontal drilling and multi-stage fracturing techniques and the application of them to unconventional shale and tight oil and gas reservoirs has unlocked vast amounts of resources that were previously uneconomic to produce.
These technologies have reversed what had been a multi-decade decline in United States oil production. Since the start of 2009 American oil production has increased by over one million barrels per day.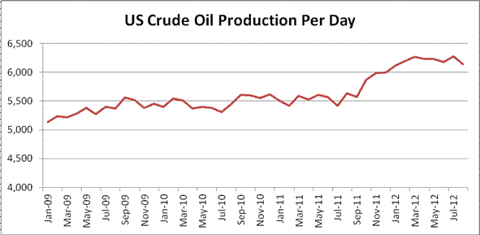 I'm a big believer in this unconventional revolution and have positioned my portfolio accordingly. My focus has been pretty much exclusively on unconventional oil plays. In my opinion the stock market is greatly underestimating how much oil is going to be recovered from the acreage that unconventional focused oil producers control. Many of these unconventional players are going to be able to grow cash flow and invest capital at high returns for decades to come.
I believe these companies can best be described as growth at unreasonably low prices.
As an investor I have to be focused all of the time on what I might be missing and the risks to my investment. Ironically in the case of the unconventional resource companies that I hold, I believe the biggest risk is that these companies may be too successful. My concern is that these companies will grow production so quickly that it negatively impacts the price of the oil that they are producing.
To some extent that is already happening as WTI crude has been selling at a significant discount to the Brent variety.
Surprisingly though U.S. crude oil production growth in 2012 isn't all that impressive.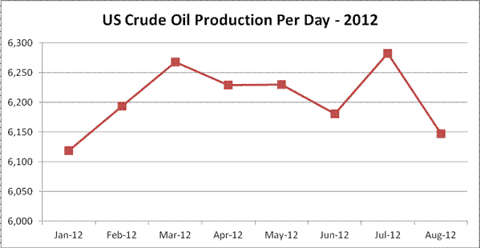 American production in January 2012 was 6.11 million barrels of crude per day. In August American production was only 28,000 barrels per day higher at 6.14 million barrels per day.
Yes there is some noise in the monthly numbers, and yes American production is definitely going to keep growing but at this rate it certainly isn't going to overwhelm demand from a world that needs 90 million barrels of oil per day.
Since the start of 2009 as detailed in the first graph above, American oil production has increased by 1 million barrels per day. That is less than 300,000 barrels per day. OPEC just provided its estimate for 2013 global oil demand growth and it is an increase of 800,000 barrels per day.
American oil production growth is not anywhere near enough to even keep up with annual global demand growth. It helps to be sure, but concerns about a "glut" of oil are overblown.
We are going to need all the oil we can get to keep a lid on prices. That is why companies like Exxon (NYSE:XOM) are still eager to drill for oil in remote unstable places like Northern Iraq.
I'm going to keep my eye on American (and Canadian) oil production in the months and years ahead. I'm invested in the very companies that are growing production in North America. If they don't kill the price of the commodity they are producing I'm going to make out very well.
My favorite specific idea is Canadian producer Petrobakken (PBKEF.PK) which is a pure play on unconventional tight/shale oil production.
Petrobakken currently has significant unconventional production from two resource plays. Its Bakken production, which will produce roughly 20,000 barrels per day next year, is currently providing the free cash flow to grow production in the Cardium.
Once the Cardium reaches a similar level of production, Petrobakken will reduce capital spending there and move on to its next leg of growth in the emerging Swan Hills, Montney, Nordegg and Duvernay resource plays. In these areas Petrobakken quietly acquired 294 net sections of land before land prices exploded upward.
And after those resource plays are developed Petrobakken has secretly assembled 218 net sections in a yet to be named resource play in Alberta.
My favorite part about Petrobakken is that I'm currently getting paid a dividend of over 7% while I wait for the years of production growth that the company has ahead of it to drive the stock price higher.
Disclosure: I am long PBKEF.PK. I wrote this article myself, and it expresses my own opinions. I am not receiving compensation for it (other than from Seeking Alpha). I have no business relationship with any company whose stock is mentioned in this article.