We recommend having patience right now if you wish to buy Apple (NASDAQ:AAPL). Here's why:
Back in August, amidst Apple's frenzied Summer run-up, Paulo Santos made an interesting observation. Apple's Summer surge happened while an enormous amount of long options were being written. The surge in Apple's share price looked to have started in the options market and carried over to the common stock as long option writers covered their bets:

The first option of a new year generally has more interest than other dates and that is the case here - the huge open interest in Apple is most especially heavy in the January 19, 2013 expiring options. Most of that is call options in the $550-$800 strike range. There are hundreds of thousands: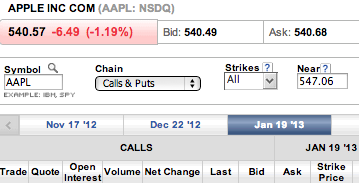 So here is our logic to being patient. It is threefold:
Apple had an enormous amount of call options speculation related to its Summer surge
A huge share of this was calls with a strike of around the current price of $550 and higher that expire January 19 2013
The institutional money managers that wrote those call options and bought common stock to cover will make a lot of money if a) those options expire worthless, and then b) Apple runs after that expiration date
What kind of money are we talking? Let's use the more than 60,000 calls with a $600 strike price. If Apple goes to $700 before January 19, then those options have an intrinsic value of:
60,000 (call options) X 100 (shares per option) X $100 (intrinsic value per share) = $600,000,000
Six hundred million dollars not in the institutional call writers' pockets. Whereas, if Apple stays put, then runs to $700 after the expiration date, the call writers get the capital gain from the common stock they covered with, AND the entire amount for which they sold the option. And this is only one strike price we calculated - together this is billions of dollars for a two month delay in an Apple surge.
Conclusion
The Summer run-up Apple had correlated to a lot of call options being written, quite possibly reflecting money managers covering the calls they wrote by buying common stock, driving the share price higher.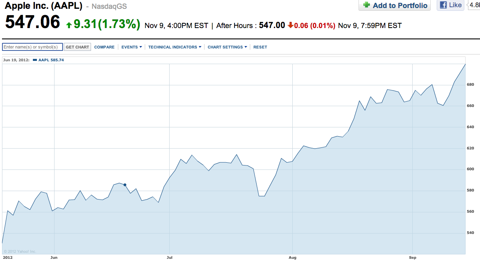 But now, however, the gains of the Summer have come back in and Apple's share price has only to stay flat for the next two months for all those call options to expire worthless. The institutional money managers that wrote those options, if they were to try to manipulate Apple's share price, have a lot of incentive to keep Apple in place for a short time, then drive it higher: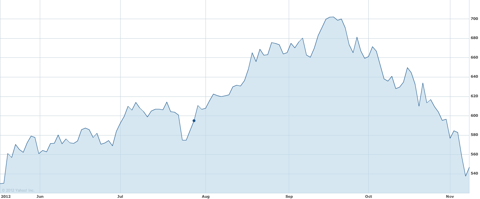 Apple is getting a lot of buzz for being undervalued here, but there is an enormous amount of pressure on the price at these levels that will be lifted after options expiration. If you like Apple, consider having some patience here and making a buy at the end of the day on Friday, January 18th, 2013.
Disclosure: I have no positions in any stocks mentioned, and no plans to initiate any positions within the next 72 hours. I wrote this article myself, and it expresses my own opinions. I am not receiving compensation for it (other than from Seeking Alpha). I have no business relationship with any company whose stock is mentioned in this article.