American Capital Agency Corp. (NASDAQ:AGNC) is a mortgage REIT investing in agency backed mortgage securities. It is externally managed and advised by American Capital AGNC Management LLC, which is an indirect subsidiary of American Capital -- a publicly traded private equity firm and global asset manager. The approximate asset mix from the end of Q2 2012 is shown in the chart below.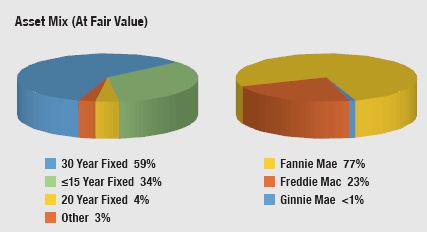 As you can see this is a very safe -- agency protected -- portfolio. The only problem is that recently the net interest rate spread (between the yield of the securities and the cost of funds) has been diminishing as the Fed has been increasing its amount of QE applicable to the housing industry. It currently has both Operation Twist and a new $40B in MBS buying for QE3. Including reinvestment activities, it has about $70B in MBS buying per month currently. This last has led to mortgage rates falling an additional 0.1%-0.2% from an already low value of about 3.5% for a 30 year fixed conforming loan. This decrease has led to even tighter net interest rate spreads. The chart below shows the recent history of interest rate spreads.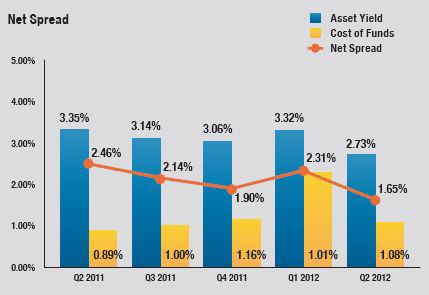 The net interest rate spreads have generally been falling lately, especially with the implementation of Operation Twist and QE3. The most recent quarter, Q3 2012, was no exception. The net interest rate spread fell again to 1.42% for the quarter; and it ended the quarter at 1.50%. The good news is that the spread is unlikely to go down much further. Operation Twist ends at the end of 2012. Even more quantitative easing on top of the current QE3 amount is not likely to move mortgage rates down appreciably. In fact it seems likely that they will move up, especially with the fiasco the fiscal cliff is currently creating. This may mean that Q4 2012 will be the last of the interest rate spread decreases, if Q4 does decrease at all. However, the Fed is buying approximately $70B per month in low coupon rate MBS. This may skew the results for those MBS, and it could have the effect of lowering the net interest rate spread still more. We will have to wait to see.
On the good side net comprehensive income was $3.98 per share or $1.3B for Q3 2012. The mark to market value of the RMBS increased as the mortgage rates declined. Some of AGNC's holdings saw some of the biggest increases. This reflects well on the management. However, it also means that further purchases are likely to be more expensive. Therefore they will be less profitable.
Although the CPR (constant prepayment rate) was an excellent 9% for Q3 2012, the projected CPR was raised from 12% to 14%. This means the outlook for future profits is lower. The net income spread for Q3 (or core income) dropped to $0.86 per share . There was also lower average leverage at 7.1x. The taxable net income was $1.36 per share; and the undistributed taxable income closed the quarter at $1.52 per share despite a higher number of shares.
The book value grew by $3.08 per share to $32.49. The dividend was $1.25 per share. Adding these latter two gives and economic return of $4.33 per share or 59% on an annualized basis. This is impressive, although it may be short lived. The hedging should prevent book value losses to a degree, but a certain amount of losses are likely as the mortgage rates eventually rise again. The good news is that the CPR would go far lower then.
In sum AGNC has managed a tough quarter exceedingly well. This speaks well of the management. Future quarters seem likely to be challenging near term, but the management team has proven its mettle. AGNC has shown that it belongs among your top stock picks, even under these challenging circumstances. The dividend could go down; but the management team will guide the company through delicate situations to good profitability. A 59% economic return in a challenging quarter is stupendous. You cannot say enough for this management team. I am convinced it will also hedge appropriately, so that it can hang onto most if not all of the book value gains in future quarters. In fact I am sure the management team expects to be able to continue to increase the book value over time. Further it has authorized a $500 million stock buy back program. This should help to keep the stock price from falling. It should also allow AGNC to profit further from the stock market vicissitudes.
AGNC closed Monday November 12, 2012 at $30.43 at a substantial discount to its book value of $32.49. At this price the stock is a buy, even with the prospect of lower returns in the near term due to the lowered leverage and the narrower net interest rate spreads. Eventually the mortgage rates will rise again. When this happens, AGNC management will protect book value, and it will be in position to profit handsomely from the then wider net interest rate spreads. Keep in mind that the Fed has said it will keep Fed Funds rates low until mid 2015. This virtually guarantees that AGNC should continue to have a very stable environment to operate in. This should ensure good profitability.
The two year chart of AGNC provides some technical direction to this trade.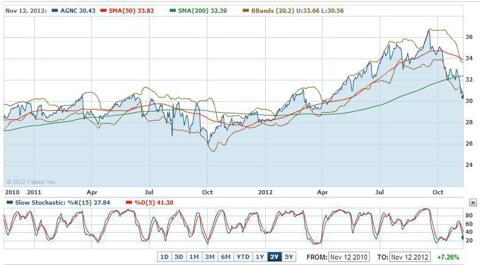 The slow stochastic sub chart shows that AGNC is near oversold territory. The main chart shows that the stock price has broken dramatically below its 200-day SMA. This is usually a sell signal. However, given the book value appreciation, AGNC is fundamentally a buy; and the chart seems therefore more likely to rebound upward from its current position. A weak uptrend is still in place. The management team has done too good a job in very trying circumstances for it to do otherwise.
Still the specter of the fiscal cliff looms. Plus many of the rich are currently selling their stock holdings in order to take advantage of lower capital gains taxes applicable to 2012 gains. Many think that the President and Congress will specifically (or by default) raise these rates for 2013. In this sort of environment it is best to average in. Virtually any stock will go down in an overall market rout. Still AGNC with its 16.43% dividend and its top performing management team appears to be a stock you will want to own during what may be tough times ahead. It is outperforming its peers such as Annaly Capital Management Inc. (NYSE:NLY) -- 13.44% dividend, Invesco Mortgage Capital Inc. (NYSE:IVR) -- 12.90% dividend, Hatteras Financial Corp. (NYSE:HTS) -- 12.28% dividend, and CYS Investments Inc. (NYSE:CYS) -- 14.29% dividend. Plus its management team has been truly impressive. When you consider the 59% annualized total economic return for Q3 2012, you have to think you want to own this stock long term.
Note: Some of the fundamental fiscal data above is from Yahoo Finance.
Good Luck Trading.
Disclosure: I have no positions in any stocks mentioned, but may initiate a long position in AGNC over the next 72 hours. I wrote this article myself, and it expresses my own opinions. I am not receiving compensation for it (other than from Seeking Alpha). I have no business relationship with any company whose stock is mentioned in this article.