Cognizant Technology Solutions Co. (NASDAQ:CTSH) is a provider of custom information technology, consulting and business process outsourcing services. The company serves clients primarily in North American and Europe with a focus on the financial, health care, and retail/manufacturing/logistics industries. CTSH's fast growth, over 34% annual revenue growth in the last 5 years, and consistent performance is driven by its high-quality consultative approach and deep client partnership. CTSH is a young, active player in the rapidly growing IT services market and has the highest growth profile among its peers despite the global economic slowdown. The long-term outlook for CTSH is bright and recession concerned investors should take a look at this investment opportunity.
Earnings and Fundamentals
As reported on Nov. 7, 2012, CTSH posted Q3 results with $0.91 EPS for the quarter, beating the consensus estimate of $0.87 by $0.04. The revenue of $1.89 billion also beat the consensus estimate of $1.88 billion. The company's revenue was up 18.2% on a year-over-year basis. The profit for 2012 will be about $3.42 share, up from the prior forecast of $3.38, where analysts on average had estimated $3.39, according to the data compiled by Bloomberg. A full Q3 earnings call transcript can be read here.
Following the earnings release, BMO Capital Markets reiterated its "outperform" rating and currently has a $77 price target on the stock, as reported by Stacy Sanders from Daily Political. Nomura also reiterated its buy rating and increased its target price from $75 to $80. As directly quoted from Nomura,
We liked the CTSH 3Q results on two counts: 1) diversified growth with outperformance vs. peers across all geographies; and 2) better-than anticipated performance in Retail/manufacturing and BFSI offsetting the sluggish growth in healthcare (25% of revenues). We expect market share gains in BFSI, continued traction in retail/manufacturing and the diversified service line portfolio to counter possible growth moderation in the pharma portion of healthcare in FY13F. Our expectations remain intact, and we see CTSH growing revenues and EPS at CAGR of ~18% over FY11-14F. Our earnings estimates are in line with consensus; we believe street pessimism on valuation multiples will fade as Cognizant continues to outperform peers.
From a fundamentals perspective, CTSH's 3 year average revenue growth of 29.5 has strongly outpaced the industry average of 4.9 in the IT services industry. The operating margin of 18.5% and net margin of 14.2% are indicating the strong operation efficiency as compared to the averages of 4.1 and 3.7. The remarkable 23.9 ROE, accompanied by zero debt-to-equity, makes CTSH shine in the industry. CTSH is currently under-valued with P/E of 21.1 as compared to the average of 22.7. Strong fundamentals and a solid growth outlook make CTSH a great long-term investment.
Outsourcing provides the leverages, allowing the companies to save time, money, free up resources, and gain professional knowledge with "insider know-how and tricks" and "connections," thus reducing the risk and improving the efficiency for business operation and development. For IT outsourcing, it is recession-proof as companies will need more IT infrastructures and services to improve their operation efficiency and resource utilization rate. CTSH's outsourcing business model allows it to grow even in the recession or economic slowdown with the increased demand.
Technical Analysis
On Nov. 9, 2012, CTSH closed at $66.00 with 1.12% gain, where the volume of 3.38M is 36.84% more than the 30 day average of 2.47M. The 52 week price range for the CTSH is from $53.92 to $78.00. The MACD (12, 26, 9) had been showing a bearish sign since Oct. 9 2012; however, the MACD difference continued to converge since early November. CTSH is currently trading below its 50-day MV of $68.27 and 200-day MV of $66.66. The RSI (14) of 40.36 is showing a stabilized selling moment as it moves up toward the middle line at 50. If CTSH fails to rebound above its 200-day MV, the next support will be at $64.15, S1 pivot point, followed by $61.65, S2 pivot point, as seen from the chart below.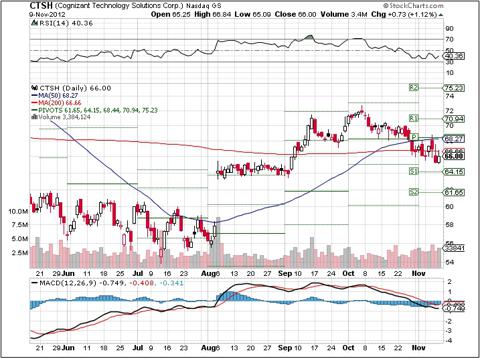 Source: StockCharts.com
Options Play
The long-term growth outlook for CTSH is very positive and CTSH's business model is recession proof, which is further strengthened by its consultative approach and deep client relationships. While the short-term selling pressure might continue for a little longer, a credit put spread is reviewed for bullish investors who would like to capture the upside potential with a limited downside risk.
Short 1x Jan. 19, 2013 Put at the strike price of $60.00 for the credit of $1.10
Buy 1x Jan. 19, 2013 Put at the strike price of $55.00 for the cost of $0.40
The maximum profit is $0.70 and the maximum risk/margin requirement is $4.3 ($5 dollar lost - $0.70 credit received), which translates into a 16.28% return for the margin used for the investing period of 9 weeks, if CTSH closes above $60.00 on Jan. 19, 2013. If CTSH closes below $60 upon options expiration, the acquisition cost for CTSH will be $59.3 per, which is 10.15% lower than the current price of $66.00.
Note: All the prices are quoted from the closing of November 9, 2012 and all calculations are before fees and expenses. Investors and traders are recommended to do their own due diligence and research before making any trading/investing decisions.
Disclosure: I have no positions in any stocks mentioned, but may initiate a long position in CTSH over the next 72 hours. I wrote this article myself, and it expresses my own opinions. I am not receiving compensation for it (other than from Seeking Alpha). I have no business relationship with any company whose stock is mentioned in this article.