While the negative effects of Hurricane Sandy are being felt in the in the Northeast, one benefactor of the disaster will be home improvement retailer Home Depot (NYSE:HD). Home Depot benefited from Hurricane Irene which hit the U.S. last year and will possibly benefit even more from Sandy. Customers with houses in all sorts of disarray from Hurricane Sandy will flock to Home Depot stores to buy goods in order to get their homes in order.
Home Depot was broad sided by the housing bubble and credit crisis of recent years, but noted in its Q2 earnings call held on August 14, 2012 that the company is seeing recovery in the housing markets. The company noted geographic areas which were hit the hardest during the downturn, notably Florida and California, were among the company's best performers in Q2. On a very bright note, Home Depot indicated the housing market is now a contributor to GDP as opposed to a drag on GDP.
The home retailer noted all three of its U.S. divisions had positive comparables as well as its Canadian and Mexico market segments. Mexico was noted as having had 35 quarters in a row of positive comparables. On a slightly negative note, weather and drought-like conditions caused the garden business to be slightly down. Comparable sales in building materials were also down which was attributed to tough year-over-year comparisons due to repair related purchases as a result of the prior year's storms.
Double-digit growth was reported in the company's service business with a large portion contributed to kitchen installations. The company also reported its Pro business grew in Q2.
Home Depot reported revenue of $20.6 billion which represented a growth rate of 1.7% year-over-year. Additionally, even though the company is seeing slowing U.S. economic growth, Home Depot maintained its sales growth guidance and raised its earnings per share projection for the year.
Home Depot also noted it did not plan on averting affects of the Affordable Care Act by converting full-time employees to part-time employees or by outsourcing.
Home Depot's stock price has gone ballistic over the previous year as shown below: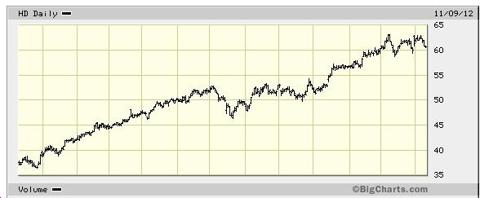 With Hurricane Sandy and the recovering housing market, Home Depot is looking very bullish at the moment. But with a large increase in the stock price over the prior year and volatility related to Europe and the slowing U.S. economy, an investor might consider a protective position for Home Depot. A protective position to consider is a married put which provides unlimited upside and limited downside. The married put position provides an investor the ability to benefit from an increase in stock price, yet prevent from getting bit by a significant drop in stock price. The married put position may be entered by purchasing a put option against a long position in the stock. The put option for a married put position is typically selected several months in the future in order to reduce the "per day" cost of the insurance.
Using PowerOptions, a variety of married put positions were found for Home Depot with option expiration in May as shown below: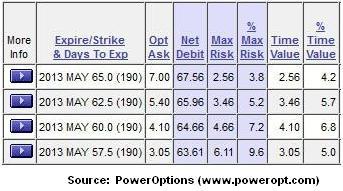 The second married put position in the table above looks attractive with a maximum potential loss of 5.2%. The maximum loss shown in the table above does not take into account expected dividend payments during the holding period. The maximum potential loss when including expected dividend payments is 4.4%, so even if Home Depot's stock price drops to zero, the maximum potential loss which can be sustained is 4.4%. To enter the married put position, the specific put option to purchase against a long position in the stock is the 2013 May 62.5 at $5.40.
Home Depot Married Put Trade
Buy HD stock (existing or purchased)
Buy HD 2013 May 62.5 put at $5.40
A profit/loss graph for one contract of the Home Depot married put is shown below: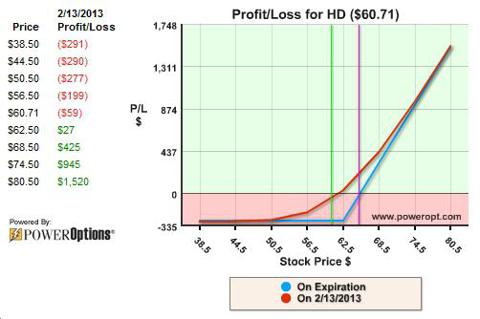 For a stock price below the $62.50 strike price of the put option, the value of the married put position remains unchanged. If the price of the stock increases to above the put option's $62.50 strike price, then income methods for receiving income and reducing risk, as taught by RadioActiveTrading.com, may be applied.
Disclosure: I have no positions in any stocks mentioned, and no plans to initiate any positions within the next 72 hours. I wrote this article myself, and it expresses my own opinions. I am not receiving compensation for it (other than from Seeking Alpha). I have no business relationship with any company whose stock is mentioned in this article.