Although CenturyLink (NYSE:CTL) is the unquestioned, undisputed King of the Mountain in the rural incumbent local telephone segment, we have been keeping our eyes out on Frontier Communications Corporation (NYSE:FTR) because its dividend yield is 175bp higher than CenturyLink's. We devoted a special report focusing on Frontier back in August and it was so well received we're going to add it to our regularly scheduled coverage. We also have decided to add it because although its revenue trends aren't as good as CenturyLink's, its revenue trends have seen recent improvements and this will help it keep its dividend payout around 50% of its free cash flows.
Frontier recently reported adjusted EPS of $.07/share, which met the consensus analyst estimates. Investors had a mixed reaction to the news as the company's shares were up by 1.5% when the news was released, then dropped by 10% before settling down with a 3% decline. FTR's continued declines in revenue, operating income, EPS and free cash flows on a year-over-year basis is becoming such a recurring, obvious headline that we could probably write our research reports in advance of receiving the actual numbers from the earnings release.
FTR's 8% year-over-year decline in wireline access lines for Q3 2012 was a slight regression from the 7.6% achieved in Q2 2012 and the 7.9% achieved in Q1 2012. Wireline access was only partially offset by a 1.56% increase in the number of Broadband Internet customers served. But the real concern for this tepid growth in internet subscribers is it was slower than the 2.45% growth achieved in Q2 2012 and 2.6% achieved in Q1 2012. FTR's management said it was due to lower marketing promotions. We think that FTR should try to recruit some of CenturyLink's internet services leaders in order to get the 4% internet subscriber growth that CenturyLink has been generating.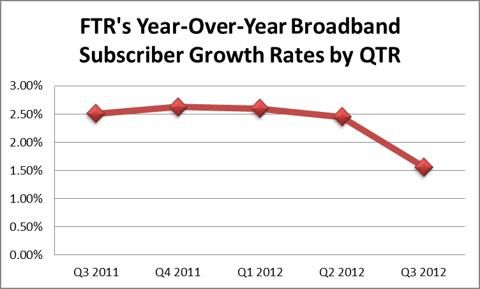 Source: Frontier's Last 5 earnings Releases
Although FTR's adjusted EPS has grown by double digits on a year-over-year basis for the quarter and year-to-date periods, its operating cash flows have declined significantly on a year-over-year basis. Although FTR's YTD 2012 FCFs were comparable to the prior year levels, this was due to reductions in capital investment expenditures. FTR's video subscribers declined by 180K in the quarter due to termination of DirecTV satellite television services as part of its subscription bundles. The company recently announced an agreement with Hughes to provide broadband satellite service and we will be interested in seeing if this helps reverse the erosion of its broadband growth rate.
We were stunned that Frontier actually added 402 employees to its payrolls in Q2 2012 versus Q2 2011 even though revenues are dropping. We were pleased that Frontier reduced its employee headcount by 82 FTEs on a linked-quarter basis in Q3 2012. Granted, that 53bp reduction in FTEs is in-line with the 50bp decline in linked quarter revenues that FTR achieved in Q3 but we're OK with that because at least FTR realized that it really should add to staff unless it can find a way to generate revenues to pay the new staffers. Frontier actually improved its year-over-year revenue decline trend during the quarter even though its wireline access line declines perked up. FTR's year-over-year revenue decline in Q3 2012 was 3% versus 4.8% achieved in Q2 2012 and the 8% achieved in Q3 2011 due to a 9.75% increase in its average revenue per business customer and a 2.1% increase in its average revenue per residential customer year-over-year.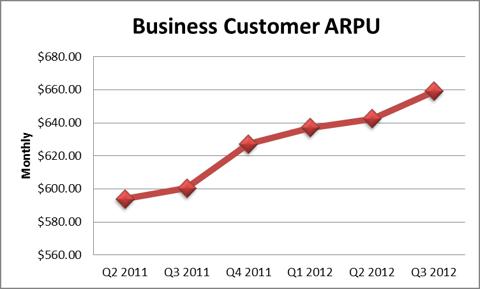 Source: Frontier's Last 5 earnings Releases
Frontier had a bit of good news during the period with regards to cash flows. FTR's operating cash flows declined by $112M on a year-over-year basis in YTD 2012 versus YTD 2011. However, its Q3 2012 OCFs only declined by $6M on a year-over-year basis versus Q3 2011. On a year-over-year basis for the first nine months of 2012, the company reduced its total CapEx by $128.6M and this resulted in FTR's free cash flows increasing by $16M. The company raised $850M in debt in August and October in order to bolster its liquidity as well as refinancing existing indebtedness and pay down $600M in debt that is maturing in 2013. Included in the 2013 debt maturities is a $523M bond issue due in January 2013 and a $36M issue due in December 2012.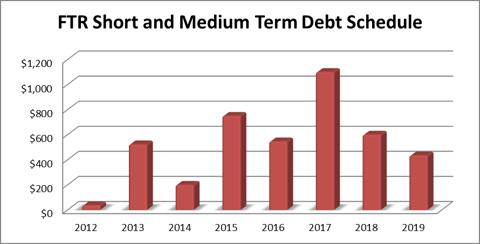 Source: Frontier's Q2 2012 10-Q
We believe that Frontier's shareholders are probably wincing every time they go through their statements and see that Frontier cut its annual dividend from $1/share in 2009 to $.40/share in 2012 thanks to the Verizon (NYSE:VZ) purchase in 2010. We believe that Frontier's shareholders should keep their heads up because we don't believe it can get any worse since Frontier's payout ratio is now at 50% and its revenues and FCFs are starting to stabilize. At the same time, Frontier is paying a significantly higher cost on its debt than its rural telecom peers.
Another green shoot for Frontier shareholders is the fact that Frontier is making progress with its AT&T Wireless (NYSE:T) reseller agreement. The company signed a three year agreement with AT&T last year in order to resell AT&T Wireless services to its customer footprint. Frontier shareholders should be pleased that it will be kicking off this partnership in Q4 2012. We tip our hat to Frontier for reducing its revenue declines, launching the AT&T Wireless partnership and improving its cash flow generation. However, we have determined that our thesis as to why we prefer CenturyLink for our portfolio book is still intact from last quarter based on our recent analysis of Frontier.
In conclusion, we believe that Frontier has the potential to be the second best performing rural telecom company and potentially keep itself in the Fortune 500 rather than dropping out due to nagging revenue declines. Frontier was number #464 in the 2012 Edition of the Fortune 500 (based on FY 2011 revenues) and we were concerned that the company could drop out of the rankings as this would be compounding FTR's woes. While we would like to pick up 1.75%-3% additional dividend yield by switching out of CenturyLink and into Windstream or Frontier, our favorite company amongst the rural telecom trifecta is still CenturyLink for the following reasons:
Frontier's agreement with AT&T Wireless is only in certain markets so far. CenturyLink's agreement with Verizon Wireless is available in all of its markets and is placed at eye level at CenturyLink's website.
CenturyLink has narrower declines in revenues and wireline access lines than

Frontier.

CenturyLink has stronger growth in internet broadband than Frontier. Frontier's new broadband service partner Hughes has not had the best reviews for its product.
CenturyLink's dividend yield of 7.25% is only 175bp below Frontier's even though CenturyLink has a stronger

franchise.

CenturyLink has the cloud computing data center provider Savvis, which has provided steady revenue growth under CenturyLink's ownership.
CenturyLink is an investment grade company whereas Frontier and Windstream are high yield companies. That probably explains why CenturyLink's weighted average interest expense of 6.05% is lower than Frontier's 8.3% and Windstream's 7

%.

We believe that these reasons explain why CenturyLink has generated a positive total return for 2012 while its rural telecom peers have seen negative returns.
Disclosure: I am long CTL. I wrote this article myself, and it expresses my own opinions. I am not receiving compensation for it (other than from Seeking Alpha). I have no business relationship with any company whose stock is mentioned in this article.
Additional disclosure: This article was written by an analyst at Saibus Research. Saibus Research has not received compensation directly or indirectly for expressing the recommendation in this article. We have no business relationship with any company whose stock is mentioned in this article. Under no circumstances must this report be considered an offer to buy, sell, subscribe for or trade securities or other instruments.