The third quarter results for our favorite mREITs are in, so let's review and compare them to one another and to previous quarters to see what we can learn.
Mortgage REIT share prices are supported by earnings and relative value. In the short term, irrational exuberance or panic may cause investors to bid the price of an issue higher or lower than any reasonable future earnings expectation, but over the long term, investors will pay fair value for earnings and dividends. Income investors also make relative value decisions that compare the income a that a fund is expected to produce against alternative income investment opportunities.
For the last several years, popular income investments like CDs and money market funds have paid essentially zero, forcing income investors to accept increased risk in order to get any significant income. Mortgage REITs, which earn income from the yield spread on a portfolio of mortgage investments acquired with leveraged shareholder capital, have emerged as a very attractive option for income investors, but the sector is not without risk. Over the past five years, some issues have reduced or suspended dividends. There were early warning signs - buried in the quarterly financial reports, available to be discovered by smart, diligent investors - and that is the information we are looking for as we review the latest quarterly results of our favorite mREITs.
The mREITS
This quarter we will review mREITs in three categories. MREITs that invest only in residential mortgages issued or guaranteed by a government agency: American Capital Agency (NASDAQ:AGNC), Armour Residential REIT (NYSE:ARR), CYS Investments (NYSE:CYS), Hatteras Financial Corp. (NYSE:HTS), and Annaly Capital Management (NYSE:NLY). Hybrid mREITs that invest in agency and non-agency residential mortgages: Apollo Residential Mortgage, Inc. (NYSE:AMTG), MFA Financial Inc. (NYSE:MFA), American Capital Mortgage (NASDAQ:MTGE), and Two Harbors Investment Corp. (NYSE:TWO). We will also look at five diverse hybrid REITs that invest in more varied types of real estate assets including commercial properties, loans, asset backed securities (NYSE:ABS), and commercial mortgage backed securities (NYSEARCA:CMBS) - Invesco Mortgage Capital Inc. (NYSE:IVR), Starwood Property Trust, Inc. (NYSE:STWD), Crexus Investments (NYSE:CXS), Newcastle Investment Corp. (NCT), and Northstar Realty Finance (NRF).
We will present a series of tables of financial results for the mREITs as of September 30, 2012 beside the same information as of June 30 and March 31 this year to enable a quarter-by-quarter and side-by-side review for the year to date. Earnings are presented per fully diluted common share.
Table 1 - mREITs, Share Price, Book Value, Expense Ratio
The Price column is the closing share price of the fund at September 30. Book value is the net asset value per share.
While most issues saw price premium contract or disappear entirely as the price fell below book value, AGNC and NCT maintained a substantial price premium over book value. Most issues reported steadily increasing book value for each quarter, with NCT posting very large gains. It is worth noting that AGNC and MTGE investment policies emphasize preservation and growth of net asset value as primary investment objectives.
Expense Ratio is management, general and administrative fees expressed as a percentage of common shareholder equity. MREITs with lower expense ratios can provide investors with greater yield for the same risk exposure than issues with higher expenses. CYS and HTS led the field with a light 0.80% charge to shareholders for their services. Some of the diverse hybrid REITs involved in loan origination and property management reported higher expenses consistent with the nature of their business.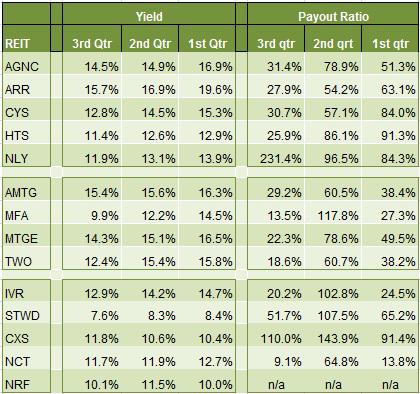 Table 2 - Yield, Payout Ratio
Yield for all issues declined during the quarter as expected (see Mid-Year mREIT Review), ranging from a low of 7.6% for hybrid Starwood up to 15.7% for agency-only Armour Residential REIT.
Payout Ratio is the percentage of comprehensive earnings paid out in dividends during the quarter. A fund that consistently reports a payout ratio well under 100% may be a candidate to raise its dividend, while a fund that consistently reports a payout ratio over 100% may be disguising a return of capital as dividends. Most mREITs reported exceptionally low payout ratios for the 3rd quarter, with the exception of NLY.
Table 3 - Net Income, OCR, Comprehensive Income per share
Net Income is income from the primary business activity of the entity; for mREITs it is the net yield spread income on the portfolio of leveraged shareholder capital. All reported positive net income for the third quarter, an improvement from the second quarter when several popular mREITs reported net operating losses. CYS, HTS, AMTG, MFA, MTGE, IVR, and STWD reported consistent net operating income throughout each quarter this year.
OCI - Other Comprehensive Income -is primarily derived from unrealized gains and losses on interest rate swaps and securities held for sale at period end. These gains are to be expected in an environment of declining mortgage rates helped along by Fed intervention. This income is reported in accordance with GAAP, but investors should understand that it is not actually realized, i.e., the securities were not sold during the period; the carrying value was adjusted to market value at period end. Investment assets are classified as held to maturity, or available for sale or trading. The value of the available for sale securities is adjusted to market value each reporting period, with the change recorded as an unrealized gain or loss. Management has a certain amount of discretion to determine which securities are classified as available for sale at period end.
Comprehensive Income is the sum of Net Income and OCI. AGNC, HTS, AMTG, MFA, MTGE, IVR and NCT reported sharply increased third quarter income per share for the third quarter. All except NRF reported positive comprehensive income per share throughout the year.
Discussion and Analysis
Going forward, the sector will be challenged to maintain financial performance. The Fed has not announced an end to the QE3 program to purchase an additional $40B per month of agency MBS, keeping downward pressure on mortgage rates. The Fed has also committed to keep fed funds rates low, saying it expects to maintain a "highly accommodative stance" for a considerable time after the economic recovery strengthens, and extended through mid-2015 its commitment to maintain the target range for the federal funds rate at levels of 0% to 0.25%. With the economy sputtering along there is no end in sight to these initiatives. Europe cannot seem to find the end of the stories about troubled banks, restructured payment plans, and Greece. The politicians have subjected the nation to two solid years of propaganda founded on the most negative statements about one another and the nation that can barely pass the most lenient tests of truthfulness and sometimes not. And the U.S. Congress along with Iran continues to provide investors with unnecessary and unwelcome drama.
MREIT managers are fully aware of the possible effects of QE3 and have adopted various strategies to cope with the challenges and capitalize on opportunities. In 2011 American Capital launched American Capital Mortgage (MTGE) with an investment charter open to agency, non-agency, CMBS, commercial loans, mortgage derivatives, mortgage servicing rights, "and other investments that may arise as the mortgage market evolves." Annaly announced this week an offer to acquire the remaining shares of Crexus Investment Corp. to diversify its portfolio from the government supported bonds it has relied upon since its inception.
So what can we expect for the next quarter and beyond?
Mortgage rates are edging toward the nadir that will be apparent when the day finally arrives when we can look back on this economic era and experience joy that it is in the past. In an environment of static or eventually rising mortgage rates, the RMBS assets in the portfolios will not appreciate and generate the relatively large OCI reported in Table 3, without which the funds cannot sustain 2012 dividend levels. Therefore, we expect most funds will continue to reduce dividends, which will reduce yield or share price or both. Hybrid mREITs have more options than agency-only funds to increase portfolio yield and I expect they will report the better performance than agency-only funds for the fourth quarter, but there is a limited supply of desirable non-agency securities available and the yield advantage is being priced away as more funds seek to acquire them. We have to look at the diverse hybrid REITs near the bottom of Table 3 to find funds that generated most of their income from operations rather than OCI, which explains why Annaly is attempting to buy Crexus even as I write. American Capital has authorized share buyback programs of $500MM and $50MM for AGNC and MTGE, to be exercised if the share price falls significantly below net book value, as explained by Malon Wilkus, Chairman and Chief Executive Officer of American Capital. "As prudent stewards of your capital, we will seek to acquire common shares only when it is meaningfully accretive to our to our net book value per common share thereby further enhancing shareholder value." Take comfort where you can find it.
The mREIT sector which has been so rewarding to so many for so long, is no longer the place to keep the last reserve of your retirement capital. Going forward, it is a time to for investors to try to be objective about the funds that have been so easy to love, and select investments with managers that have demonstrated competence in navigating the challenges faced so far in 2012 and funds that have flexibility to seek opportunities wherever they may be found.
Table 4 includes my personal star ratings for these funds; I think the ones with four stars are much more likely to perform better over the next three months than the ones with one star. Be warned that I am not omniscient, unfortunately, and I could be very wrong about these. I recommend you do your own due diligence and make your own investment decisions.
Table 4 - Star Ratings
Disclosure: I am long MTGE. I wrote this article myself, and it expresses my own opinions. I am not receiving compensation for it (other than from Seeking Alpha). I have no business relationship with any company whose stock is mentioned in this article.