Investment Rationale
Under Armour (NYSE:UA) is a leading developer, marketer and distributor of branded performance apparel, footwear and accessories. Given the shift towards healthier lifestyles and active living in the United States, I believe Under Armour is well positioned to capture this growing trend. Some of the top athletes in the world have sponsorship commitments with the company and help to promote the brand to consumers of various age groups and geographic locations.
Over 90% of revenues are generated in North America. This limited international exposure has proven beneficial as many economies around the world are slowing or in a recession. Additionally, the currency swings which have affected rival Nike (NYSE:NKE) in recent quarters are not a concern for Under Armour. In order to maintain robust growth rates the move overseas will need to occur sooner rather than later. Management is well aware of this and continues to invest and expand its overseas operations.
The company recently achieved 10 consecutive quarters of 20%+ top line growth. Investors have caught onto this growth story and shares appear fairly valued given the growth potential ahead. With no dividend or share repurchase program in place, management will likely continue reinvesting earnings back into operation growth.
Growth
At the June 2010 investor day the company stated they would double their revenues from 2010 to 2013. 2010 revenue was $1.06 billion and as of the latest earnings release management projected revenue of roughly $2.14 billion to $2.27 billion during 2013, well on track to achieve their goal. The company has done a remarkable job steering this fast moving vessel, but supply chain problems are becoming apparent. Inventory management is becoming more of a challenge and over the last quarter margins were impacted due to "higher air-freight delivery charges" (ie: we didn't have the product easily accessible).
The company's innovative product line up still has significant room to grow in the United States. One rapidly expanding division is the women's apparel space. The company is hiring new executives to promote and grow this division while aggressively aiming to take market share from competitors Nike and Lululemon (NASDAQ:LULU).
The footwear division is another major growth driver. With the footwear market reaching $26.4 billion in sales during 2011 (source: The NPD Group), the company is looking to gain a piece of this pie. Under Armour is making a name for itself in the cleats and running shoe space and plans to strongly promote their footwear products over the next few years. Last quarter the footwear division grew 21.4% year over year, representing 11% of net revenues.
Although Under Armour has excellent distribution relationships with companies like Dicks Sporting Goods (NYSE:DKS) and The Sports Authority, they are underrepresented in other major retailers. Foot Locker (NYSE:FL), which operates over 4,000 stores across the globe, is a major opportunity for the company. Currently only 250 Foot Lockers sell Under Armour Merchandise, and gaining a presence in these stores would likely increase sales. Other retailers like Macy's (NYSE:M) and Dillard's (NYSE:DDS)are slowly adopting Under Armour merchandise, with underwear being a major contributor to sales. These non-athletic retailers offer a great outlet for the company to promote its brand.
Sales from the direct-to-consumer outlet have become an increasingly larger part of net revenues. Direct-to-consumer sales are generated primarily through the company's factory stores and website. The chart below shows this growth over the past few years. One major benefit of these types of sales, especially those coming from the eCommerce side, is higher margins. The company is already projecting higher operating margins for next year, and more internet based sales in the future will likely continue this growth.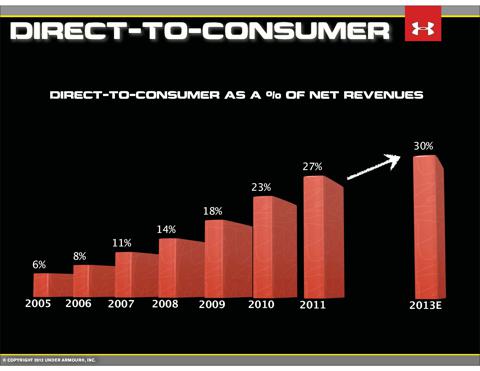 Source: UA Investor Presentation
Financial Strength
Under Armour has a very solid business model and carries minimal debt. As of September 30th 2012, long term debt stood at $72 million and no borrowings were outstanding under the $300 million revolving credit facility. Cash and cash equivalents on the balance sheet stood at $157 million for the recent quarter end compared with $68 million in the prior period a year ago.
Cash flow generated by the company tends to be "lumpy" quarter to quarter as capital expenditures continue to grow. Again, no dividend is paid by Under Armour and it is unlikely one will be initiated in the foreseeable future.
Risks
A high growth company like Under Armour has many risks which should be considered before making any investment. Look through the company's most recent 10-k filing for further information.
Under Armour is considered a consumer discretionary company and during periods of slower economic growth, sales will likely fall. Customers may still need athletic gear, but will likely turn to lower cost competitors. Wal-Mart (NYSE:WMT) for example, sell compression t-shirts for roughly $10.
Last year Dick's Sporting Goods and The Sports Authority contributed to 26% of net revenues. Any deterioration in the relationship with these key customers would be detrimental. Sponsorship commitments at the end of last year were roughly $170 million. We are familiar with stories of Michael Vick and Lance Armstrong and how that affected Nike's corporate image. The UA brand is perceived as higher quality, so any damage to the company's reputation could hinder sales.
As I mentioned above, the rapid growth that Under Armour is achieving can be difficult to manage. If inventory management is not handled properly, the company may be forced to write-down or write-off inventory. Unforeseen factors like unseasonably warm/cold weather could leave the company over stocked or under stocked and may put a strain on profit margins.
Valuation
Shares of Under Armour trade at the high end of their historic price-to-earnings range, roughly 50x trailing twelve months. Competitors like Nike, Columbia Sportswear (NASDAQ:COLM), Ralph Lauren (NYSE:RL) all trade significantly lower than Under Armour. Lululemon is probably the closest athletic apparel competitor to Under Armour and trades at a similar P/E multiple. The chart below illustrates the company's quarterly TTM P/E multiple.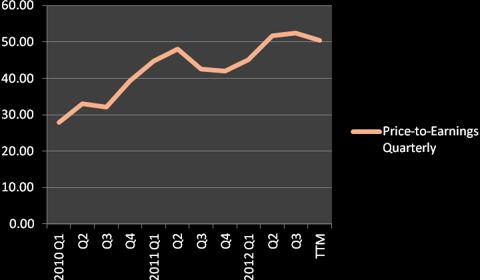 Source: Under Armour SEC Filings
Evaluating the company using a price-to-sales multiple tells a similar story. Shares trade at roughly 3.2x trailing twelve month sales, toward the high end for Under Armour. The chart below illustrates the company's quarterly TTM P/S ratio multiple.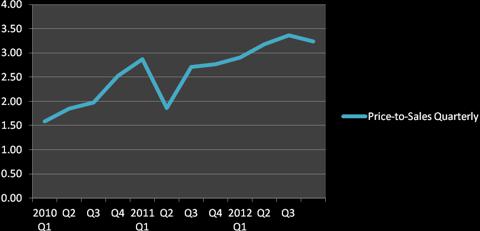 Source: Under Armour SEC Filings
It is difficult to find a metric that shows value in this stock. In my opinion shares appear to be fairly valued given the growth opportunities that lie ahead. I believe investors who are looking to add new positions may be wise to wait for a pullback in shares of UA, or watch for more robust earnings/revenue growth. Below is a table showing Enterprise Value-to-EBITDA multiples for shares of UA.
| | | | | | |
| --- | --- | --- | --- | --- | --- |
| 2007 | 2008 | 2009 | 2010 | 2011 | TTM |
| 26.67x | 17.12x | 10.24x | 15.03x | 19.77x | 26.22x |
Source: Under Armour SEC Filings
Conclusion
Although Under Armour has merchandise in over 25,000 retail outlets worldwide, they still have plenty of room to grow. The company's trendy merchandise and motivational advertisements are quickly creating a very strong brand image. Under Armour is now a major player in the athletic apparel market here in the United States and if they continue to promote themselves with top athletes and college universities, the international markets will likely take note. This could lead to a new leg of growth moving forward.
For investors looking to initiate positions in UA today, I would exercise caution. Shares trade towards the high end of their historic price multiples and any uncertainty or problems from this company may cause heavy selling pressure. Investors purchasing at these price levels are paying a premium to gain access to this fast growing company. I believe patience while waiting for a pullback may be the best way to play this company.
*Note: All data reported and graphed is pulled directly from Under Armour SEC filings (10K's and 10Q's), then ran through proprietary valuation models.
Disclosure: I have no positions in any stocks mentioned, and no plans to initiate any positions within the next 72 hours. I wrote this article myself, and it expresses my own opinions. I am not receiving compensation for it (other than from Seeking Alpha). I have no business relationship with any company whose stock is mentioned in this article.