A long-term opportunity is developing in China ETFs. For most investors, it is currently impossible to directly invest in Chinese stock indexes but the domestic Chinese stock indexes led by the Shanghai CSI 300 Index should soon become much more accessible for ETF investors. Van Eck has positioned itself to be first in line (a big advantage in the ETF space) with PEK, Market Vectors China ETF. This ETF attempts to track the CSI 300 Index. Given current restrictions on direct foreign investments in Chinese securities, Van Eck and PEK can only invest in the market through a derivative issued by Credit Suisse. This has led to PEK trading at an 8.03% premium to the index as of November 10, 2012.
In the early summer of 2012 China moved to grant QFII (Qualified Foreign Institutional Investor) status to 28 different companies, one of which was Van Eck. This will allow PEK to directly track the CSI 300 Index, eliminating much of the aforementioned premium.
A story from Bloomberg Sunday indicated that China wants to streamline the approval process to increase foreign direct investment. This should ultimately benefit PEK where Van Eck has shrewdly positioned itself and its customers, as PEK's benchmark index stands to gain from increased foreign investment.
The Shanghai CSI 300 Index has been in a protracted bear market since late 2007, interrupted briefly in 2009 as global stocks rallied. Below is our internal monthly chart of the index itself which include long-term buy, close and sell short signals.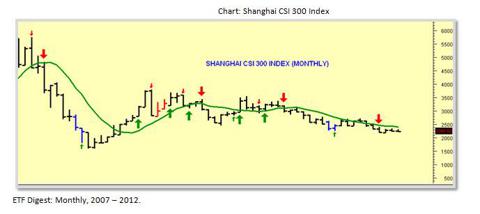 Click to enlarge
(Click to enlarge)
We follow the index as well as PEK and we're monitoring these events closely. Foreign investors will eventually turn bullish on this market once again making PEK a more attractive and effective way to invest in Chinese equities.
As you may know, Chinese shares trading within the country have been divided between "A" and "B" shares. "A" shares have traditionally only been available to Chinese citizens but recent moves by the government have allowed for some limited dual trading for QFII investors. "B" shares are more limited in scope and have been available for direct foreign investments. China ETFs as currently structured may only be focused on "B" shares and other shares trading in Hong Kong for example. This has made direct exposure to the country limited and incomplete. The broad scope of the Shanghai 300 Index makes investing in China more complete with "A" shares included. Eventually, the Shanghai 300 Index will be more similar in scope and popularity like other major indexes (S&P 500, FTSE, DAX and etc). Today that may seem like a stretch but things are likely to change in the near future.
Disclosure:
I have no positions in any stocks mentioned, and no plans to initiate any positions within the next 72 hours. I wrote this article myself, and it expresses my own opinions. I am not receiving compensation for it. I have no business relationship with any company whose stock is mentioned in this article.