By Sean Geary
A double-whammy of bad news has Vodafone's (NASDAQ:VOD) stock reeling in London trading Tuesday morning.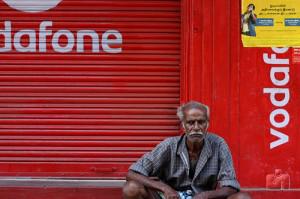 In the telecom's earnings release Tuesday morning, Vodafone announced rather disappointing earnings, in particular in Europe's periphery. Losses in markets like Spain and Greece resulted in the firm having to take a 6 billion pound ($9.5 billion) writedown this quarter.
Unsurprisingly, the stock is reacting adversely to this news; the stock is down roughly 3% in London trading and American investors can expect the ADR to perform in similar fashion.
However, the bad news for Vodafone was not confined to a poor earnings report. Prevailing uncertainty in one of the company's biggest growth markets is also worrisome for investors in Vodafone.
Early this week, an auction re-licensing wireless spectrum in India failed largely as a result of substantial government interference. India recently cancelled previous licenses as the government had adjudged that the companies had originally paid too little for access to valuable spectrum.
The Indian government is currently attempting to auction off licenses in four regions, including the country's economic and political capitals, Mumbai and Delhi.
However, due to the government's unrealistic expectations in terms of price, no telecom firms in the company have produced a successful bid.
Going forward, India will be an integral component of Vodafone's growth. However, if the Indian government is not willing to step aside or to accept more reasonable valuations for wireless spectrum, Vodafone's ambitious growth plans in the subcontinent may not come to fruition.
Until the Indian government moderates their price, expect carriers like Vodafone, Bharti Airtel, and Tata Communications (NYSE:TCL) to resist overpaying for these assets.
While reforms over the past few months were interpreted by many as a secular pivot towards increased transparency and less government interference in the Indian economy, actions like this auction illustrate the very real risks of investing in India.