INTRODUCTION:
Telular (NASDAQ:WRLS) released its fourth quarter and fiscal year results on Tuesday, November 6. Management not only exceeded our expectations but raised forward guidance and increased the dividend nine percent. The yield exceeds 4% at the time of this writing.
We have been writing about Telular on SA since August 2010 when the stock was at $2.31. The stock closed at $10.97 at the time of this writing and is a compelling story going forward based on recent results and company guidance.
The goal of this discussion is to give the reader a basic understanding of Telular, a growth and high yield company not widely followed by analysts. The discussion includes:
A brief history of the transformation that has led to today's success.
A brief overview of each business segment.
Dividend growth and expectations
Financial trends
Valuation
Risk
Conclusion
HISTORY:
Telular has been publicly traded since 1994. The focus from 1994 to about 2006 was on FWTs and FCPs (Fixed wireless terminals and Fixed cellular phones). The original investment thesis was people would cut the cord and buy a FWT (Fixed wireless terminal) to replace their landlines. Turns out the masses pretty much ignored FWTs, sending the stock nowhere. The longtime CEO was replaced in 2005 and the CFO in 2007. New management changed the strategic direction of the company, discontinuing the FCP business and phasing out the FWT business. The company transformed itself from one focusing on equipment sales to one focusing on recurring services. The distinction is important because comparing today's results with those from the old guard is an apples to oranges comparison.
Management turned its focus to the alarm business (Telguard) and added new businesses (TankLink and SkyBitz) through acquisitions. Both provide high margin recurring revenue that are complementary to Telular's focus on M2M solutions. Segment details are provided below.
BUSINESS SEGMENTS:
Telguard: Provides primary and backup alarm communication solutions for residential, VoIP, small business, financial, commercial and fire system markets. These products transmit full data from virtually all security and fire systems to central stations using the cellular network.
Telguard accounts for the bulk of Telular's revenue (60% in FY2012). The quarterly growth in Telguard unit sales for the last two fiscal years is shown below: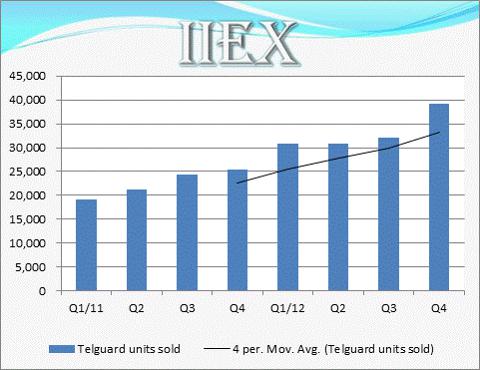 Management increased the range of Telguard sales guidance to 30,000 to 40,000 units each quarter during fiscal year 2013 from 25,000 to 35,000.
Average sales in the 2007 timeframe exceeded 50,000 per quarter as reflected in the steep rise in subscribers shown in the graph below. This was a one-time event due to an FCC ruling that allowed carriers to no longer support the analog network after February 18, 2008 forcing dealers to replace the analog units with digital units. This event may provide additional insight into the future because there is another sunset on the way for 2G. The CEO talked about at the August conference call:
3G/4G is most applicable to our Telguard line of business currently because many of those units, once they're put in someone's home or business, are expected to be on the wall for 5 to 7 years or more, in some cases. So it's relevant for that line of business because the sunset of 2G, it's already starting, … a permanent sunset of 2G is something that is thought to be in the 4- to 5-year range.
And from the November conference call in response to a question asking, "How strongly are the alarm dealers focusing on the sunset of 2G at this stage?"
I would say, fairly strongly but not as strongly as I'd like them to. We've raised the issue. It's become relevant for some of them. The industry can be slow to react as well. So I wouldn't say that it's anything close to an all-out stampede or the #1 issue in the space.
The following illustrates past and projected subscriber growth using an estimated churn rate of 14%. The industry average is 12-15%.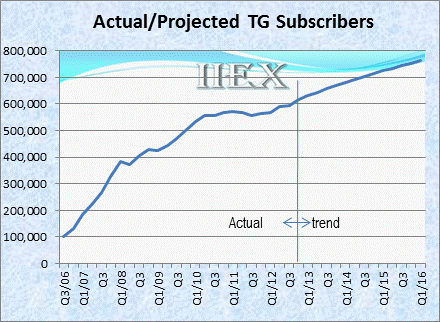 ARPU (average recurring revenue per unit month per subscriber) increased to $4.37 from $4.24 in Q4-FY2012. We expect this number to increase as its largest and lower margin customer (ADT) becomes a smaller percentage of the overall total.
Combining guidance and churn translates into Telguard revenue growth of 13% for FY2013.
TankLink and SkyBitz Segments:
In January 2011 Telular acquired the assets underlying the SMARTank line of business of SMARTLogix, Inc., the largest value added reseller of TankLink tank monitoring solutions. Tank monitoring products offers solutions for M2M communications. Tank monitoring and automatic replenishment solutions help address the inventory management needs in the petroleum logistics, bulk chemicals, and bio fuels industries.
The SkyBitz acquisition closed Feb. 1, 2012. SkyBitz provides mobile resource management solutions focusing on over-the-road tracking via satellite. SkyBitz's satellite-based technology provides real-time visibility of many asset types, including truck trailers, intermodal containers, sea-going containers, rail cars, power generators and rental equipment.
The company does not break out billable units for TankLink or SkyBitz separately but does release the combined totals for all segments. From this we can calculate the combined total for TankLink and SkyBitz (see below) businesses and measure the growth of the combined number.
The growth of TankLink and SkyBitz billable units since the acquisition of SkyBitz is: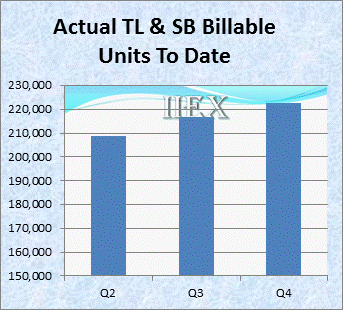 This translates into annual unit growth of 13%.
DIVIDEND GROWTH:
In November 2010 (FY2011) Telular paid its first quarterly dividend of $0.10 ($0.40/year) and a special dividend of $1.00 per share. The dividend increased to $0.44/share in FY 2012. Telular recently increased the dividend to $0.48 for FY 2013. Management is positioning the company to attract dividend growth investors. The question is whether it can continue yearly increases. The answer is yes as graphically displayed under "Overall Financial Trends" discussed below.
OVERALL FINANCIAL TRENDS:
Joe Beatty - CEO issued the following guidance in the earnings release:
Based on the momentum we are seeing in our business, we are announcing fiscal year 2013 Adjusted EBITDA guidance of $23.5 - $25.5 million, as well as increasing the range of our Telguard sales guidance to 30,000 to 40,000 units each quarter during fiscal year 2013.
EBITDA and Cash:
Ebitda guidance represents 32-43% annual growth over FY 2012.
Combining this guidance with the sales unit trends noted above yield the following financial metrics: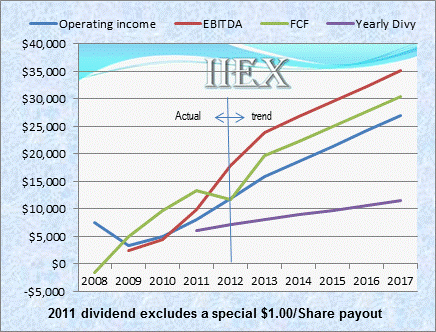 The above chart projects dividend increases at four cents per year indicating the dividend is not only safe but yearly increases are likely. Cash on the balance sheet is $12.7m and has been trending up over the last two quarters. Long-term FCF growth per share is 20% using FY 2012 as the baseline. We should point out FY2012 results include just eight months of the SkyBitz business segment due to the timing of the acquisition.
To complete our discussion on cash we need to turn to the debt schedule. Although interest payments are reflected in FCF, principal payments are not since this falls outside "cash from operations" on the cash flow statement.
Telular incurred $30m in debt to finance the SkyBitz acquisition through a five-year loan from Silicon Valley Bank. The loan has a non-linear amortization, i.e., 10% in year one, 15% in year two and higher in years three through five. The following graph adds FCF minus the principal payments: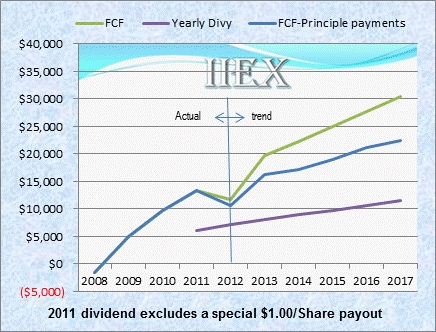 The dividend growth scenario is still intact. After 2017 Telular will essentially return to debt-free status barring any additional acquisitions.
Earnings:
Some point to earnings and question the dividends sustainability. A recent example was in this Motley Fool article which stated:
At the moment, Telular's projected 4.4% yield is attracting investors to the stock in droves, but its payout ratio of 123% is woefully unsustainable.
Why are earnings low and cash flow so robust? The answer is Telular's NOLs (net operating losses). In January of 2011, Illinois raised its corporate income tax rate to 9.5% from 7.3%. Additionally, Illinois suspended the utilization of net operating losses ("NOLs") for three years. Telular adopted a tax strategy to minimize current tax liabilities to the State of Illinois. As a result of this strategy, and Illinois's decision to suspend the utilization of NOLs, Telular determined that it would have to restore a portion of the previously reversed valuation allowance it had against its net deferred tax assets related to state NOLs. Increasing the valuation allowance resulted in an increase in deferred tax provision.
The effect on the income statement is a large provision for taxes, but only a small percentage is cash tax, the rest is non-cash. To illustrate this point the line item "provision for income taxes" on the recent earnings release was $1.24m but only 24% is a cash tax, the remaining is non-cash.
The Motley Fool article makes a general statement without discussing the reasoning for the accounting change. Bottom line is the change maximizes the cash retained by the company.
A better measure of earnings would be to back out the non-cash tax since most of the recorded provision is related to changes in the deferred tax assets and does not represent cash expected to be paid for taxes. Projected adjusted earnings are: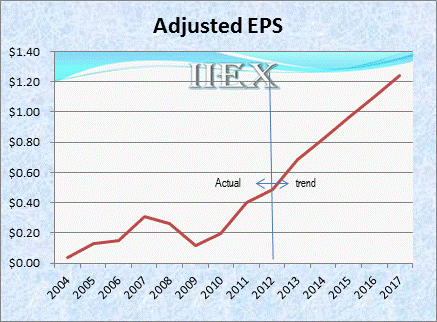 Long-term adjusted EPS growth is 21% using FY 2012 as the baseline.
VALUATION:
The following fair value analysis is based on management's longer-term financial performance as measured by the previous data. Fair values are based, in part, on the following: Discounted cash flow, a modified Graham's intrinsic value formula and a P/E analysis. The valuation model consists of two parts.
The discounted cash flow and the modified Graham's intrinsic value are blended to arrive at a fair value.
A P/E analysis based on historical adjusted values.
Fair value used is the minimum value of the two parts.
Part 1: Discounted cash flow and the modified Graham's intrinsic value.
An estimated long-term EPS growth rate of 21% and long-term FCF growth rate of 20% were calculated from the data described above.
Running these projections through our pricing model, excluding the P/E analysis, produces a fair value of $15. Needless to say, the result is sensitive to changes in the growth rates as illustrated below.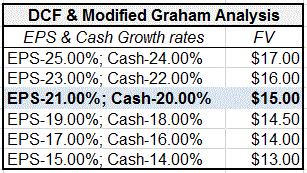 Part 2: P/E Analysis
The model looks at current and past periods to calculate a limiting P/E value. The model produces a maximum allowable P/E of 22 based on FY2013 yielding a fair value of $15.
Final fair value is the minimum of the two methods. This is one of the rare cases where both methods produce the same fair value or $15.
RISKS:
The discussion would not be complete without a review of some of the major risks.
Reliance on significant customers such as ADT. If ADT chooses to use fewer products and services or stops using products and services in total, the financial results could be materially impacted. In addition, ADT influences the purchasing decisions of its authorized dealers by specifying which equipment must be installed in end user security systems. For example, in fiscal 2010 ADT implemented a monthly service charge to the end user for any system sold by an authorized dealer that included a Telguard product. Due to this surcharge, authorized dealers opted to choose other security products over Telguard products, which resulted in decreased sales volume. If ADT further disincentivizes its authorized dealers from purchasing Telular products or removes products from its list of acceptable equipment, the financial results may be materially impacted. That said ADT represented 37% of total revenue in fiscal 2011 and with the addition of SkyBitz that percentage is expected to be substantially reduced.
Competition in the alarm segment from much larger companies such as Honeywell (NYSE:HON) and Qualcomm (NASDAQ:QCOM) whose financial resources are substantially greater than Telular. AT&T (NYSE:T) has also entered the alarm business.
The ability to successfully integrate SkyBitz into the Telular culture. It's still early and the jury is still out on whether Telular can grow the business.
If economic conditions slow or if a recession occurs, end users may choose to eliminate the protection offered by Telguard services as consumers re-examine discretionary expenditures.
AT&T Wireless provides the majority of Telular's network capability. A network malfunction or a contractual dispute could materially impact the financial results.
Cellular South and Numerex (NASDAQ:NMRX) Inc. provide a meaningful portion of Telular's network capability for Telguard and TankLink, respectively. A network malfunction or a contractual dispute could materially impact the financial results.
SkyBitz's strategic partner is Iridium Communications (NASDAQ:IRDM). A network malfunction or a contractual dispute could materially impact the financial results.
Micro Cap stock with low trading volume, i.e., an illiquid stock.
A complete list of risks including the boilerplate can be found in the 10-K.
CONCLUSION:
The stock remains attractive for the following reasons:
Fiscal year 2012 EBITDA was $17.8m; 2013 EBITDA guidance of $23.5 - $25.5 million, up 32-43% over FY 2012.
2013 Dividend increased to $0.48 per share (increase of 9% over FY2012) yielding over 4% at the time of this writing.
The dividend commitment implies high confidence by management going forward.
Sustained cash and earnings growth going forward.
Gross margins for services (recurring revenue) increased to 72.1% in FY2012 from 65.4% in FY2011 and 59.8% in FY2010.
On the path to becoming a dividend growth stock.
A complete set of updated detailed financial data and projections reflected in this article is found here.
Disclosure: I am long WRLS. I wrote this article myself, and it expresses my own opinions. I am not receiving compensation for it (other than from Seeking Alpha). I have no business relationship with any company whose stock is mentioned in this article.