As I wrote earlier, Dynavax Technologies Corporation (NASDAQ:DVAX) announced on April 28, 2012, it had submitted a U.S. Biologics License Application, or BLA, to the FDA for HEPLISAV, its treatment for hepatitis B. The company is pursuing an indication for immunization against infection caused by all known subtypes of hepatitis B virus in adults 18 through 70 years of age. The submission, comprising some 305 volumes, was submitted ahead of schedule, a surprise to some on the Street, given that it required revisions to accommodate the expansion of the indicated age group. At the time it submitted its BLA, the company requested priority review. Surprisingly, that request has not been granted. Instead, the FDA granted Dynavax a regular review, with a PDUFA date of February 24, 2013.
As part of the FDA's review process, the FDA's Materials, Vaccines and Related Biological Products Advisory Committee will meet in open session on Thursday, November 15, 2012, to discuss and make recommendations on the safety and efficacy of the hepatitis B vaccine known as Heplisav made by Dynavax. The draft agenda, briefing papers, and other relevant documents for this meeting can be found here.
I won't go into the details as to why many believe Heplisav is a significant improvement compared to products currently on the market, something I covered in detail earlier. Suffice it to say, first, Heplisav is easier to administer. GlaxoSmithKline's (NYSE:GSK) Engerix-B, a dominant competitor in the marketplace, is given in a series of three shots, with the booster shots sometimes given 1 month and 6 months after the first shots. Heplisav, on the other hand, is administered as two shots, at 0 and 1 month, offering the patient considerable convenience. Second, Heplisav achieved 97% seroprotection one month after the second dose…something not even achieved with Enerix-B, even after 3 doses of the latter. In fact, Enerix-B never rose above 73% seroprotection. See my earlier article for more details on these and other Heplisav benefits.
This article is intended to focus on the concerns raised in the FDA briefing document that are expected to be central to the discussions among the advisory committee's members. Of particular concern to the reviewers will be Adverse Effects (AEs) Non-fatal Serious Adverse Events (SAEs), and autoimmune adverse events of special interest (AESIs).
Here's what the FDA's study concluded:
"Immunogenicity data supporting lot consistency was shown, and HEPLISAV was non-inferior to Engerix B with respect to seroprotection rates in this second pivotal study. The overall rates of solicited and unsolicited AEs, SAEs and AESIs were similar among the consistency lots, the older manufacturing lot TDG006, and Engerix-B. No significant differences in [anti-nuclear antibody] ANA titers or [Anti-Double Stranded DNA] anti-dsDNA levels were seen among the different treatment arms. While the incidence of autoimmune events was low, all autoimmune AEs occurred in HEPLISAV recipients. Given the randomization ratio employed in this study and the low background incidence of many autoimmune diseases, the clinical significance of the 0.5% difference in the incidence of potential autoimmune disease between groups is unclear. Due to the reports of thyroid disorders, an independent CBER analysis revealed that thyroid related AEs were reported by HEPLISAV recipients with a frequency similar to that of Engerix-B recipients and the background incidence rate across all studies. As the numerical differences in the incidence of these AIAEs in this study did not persist upon integrated analysis of all studies, CBER determined that study DV2-HBV-16 did not reveal clinically significant safety concerns. However, it is acknowledged that the ability to reliably evaluate uncommon specific autoimmune events is limited due to the size of the study."
According to the Report, "Dynavax has proposed an open-label, prospective, observational study to assess the incidence of medically significant adverse events, including autoimmune disease, in 5,000 individuals initiating vaccination with HEPLISAV. A concurrent population of 5,000 individuals initiating vaccination with Engerix-B will be evaluated for comparison. Participants will be followed for 12 months after the first injection. In addition to this postmarketing study, Dynavax has proposed routine pharmacovigilance to identify potential risks." The FDA agrees, and CBER recommends further post-marketing evaluation of this product in a larger population of individuals. (emphasis added)
The questions to the advisory committee will focus on the adequacy of the safety and effectiveness data to support licensure of HEPLISAV for the proposed indication of active immunization against all subtypes of hepatitis B virus infection in adults 18-70 years of age.
At this point, approval, in our mind, is not the issue. What still remains of concern are lingering questions pertaining to the patents (particularly in the United States) DVAX must license in order to manufacture its vaccine. We also would like an update regarding the status of its search for a new chief executive officer (NYSE:CEO).
Technical Analysis (at the time of writing, Tuesday afternoon)
The Daily chart, courtesy StockChart.com, shows the stock responding well to the release of the FDA briefing material. At this writing, the stock is up almost 70 cents on relative high volume, with both the Relative Strength and MACD reversing their recent trends.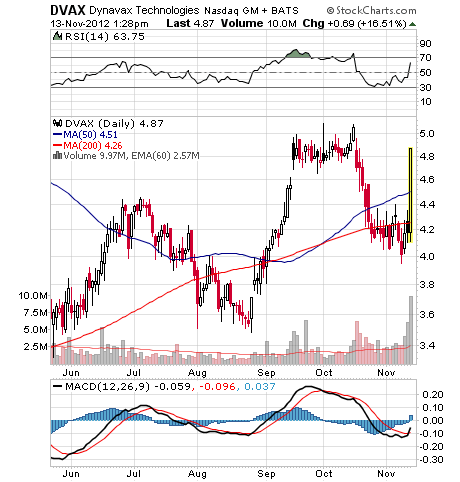 The Weekly technical data tell much the same tale.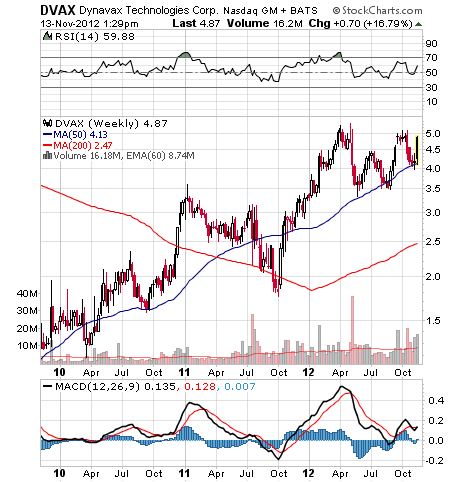 Disclosure: I am long DVAX. I wrote this article myself, and it expresses my own opinions. I am not receiving compensation for it (other than from Seeking Alpha). I have no business relationship with any company whose stock is mentioned in this article.
Additional disclosure: I am long DVAX and will not alter my position within 72 hours of the time of publication of this article. I am not a registered investment advisor and do not provide specific investment advice. The information contained herein is for informational purposes only. Nothing in this article should be taken as a solicitation to purchase or sell securities. Before buying or selling any stock you should do your own research and reach your own conclusion. It is up to investors to make the correct decision after necessary research. Investing includes risks, including loss of principal.