Although gold prices increased recently and a majority of the analysts interviewed by Bloomberg remain bullish on the commodity in the short term, we have a neutral rating on Newmont Mining Corporation (NYSE:NEM). We believe the company has a strong base of operations but the rising costs, particularly at its APAC operations, and declining production remain as concerns for NEM.
Recent Developments in Gold:
On speculations that there will be more stimulus measures in the wake of President Obama's re-election, gold surged to a three-week high and the precious yellow metal is set to achieve its highest weekly gain since January 2012.
Gold ETFs tracked by Bloomberg surged to an all-time high of 2,596.1 metric tons, valued at $144.5 billion. This year gold prices rose by 11 per cent, and have been rising for 12 straight years, the longest upward trend in at least nine decades.
Gold Futures:
Gold futures for December delivery increased by as much as $21 and ended the day at 1 per cent, or $17.80, higher on Thursday to settle at $1731.80/oz. Rising geopolitical tensions after news of an attack on a US drone in the Gulf by Iranian jets once again prompted investors to turn to gold.
Loose Monetary Policies across the Globe:
News of the European Central Bank (ECB) keeping interest rates low and pledging to continue with its accommodative monetary policy, together with prospects of the continuation of loose monetary policy by the Obama administration, led to the recent surge in prices.
From December 2008 to June 2011, gold rose by as much as 70 per cent as the Federal Reserve (Fed) bought a staggering $2.3 trillion worth of debt in the previous two rounds of quantitative easing.
The Bank of Japan, for the second time in two months, expanded its asset management program. The ECB kept the rates low and pledged to buy bonds from debt ridden nations, and China recently approved a $158 billion construction plan.
More and more liquidity is added in to the system and countries, from China to the U.S., pledge more action, including stimulus measures and loose monetary policies. Inflation will rise and currencies will depreciate, both supportive of high gold prices.
Fiscal Cliff:
The U.S. fiscal cliff is another factor that triggers investors' concerns in the financial markets in the near term, leading to higher gold prices. An automatic spending cut and tax increase totaling more than $600 billion in January can potentially push the world's biggest economy back into recession.
Diwali Festival:
The last quarter also saw strong demand from India, the biggest buyer of the yellow metal last year and the second biggest this year, due to Diwali and other regional festivals. However, demand is expected to decline after January 13.
Newmont Mining Corporation:
Newmont Mining Corporation, the largest gold producer in the U.S., reported Q3 EPS of $0.85, missing consensus estimates of $0.91 by 6 cents due to lower production and higher than expected cash costs. This is NEM's second quarterly miss in a row and third in the last four quarters after missing analysts' estimates in Q2'12 by 34 cents.
| | | | | |
| --- | --- | --- | --- | --- |
| Earnings History | Dec-11 | Mar-12 | Jun-12 | Sep-12 |
| Consensus EPS | 1.27 | 1.14 | 0.93 | 0.91 |
| Actual EPS | 1.17 | 1.15 | 0.59 | 0.85 |
| Surprise % | -7.90% | 0.90% | -36.60% | -6.60% |
Source: Yahoo Finance
Company Overview:
NEM, the largest gold producer in the U.S. and the second largest in the world, is involved in the exploration, acquisition, and production of gold properties. Apart from the U.S., the company also has operations in Canada, Mexico, Australia, New Zealand, Indonesia, Peru, Bolivia, and Ghana. The company is also involved in the production of copper, which accounted for 12 per cent of 2011 revenue. The company's reporting segments are based on its geographical locations. As you can see from the chart below, the Asia Pacific region with 43 per cent accounts for most of the company's revenue; however, the region also includes copper revenue. More than two-third of the company's gold revenue comes from North America and Asia Pacific. All of the company's 2011 copper revenue of $1.3 billion came from its operations in the Asia Pacific. The company is headquartered in Colorado, Nevada.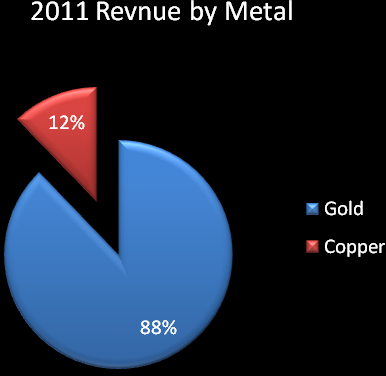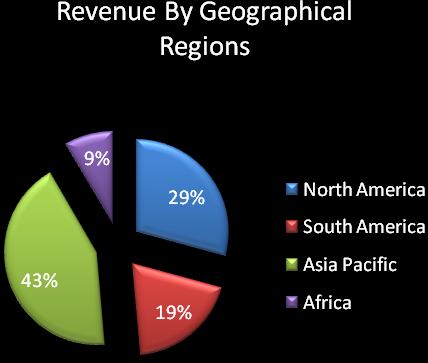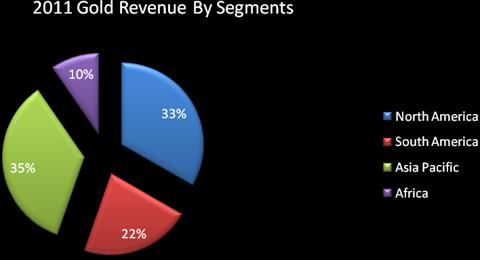 Company Documents and Qineqt's Calculations
Earnings Review:
NEM reported third quarter-adjusted EPS of $0.85, below consensus estimates of $0.91 and down 32.5 percent from the same quarter of last year. Reported EPS of $0.74 have been adjusted for a $33 million loss in discontinued operations, $6 million related to impairment expenses, and $20 million in restructuring and other charges.
Revenue declined by 10 per cent y/y to $2.5 billion. Net income fell to $367 million, down 25 per cent from the same quarter of last year.
Higher Pricing
There was a y/y increase in the prices of both gold and copper; gold by 11 per cent per ounce and copper by 116 per cent per pound.
Declining Production:
Production of gold by the U.S., the largest gold producer, fell by 5 per cent y/y and copper production fell by 40 per cent.
Lower Production Guidance:
Going forward, NEM expects total attributable gold and copper production for the year to be at the low end of its earlier announced guidance of 5.0-5.1 million ounces and 145-165 million ounces, respectively.
Higher Costs Guidance:
Both gold and copper costs are expected to be higher than the previously forecasted ranges. Gold cash costs are expected to be at the top end of $650-$675/oz and copper cost guidance was raised to $2.20-$2.35/lb. Unplanned mill downtime at Boddington and lower ore tonnage at Waihi and Tanami contributed to this rise in gold cash cost. On the other hand, higher costs at both Boddington and Batu Hijau contributed to higher cost guidance for copper.
Gold-Linked Dividend:
Although NEM has a very attractive dividend yield of 2.9 per cent, the highest among its peers, its dividend is gold-linked and dividend safety improves when gold moves above $1700/oz. Last year the company pledged a $0.20 increase in dividend for each $100/oz rise in average realized prices of gold. The company said that shareholders could receive a yearly dividend of $4.70 a share, should the average realized gold price reach $2500/oz.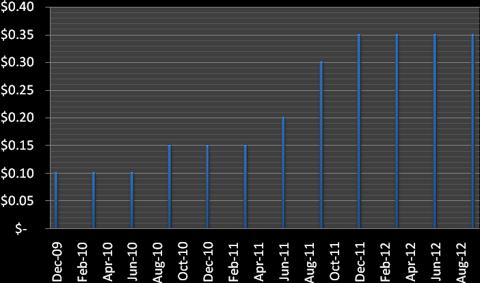 Nem's quarterly dividends in the last 3 years
NEM outperformed its large cap peers for most of 2011. However, outperformance faded in 2012 as costs increased and gold prices declined, raising concerns about the long-term sustainability of NEM's dividend. CFO was down 54 per cent y/y to $578 million in the third quarter. The company is expected to post a negative free cash flow for 2013, which further raises questions about dividend sustainability.
The stock lost 8.5 percent of its value on Friday 2nd November alone, the first trading day after its earnings release.
Financials:
NEM is trading at a forward P/E of 9.7x. The stock has a dividend yield of 2.90 per cent that is attractive to dividend seeking investors. The stock has lost 21 per cent of its value YTD. The stock has a mean recommendation of 2.6. Out of 22 sell side analysts, 13 have a hold recommendation, 8 buy, and 1 strong buy whereas none has a sell recommendation.
| | | | |
| --- | --- | --- | --- |
| Comp Sheet | NEM | Barrick Gold Corporation (NYSE:ABX) | Yamana Gold Inc (NYSE:AUY) |
| Forward P/E (1 year) | 9.7 | 7.1 | 14 |
| PEG ratio (5 year expected) | N/A | N/A | 2.1 |
| EV/EBITDA (TTM) | 6.2 | 7.0 | 12.7 |
| Dividend yield | 2.9% | 2.2% | 1.3% |
| Long-term earnings growth rate | N/A | N/A | 10.5% |
| Share price Performance (YTD) | -21.5% | -23.0% | 33.0% |
Source: Yahoo Finance & Reuters
Investment View:
With rising costs and diminishing production, NEM's woes are twofold. We have a neutral rating on NEM and we believe it has a stable base of operations in North America and Australia. However, its production is declining and it is also facing cost pressures, especially in its APAC operations. Gold is also close to an all time high on nominal basis and when prices fall it will not bode well for NEM.
Risks to our analysis:
Gold Prices - As we discussed in our article last month, gold prices are influenced by a number of factors, including inflation, real interest rates and central bank buying. A considerable decline in gold prices due to any of these reasons or a combination of them could impact NEM's earnings negatively.
External Costs - Although the majority of NEM's revenue is in US$, a considerable amount of costs are incurred in foreign currencies, particularly in AU$. A significant depreciation of US$ against these currencies could impact NEM's earnings negatively.
Disclosure: I have no positions in any stocks mentioned, and no plans to initiate any positions within the next 72 hours.
Business relationship disclosure: The article has been written by Qineqt's Basic Material Analyst. Qineqt is not receiving compensation for it (other than from Seeking Alpha). Qineqt has no business relationship with any company whose stock is mentioned in this article.