Symantec Chief Operating Officer Enrique Salem says the company is planning roughly $1 billion in annual acquistions over the next few years.
The strategy will involve three to six acquisitions annually, Salem told me during a luncheon with reporters at the Symantec Partner Engage event.
Admittedly, Symantec stumbled quite a bit with the 2005 buyout of Veritas. But I think Symantec-- and many big software companies loaded with cash -- should go on a buying binge during the current economic turmoil.
Consider the facts:
Valuations for software companies are down
Start-up software companies face tight lending policies and can't launch initial public offerings
Symantec ranks among the four largest software companies in the world
Still, Symantec has some challenges.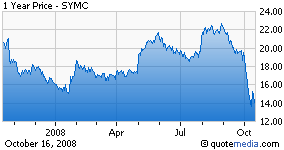 The company has been hit-and-miss in the software as a service (SaaS) market. Symantec's big SaaS play -- known as the Symantec Protection Network -- was somewhat late to market, and got off to a slow start.
Just last week, Symantec moved to acquire MessageLabs to strengthen the company's SaaS security play. And on Oct. 16, Symantec announced a partner program for the Symantec Protection Network initiative.
Solid progress, to be sure. But Symantec needs to bolster its SaaS play -- and fast. Spending $1 billion a year on three to six companies annually could help. However, the 2005 Symantec-Veritas deal shows that the company will need to more closely manage their acquisition efforts.
Disclosure: None