Commodity chart of the day
Daily Dow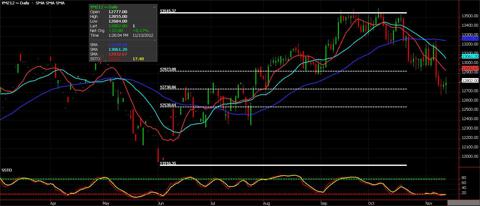 Click to enlarge
In the last 6 weeks the Dow Jones has lost roughly 5.5%, completing a 50% Fibonacci retracement within the last few sessions. I had previously advised investors with hefty exposure to securities to lighten up and hopefully some of you headed my advice. I believe the current correction has run its course and I am looking for a bounce from here. No, not the start to another bull market but rather a trade back near levels seen in early October ... trade accordingly.
If you notice in the chart above selling has been rejected 2 out of the last 3 sessions. While I think we could see an appreciation of 3-5% in the coming weeks as opposed to buying stocks I prefer selling Treasuries with clients. I think we should see the inverse happen to Treasuries and as stocks go higher if my assessment is correct Treasuries should move lower. Those not willing to take either of those trade recs could consider scaling back into equity positions as their favorite stocks may be on sale after the most recent deprecation. A move back to 13,250 in the Dow in my estimation should get December 30-year bonds closer to 148'00 and 10-year notes under 133'00.
Risk Disclaimer: The opinions contained herein are for general information only and not tailored to any specific investor's needs or investment goals. Any opinions expressed in this article are as of the date indicated. Trading futures, options and Forex involves substantial risk of loss and is not suitable for all investors. Past performance is not necessarily indicative of future results.
Disclosure: I have no positions in any stocks mentioned, and no plans to initiate any positions within the next 72 hours. I wrote this article myself, and it expresses my own opinions. I am not receiving compensation for it. I have no business relationship with any company whose stock is mentioned in this article.