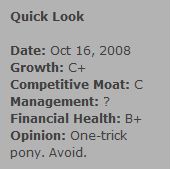 Take-Two Interactive (NASDAQ:TTWO) is a publisher of video games for video game consoles and PCs. The company is best known for its Rockstar publishing label and the blockbuster Grand Theft Auto series, or GTA. GTA dominates the company's results, accounting for over 75% of revenue last quarter (the latest installment, GTA IV, was released in late April), as well as 13% for fiscal year 2007, 22% in 2006, and 38% in 2005. The company has attempted to diversify its revenue streams, entering the sports game business under the 2K Sports label, and has also purchased a number of development studios including Firaxis, developer of the popular Civilization games, and Irrational Games, who is developing the highly anticipated Bioshock 2 title.
Two major factors have led to Take-Two's appearance on the Magic Formula screen. On the return on capital side, current trailing 12-month results have included the huge upside driven from the release of Grand Theft Auto IV in April of this year. GTA IV drove an incredible $500 million in sales in the first week alone. As a result, Take-Two's revenue so far this year is on pace to double that of 2007, and since GTA is a wholly-owned property (Take-Two pays no royalties on it), gross margins have soared from the mid 20% range into the low 40% area. Trailing 12-month MFI return on capital is a sparkling 125%. Financial health is good too, with $339 million in cash vs. no debt.
The second factor is the massive drop in stock price after Electronic Arts (ERTS) dropped a $2 billion dollar takeover bid for the company. This valued Take-Two at $26 per share. Take-Two's board and shareholders rejected the bid, private talks failed last month, and the stock subsequently tanked down to current levels. The one-two punch of high return on capital from the one-time windfall of a major GTA release combined with mass exodus from disappointed arbitrageurs has led to what looks like a cheap but profitable company.
However, don't be fooled: Take-Two is not a Top Buy, and should probably be avoided by MFI investors. Sure, trailing 12-month results look great, but in years absent a new GTA release, Take-Two is unprofitable. It recorded a net loss for both 2007 and 2006, and MFI return on capital in 2005 and 2004 averaged an anemic 20% (2004 was the year GTA: San Andreas was released, to boot). There's nothing particularly special about the business on an on-going basis. Free cash flow margin had never been above 6.5% until this year. Take-Two relies on hit titles like a heroin addict relies on his next fix, but in-between, there is misery. 2K Sports has an exclusive license to Major League Baseball, but competitor EA controls the more lucrative NFL, NASCAR, NCAA Football, and ESPN licenses. Although they can be relied upon for recurring revenue each year, sports games are low profit because of licensing fees. There really is very little to be excited about outside of GTA.
I should also add that management has historically been a real mess. Previous leadership was expelled because of fraud and options backdating. The company has basically contracted a media management company, ZelnickMedia, to run its operations and they have said all the right things about creating shareholder value. But, how confident can we be in mercenary management with a limited commitment to the company?
The $2 billion dollar question, of course, is can Take-Two produce more blockbuster franchises? The right answer is - who knows? Maybe the company will, and today's valuation will look cheap. Maybe the company won't, and EA will swoop in with a bid even lower than the previous one. With so many more reliable businesses on the Magic Formula screen, why buy into one whose future is largely a crapshoot. Do yourself a favor and avoid Take-Two in your MFI portfolio.
Disclosure: Steve owns no position in any stocks discussed in this article.