Investors worried about the U.S. fiscal cliff and another flare-up in Europe's debt crisis are shifting into defensive sectors such as consumer staples ETFs.
"Investors should probably expect a great deal of volatility as we close out the year as more is known about the impending fiscal cliff and if we will go over it to start 2013," Eric Dutram wrote for Zacks.
Lower volatility, defensive sectors such as consumer staples can be used to limit downside risk. The sector tends to be stable in both normal market conditions, as well as risk-off, and while the dividend payout is not impressively high, the stability and safety makes up for it. The U.S. consumer has shown signs of health, solidifying the case for staples ETFs.
The Select Sector SPDR Consumer Staples ETF (NYSEARCA:XLP) is the most popular staples ETF trading, with $5.75 billion in assets under management. Stocks included in the index range from cosmetics, tobacco, personal care products, and of course food and drinks. The 2.7% yield is complimentary to the low 0.18% expense ratio.
XLP has been outperforming the S&P 500 since mid-September.
The Vanguard Consumer Staples Index Fund (NYSEARCA:VDC) has about $1 billion in asset under management and focuses in on direct-to-consumer product companies that are deemed to be nondiscretionary and thus relatively immune from the business cycle. The expense ratio is at 0.19% and the yield is 2.14% .
Third, the Guggenheim S&P Equal Weight Consumer Staples ETF (NYSEARCA:RHS) has a 2% yield and costs 50 basis points per year. It is one of the more expensive funds in this sector. Packaged food, beverages and household products are all equally represented, a unique approach for this ETF. The $40 million in AUM makes this fund smaller than the others.
"Morningstar's equity analysts only project low- to mid-single-digit top-line growth for consumer staples firms over the next five years. So, while these firms may offer something of a safety net during difficult economic periods, investors shouldn't pile in with the expectation for exceptional growth during a cyclical upturn," Robert Goldsborough wrote for Morningstar.
Select Sector SPDR Consumer Staples ETF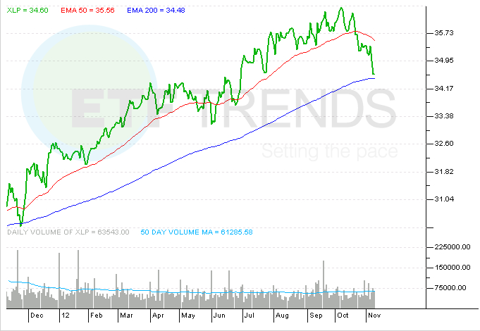 Click to enlarge
Tisha Guerrero contributed to this article.
Disclosure: I have no positions in any stocks mentioned, and no plans to initiate any positions within the next 72 hours. I wrote this article myself, and it expresses my own opinions. I am not receiving compensation for it. I have no business relationship with any company whose stock is mentioned in this article.
Additional disclosure: Mr. Lydon serves as an independent trustee of certain mutual funds and ETFs that are managed by Guggenheim Investments; however, any opinions or forecasts expressed herein are solely those of Mr. Lydon and not those of Guggenheim Funds, Guggenheim Investments, Guggenheim Specialized Products, LLC or any of their affiliates.