By Dr.Osman Gulseven
For many retirees, it is a dream to sit back and enjoy the regular dividend flows. However, a strong retirement account requires not only solid dividends, but also growth in cash flows. Therefore, I investigated the most liquid, high-growth and high-dividend investments within the stock market. The solidness of these stocks has been confirmed in the form of a strong recovery after the global crisis. As the V-shaped recovery gains further momentum, I expect these stocks to appreciate even further, thanks to strong economic growth.
Here, I compiled a list of five high-growth diversified retirement investments that pay regular dividends. The liquidity criterion is set as a minimum average volume of one million shares per day. In the last five years, these companies experienced an annualized growth rate of at least 10%. I also set both the trailing and forward P/E ratios to be lower than 10. This criterion ensures that the dividends are more than fully covered by the earnings. All of these companies are headquartered in the U.S. and they offer a minimum trailing yield of 5%. Here is the top high-growth dividend list:
Chimera Investment Corporation (NYSE:CIM)
Trailing Yield: 14.44%
Payout Ratio Based on Cash Flow (Yield/Cash Flow) = 98%
Forward Yield: 13%
Chimera is one of the most well-known mREITs in the market. As an mREIT, the company invests in residential mortgage-backed securities, residential mortgage loans, real estate-related securities and several related investment instruments. The company has the same management team as Annaly Capital Management.
Chimera is known as a hybrid mortgage agency. Thus, its portfolio mainly targets non-agency backed securities. While that seems like a substantial risk, it also reduces the company's need for leverage. The current leverage ratio of 1.85 is one of the lowest among the mREIT space. After collapsing in 2009, the stock is following a steady upward trend.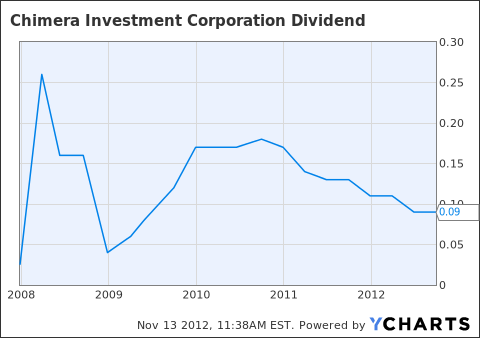 CIM Dividend data by YCharts
As can be seen from the above chart, the dividends are a bit erratic. However, as long as the company generates enough cash flow, the current dividends are almost fully covered by earnings. Most recently, the management decided to reduce the quarterly dividends to 9 cents per quarter from the previous value of 11 cents per quarter. Nevertheless, with a forward P/E ratio of only 6.2 and a double-digit trailing yield of 14.44%, the stock fits well into my safety criteria.
Tronox Incorporated (NYSE:TROX)
Trailing Yield: 1.34%
Payout Ratio Based on Cash Flow (Yield/Cash Flow) = 32.7%
Forward Yield: 5.34%
Tronox is a new player in the dividend investment space. The company just started paying dividends. If paid quarterly, its latest dividend of 25 cents per share translates into a yield of 5.34%.
Tronox specializes in titanium products. The company is one of the largest titanium producers in the worlds. Its products are exported to several countries in Europe, and Asia-Pacific. Founded in 1964, the Connecticut-headquartered Tronox received its independence from Kerr-McGee in 2006.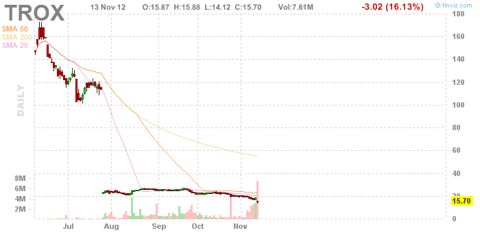 In late July, Tronox announced a 5-to-1 split. However, the split did not work out well for the shareholders. The stock kept sliding below $20, and it currently trades slightly above $15. The current market valuation offers an opportunity to buy this stock below the book value.
CYS Investments (NYSE:CYS)
Trailing Yield: 15.48%
Payout Ratio Based on Cash Flow (Yield/Cash Flow) = 100%
Forward Yield: 14.3%
Cypress Investments is another mREIT that specializes in both residential and non-residential mortgage-backed securities. As an mREIT, the company is subject to favorable tax rules as long as it distributes 90% of taxable income to its shareholders. CYS prefers to distribute 100% of its income.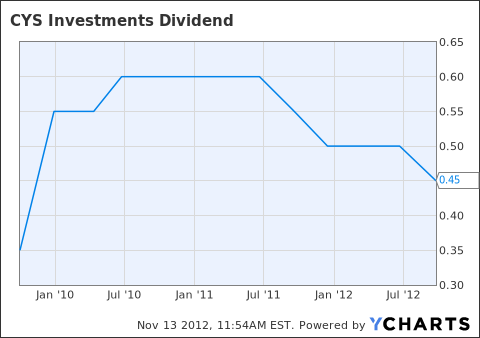 CYS Dividend data by YCharts
CYS does not have a big history of dividend income, but it has the potential to generate double-digit yields. Amidst heightened fears about the economy performance and recovery, the central banks around the world kept the interest rates near zero since December 2008. The easy money policy has driven down the borrowing costs to substantially lower rates. It also benefited mREITs such as CYS to exploit the difference between short-term and long-term interest rates. As the FED does not show any sign of higher future interest rates yet, I think mREITs will keep paying double-digit yields.
MFA Financials (NYSE:MFA)
Trailing Yield: 11.63%
Payout Ratio Based on Cash Flow (Yield/Cash Flow) = N/A
Forward Yield: 10.5%
MFA is another real estate investment trust that invests in both residential agency and non-agency mortgage-backed securities. Similar to other mREITs MFA is subject to favorable tax rules as long as it pays 90% of its taxable income back to its investors. Thanks to this rule, the company was able to offer double-digit yields for several years in its history.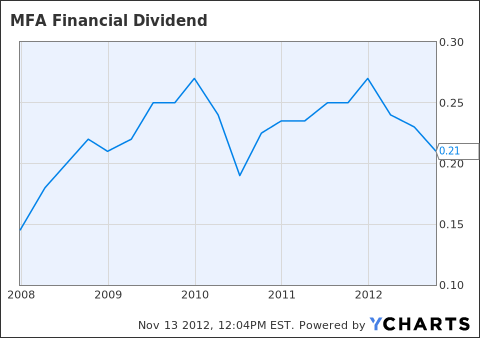 MFA Dividend data by YCharts
MFA's dividends have been more or less stable around 20 cents per quarter. However, the stock returned substantial capital gains in the last few years. Since the subprime crises, it rewarded the shareholders with both dividends and capital gains. The stock returned about 30% in this year alone. Nevertheless, with a forward P/E ratio of only 9.7, and a double-digit trailing yield of 11.6%, the stock still fits into my safety criteria.
Cliffs Natural Resources (NYSE:CLF)
Trailing Yield: 4.99%
Payout Ratio Based on Cash Flow (Yield/Cash Flow) = 25.5%
Forward Yield: 6.89%
Established in 1847, Cleveland, Ohio-headquartered Cliffs Natural Resources is one of the oldest companies in the U.S. It owns and operates several iron ores and coal mines around the world.
Due to volatility in iron and coal prices, Cliffs Naturals became one of the most volatile stocks in the market. After making it to as high as $110 in 2008, the stock collapsed to $20 within the few months following Lehman's bankruptcy announcement. While it bounced back in last year, it kept sliding and it is currently trading near its 52-week lows.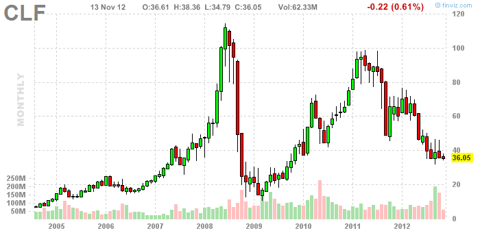 Fundamentally, the stock has several positives. It is trading with a low trailing P/E ratio of only 5.7, and it offers a substantial yield of almost 5%. In fact, the management increased the dividends by more than two-fold in this year alone. That bold move out CLF on the dividend spotlights. Besides nifty dividends, I think Cliffs Natural is a good stock to play the global recovery in iron demand.
Disclosure: I have no positions in any stocks mentioned, and no plans to initiate any positions within the next 72 hours.
Business relationship disclosure: EfsInvestment is a team of analysts. This article was written by one of our equity researchers. We did not receive compensation for this article (other than from Seeking Alpha), and we have no business relationship with any company whose stock is mentioned in this article.