Price Target: $69 Recommendation: BUY Upside: 22%
2014 is going to be a break-out year for Autoliv (NYSE:ALV). I believe that the market is under appreciating the impact that regulations in auto safety and ALV's foray into the $6 Bn brake control market will have on ALV's top line. Additionally, the company will also be successful in reaching and maintaining its operating margins at ~11% as the ongoing capacity alignment endeavors are completed. The price target of $69 is based on expected 2014 EPS of $6.9 (ALV had a 5-year median FY2 P/E of 10.02x).
COMPANY DESCRIPTION:
Autoliv, Inc., through its subsidiaries, engages in the development, manufacture and supply of automotive safety systems to the automotive industry. It markets its products to car manufacturers in Europe, the Americas, China, Japan, and the rest of Asia. The company was founded in 1956 and its headquarters is in Stockholm, Sweden.
BUSINESS MODEL STRENGHTS:
Leader in core product, passive safety: Autoliv is the clear market leader in its core product offering, passive safety. Autoliv has ~36% of the global market compared with its major rivals TRW and Takata that each have ~17% market share.
Technological leader: Autoliv accounted for 8% of all new automotive safety filings filed (in more than one country), higher than any other safety system supplier.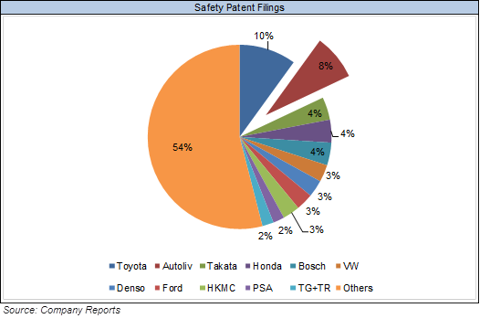 Global Presence: Autoliv has technical centers and production centers for airbags, seatbelts, steering wheels and active safety products in 29 countries. This is unmatched by anyone else in the industry.
Cash flow and Dividend: Annual free cash flow is expected to average ~$6.5 per share till 2017. Management is intent on either investing excess cash flows on building /solidifying market position or returning it to shareholders in the form of dividends.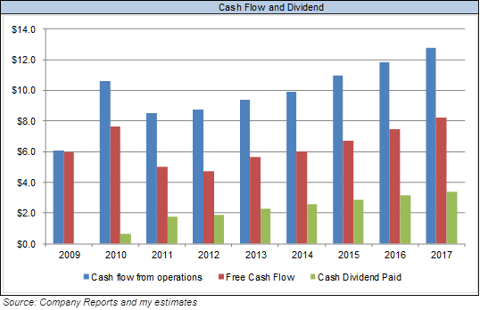 TAILWINDS:
Heightened regulation for improvement in auto safety: Reports by the WHO and other global organizations have caused regulators to step up regulation on safety norms in automobiles. Side impact bags will be made mandatory in the U.S. from September 2013, frontal air bags will be made mandatory in Brazil starting 2014 and seatbelt regulations are getting upgraded in India.
Leading share in emerging markets: Benefits will accrue from Light Commercial Vehicle (LCV) growth (7% in BRICS compared with 4% globally) and increase in Content Per Vehicle (Global average $270, developed countries $390, China $200 and India $70).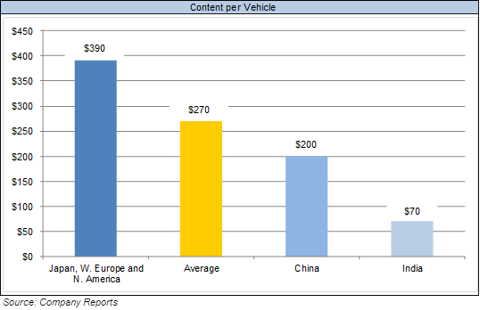 Leadership in Active Safety: Active safety is the fastest growing sub - market (this market doubled, $400million to $800 million, from 2010 to 2011) and is expected to grow at 31% CAGR till 2015. Autoliv is a leader in active safety and has more than 30% market share, therefore this market can alone be worth more than $500 million for ALV by 2015.
Foray into Brake Control: In 2011, ALV got its first order in the brake control market (a $6B market) and is expected to make its first sales in 2014. This increases ALV's target market by 30%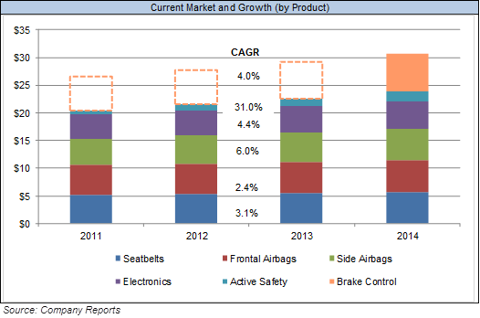 RISKS:
Europe: Autoliv's biggest market is still Europe. ALV also has high exposure to French OEMs such as Renault and PSA, which are in a weaker position than German manufactures. However in the recent years the revenue mix has shown improvement and the company is two years into shifting capacity into Asia.

Anti-trust lawsuit: While the settlement has been reached in the U.S. anti trust lawsuit, the anti-trust investigation by the European commission is still ongoing. ALV expects to incur legal costs and has made provisions.
Commodity and currency risks also exist
FINANCIAL SUMMARY: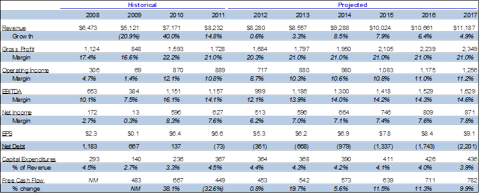 VALUATION:

In conclusion, I believe that ALV is a quality company and the recent reduction in stock price provides a tremendous buying opportunity. The aforesaid strengths in the business model together with the secular tailwinds bode well for the company, giving it a price target of $69.
Disclosure: I am long ALV. I wrote this article myself, and it expresses my own opinions. I am not receiving compensation for it (other than from Seeking Alpha). I have no business relationship with any company whose stock is mentioned in this article.