I have to wonder if Northern Dynasty Minerals [TSX-V:NDM ($1.97); AMEX: NAK ($1.66)] is now a bargain. Back In December of 2007 I wrote an article titled, "Northern Dynasty Minerals a Take-Over Target?". I thought it was a take-over target then! For those of you that don't know, Northern Dynasty Minerals owns 50% the largest undeveloped (but advanced stage) copper-gold-molybdenum deposit in the world which is located in Alaska! It sold the other 50% for nearly $1.5 billion to Anglo American!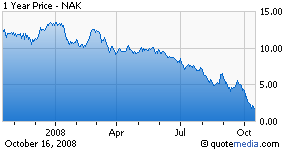 Since I wrote my last article, the Company has found more resources on the property and now has a great team together to oversee the completion of the Pre-feasibility Study in the second half of 2009 and ultimately get the company ready for permitting. Permitting won't be easy in Alaska and a great team will be needed. This is one of the major risks still associated with NAK and can become a thorn in its side if things don't go smooth.
I believe this may be an absolute steal at less than $2 a share. Why? When I originally wrote my article about NAK being a take-over target the share price was over $12! Today with 97.6 million shares, the market capitalization of the company sits at under $200 million. Remember, the other 50% sold for $1.5 billion! But it gets better.
There are two major corporations that have acquired significant share blocks in NAK. Rio Tinto plc owns a 19.8% interest and Mitsubishi Corporation owns 9.1%. Both of these corporations were buyers back when the share price was much higher! With the stock down so much, they must be itching to grab some extra shares. I know I am.
Time will tell whether or not I'm right on this one. Just remember, I thought it was a good investment at $12 a share and now it sits at $2, so I may be wrong and I'm certainly down quite a bit so far. I'm hoping time proves me right and the permitting goes well.  I do consider this a very risky investment, but one with a potentially large upside.
Full Disclosure: At the time of writing this article I DO own shares in NDM.