We have held a long position in Brookfield Infrastructure Partners (NYSE:BIP) since the beginning of 2011 and we have been pleased with the results of the company during this time. While we typically frown on companies issuing secondary offerings in order to finance "growth", BIP is not your typical company and the assets it owns are not your typical every-day investable assets. BIP grows through prudently acquiring high-quality infrastructure assets much as a private equity firm grows through the acquisition of desirable investment targets. We think of our investment in the partnership units of Brookfield Infrastructure as a diversification away from traditional stocks and bonds and being able to utilize a high-quality asset manager for investing in unique, hard-to-duplicate infrastructure assets. BIP's Transportation and Energy segment accounts for 47.5% of its assets and its Utilities segment accounts for 41%, with 11.5% for its Timber operations and corporate administration.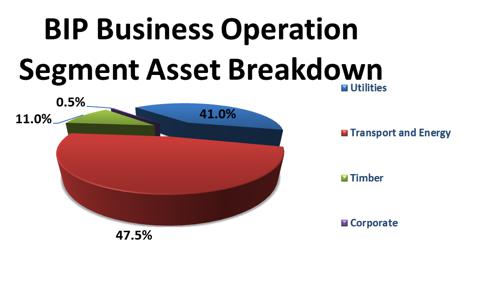 Source: BIP's Q3 Earnings Supplement
While we aren't happy that BIP's per unit Fund Flows from Operations have declined on a year-over-year basis, we were happy that it exceeded the consensus estimates of Wall Street. We were expecting FFOs to decline on a per unit basis due to increased unit issuance as well as soft performance in its Timber operations. For the tenth time in the last eleven quarters, BIP's Fund Flows from Operations exceeded consensus estimates published by sell-side analysts. BIP generated Q3 FFOs of $.58 per unit. While it was a 6.45% decline versus Q3 2011 FFOs per unit, it still beat analyst estimates by $.02/unit and was slightly better than the 7.7% decline in Q2 2012 and the 6.88% achieved in YTD 2012. BIP's total FFOs increased by 16.5% in Q3 2012 versus Q3 2011 and reached $113M due to the issuance of shares to fund the expansion of its Australian Railroad operations as well as a slew of acquisitions in its transport and energy division and its utilities division. Positive drivers of BIP's FFO performance were growth in its Utilities operation and expansion of the Australian Railroad and this was offset by continued weakness in its timber operations, continuing the trend we have seen in the year.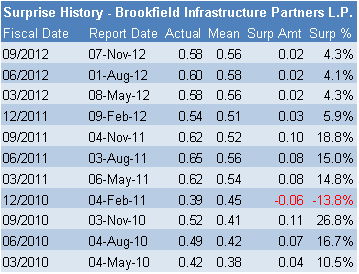 Source: FactSet Marquee
BIP Utilities saw a 3.9% increase in its Q3 2012 FFOs versus prior year levels. The increase in FFO was primarily attributable to increased customer connections as well as additions to its rate base from the acquisition of its Colombian regulated utility distribution business. These positive factors were offset by non-recurring revenue received in Q3 2011 received in the prior year at its regulated terminal operations. For the period, BIP's maintenance capital expenditures were $6 million, which is consistent with its estimated quarterly sustainable level and its YTD maintenance capital expenditures were in line with its YTD 2011 levels. BIP Utilities' AFFO yield was 16% on average invested capital, which was comparable to Q2 2012 levels, YTD 2012 levels and YTD 2011 results. BIP Utilities grew its revenue by nearly 12% year-over-year in Q3 2012 but this was mostly offset by a 24% increase in its cost of revenues during the quarter. BIP Transport and Energy initiated a process to acquire Brookfield Asset Management's 10% interest in the Chilean electricity transmission system for $235M. BIP Transport will own 28% of this asset, which serves 98% of Chile's population.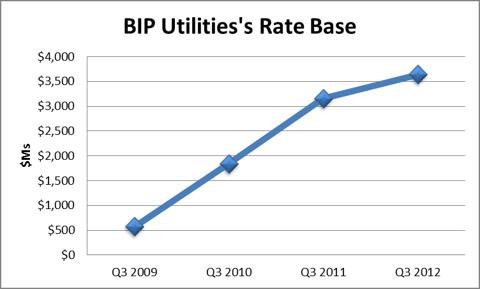 Source: BIP's Q3 Earnings Supplement
BIP Transport and Energy saw a 38.5% increase in its FFO's for Q3 versus the prior year's period and this was due to the inclusion of the results from its Australian Railroad expansion which was undertaken last October. BIP's Transportation operations generated a 7% revenue increase and the division saw positive operating leverage in that its operating costs only increased by 1.3% Non-Cash expenses for BIP Transportation were $41M for Depreciation and Amortization (up 52% versus last year) and deferred taxes and charges of $24M attributable to the result of a deferred tax recovery recognized at our North American gas transmission business. Future events in for the division are as follows:
October saw BIP Transport and Energy acquire an additional ownership stake in its Chilean Toll Road and will own about 50% of that asset.
The division is in advanced discussions to acquire a 60% interest in the largest toll road operator in Brazil, in partnership with Abertis Infraestructuras and institutional investors.
October also saw BIP Transport and Energy also acquired an interest in a district energy system that serves commercial customers in downtown Toronto in partnership with institutional investors. This business generates very stable cash low, with 93% of its revenue under long-term contracts with high quality counter-parties. BIP invested approximately $75 million for a 25% interest in this business.
BIP Timber continues to see soft performance even though its not in the business of softwood production. BIP Timber saw a 40% decrease in its FFO's during Q3 versus prior year's levels. This was due to a 13.5% decline in revenue in its share of the timber platform. While BIP Timber's Douglas fir operations saw revenue and production stability on a year-over-year basis, BIP Timber continued to see production and revenue declines for its Whitewood timber operations. This revenue decline was partially offset by a 12% reduction in its operating costs, however was not enough to stanch the FFO decline. BIP expects its timber operations to recover over the long-term because of increased demand for housing starts as well as ongoing demand from Asian markets and growth in the bio-fuel industry. Based on the recent electoral results in the US, we're not sharing the same level of optimism as BIP's management. Based on our analysis of Weyerhauser (NYSE:WY), we can see that BIP Timber is not the only timber firm facing a challenging environment.
BIP's Corporate and Administrative segment's net pre-tax expenses were flat for the quarter as increased management fees paid to Brookfield Asset Management were offset by lower financing costs and a $6M boost in other income.
In conclusion, we still like what we see from Brookfield. We're glad that BIP's unit price has pulled back 8.4% since its August highs and we believe that investors looking for high yields and non-equity correlation should consider BIP's portfolio of unique, hard-to-replicate assets. BIP has provided unit-holders with strong returns from capital appreciation and partnership unit distributions since it went public in 2008. While we don't expect the relative returns to be as breathtaking over the next 5 years as the previous ~5 years, we expect that this will be a great alternative to the S&P 500 and traditional utilities as represented by the XLU.
Disclosure: I am long BIP. I wrote this article myself, and it expresses my own opinions. I am not receiving compensation for it (other than from Seeking Alpha). I have no business relationship with any company whose stock is mentioned in this article.
Additional disclosure: This article was written by an analyst at Saibus Research. Saibus Research has not received compensation directly or indirectly for expressing the recommendation in this article. We have no business relationship with any company whose stock is mentioned in this article. Under no circumstances must this report be considered an offer to buy, sell, subscribe for or trade securities or other instruments.