This article is a third piece since my first note 20% downside ago. Most analysts still predict Apple (NASDAQ:AAPL) growth rates as if it controls only a small percentage of its addressable markets. While in fact, Apple has now become by far the largest incumbent player in all their markets. Inevitably, this limits future growth potential. Since the iPhone introduction, Apple has been a sales growth AND margin expansion story. The latest Apple moves illustrate that it is becoming a growth OR margin expansion story. For instance, the iPad mini was priced higher than expected at 329 USD. In this case, Apple prefers to protect its margin rather than its market share. Tablet new entrant Amazon (NASDAQ:AMZN) sells below production cost.
iPhone unit sales have peaked over 2012
The iPhone is the most vulnerable link in the Apple profit machine. Current analyst sales expectations extrapolate the past iPhone growth into the future and add iPad units on top. Hence, analysts predict 1000 USD targets on optimistic growth numbers. In this article, I examine the core drivers of the iPhone model. After an exponential expansion phase, the main iPhone sales driver will switch from new user additions to replacement sales. New devices like the iPad mini will keep the overall iOS market share intact, but iPhone unit growth belongs to the past. With an iPad mini in their bag, consumers will be less inclined to replace their 650 USD iPhone. Battery life of the iPhone is notoriously short and complex apps perform better on iPad. I will discuss the 4 critical drivers of the iPhone sales model in more detail. You can download my Apple model from my website.
1. Smartphone category growth

There is no doubt that the smart phone penetration will continue to rise, but the growth rate has peaked since 2010. A study of research2guidance shows the historic growth of smartphone users. Some market forecasters predict a 35-50% growth rate for 2013. I believe that the new smartphone adoptions will decrease from 357 million over 2012 to 250 million over 2013. This still implies a 25% growth rate into 2013. If you Include the growth of tablet users over next year, total mobile devices growth will still top 30%.
2. iPhone market share
After the launch of the iPhone, Apple took significant market share and grew much faster than the category. In the IDC survey, the iPhone is growing slower than the market. There is a difference between the early adopters of a new category and the following batches of adoption. The first 20% of global smartphone adopters were mostly Western high income earners. The next 20% that will upgrade has a different price sensitivity. A higher percentage within the next batch of consumers will not be able to afford even a discounted iPhone 4S. Average income in most developing economies is below 3000 USD.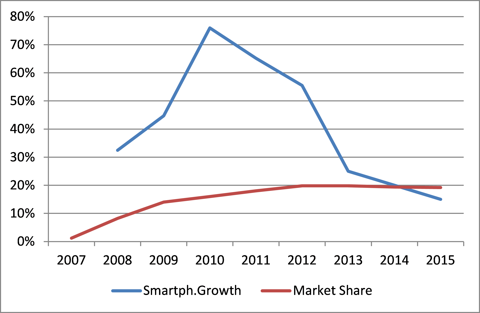 Nevertheless, I expect only a small decline in market share from 19.8% to 19.2%. Initially, Apple will benefit from its strong 4Q iPhone sales in 2012 that are actually booked in FY13. I believe Apple will also introduce an iPhone mini to protect its market share. A Wikipedia graph shows a similar outlook.
3. Replacement cycle of the installed base

Apple has built an impressive installed base and it would be naïve to expect iPhone users to churn away. Nokia lost more than 75% of its installed Symbian base over the last couple of years. Nevertheless, I assumed a 0% iOS churn for eternity. Simply because Apple has sold boxes that are incredibly easy to use, but impossible to move to another platform. However, the game changing impact of iOS is wearing off. The Apple fiscal year 2012 saw 1Q12 introduction of iPhone 4S and 4Q12 introduction of the iPhone 5. Very little innovation came with the iPhone 5, simply a bit bigger and faster. Nothing compared to the intro of the first iPhone or iPad. The result of the innovation slow-down is a lengthening of the replacement cycle. In the past, the sequential iPhone improvements drove a replacement demand that was also eagerly financed by telecom operator subsidies. I believe the replacement cycle will lengthen from 2 to 2.8 years. This will have a significant impact on the unit iPhone sales.
4. ASP declines

I expect Apple to decrease iPhone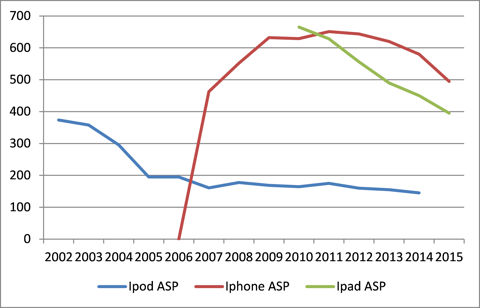 ASP's in order to defend its market share. An inevitable iPhone Mini will have a much bigger negative impact on the bottom line. In fact, by leaving the iPhone 4S in the product catalog, there is already a de facto iPhone mini on the market. At 599 USD, it is only at a small discount. It will not weigh down the gross margin by much. Next year, Apple will be forced to introduce a cheaper iOS phone or face further market share losses as the global smartphone adoption takes hold. The switch to the lightning connector is also a barrier for iPhone users to upgrade to the iPhone 5.
Total sales expectations
The graph below shows my sales estimates vs. market expectations.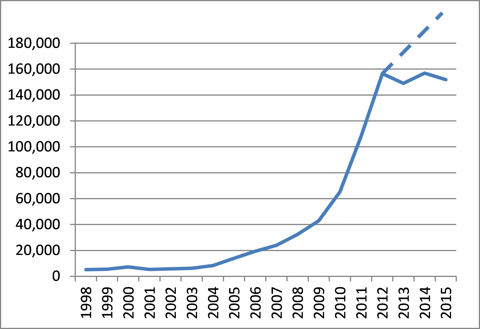 DCF table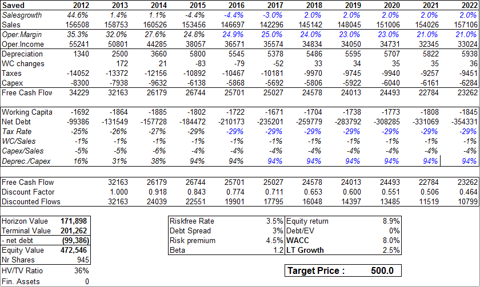 Disclosure: I have no positions in any stocks mentioned, but may initiate a short position in AAPL, AMZN over the next 72 hours. I wrote this article myself, and it expresses my own opinions. I am not receiving compensation for it (other than from Seeking Alpha). I have no business relationship with any company whose stock is mentioned in this article.